Relaunched in 2014, Nike's ACG line finally offers high-tech clothing for women, so you can stop borrowing from your man
You might have heard of Nike's ACG or All Conditions Gear line that first launched in 1989. Designed to be stylish yet functional, regardless of weather conditions, the ACG line was relaunched in 2014, when designer Errolson Hugh (of cult Berlin-based label Acronym) joined Nike as partner designer.
Fast forward to 2017, ACG for the first time unveiled a collection dedicated to women, designed in partnership with Nike senior design director of women's apparel, Johanna Schneider, who previously worked with Hugh at Acronym. "My ultimate expectation for ACG garments is to provide the highest and best support in everyday situations that I faced in Berlin and that I know to be consistent with life in other cities," says Schneider. "During winter, you're exposed to harsh weather changes, and you have to protect yourself. You want a really high level of comfort when moving in what are very vivid, intense and demanding environments."
The collection offers all the essentials you need, from a slim-fit long-sleeved top, fleece top that's cut slightly oversized to complement your every move, tech woven pants that's water-repellent, and the star of the collection, the NikeLab ACG 3-in-1 System coat. The coat features a 3-layer Gore-Tex shell that offers protection against water and wind, and a detachable inner bomber lining that for added warmth and protection, which can be worn on its own or together with the outer shell.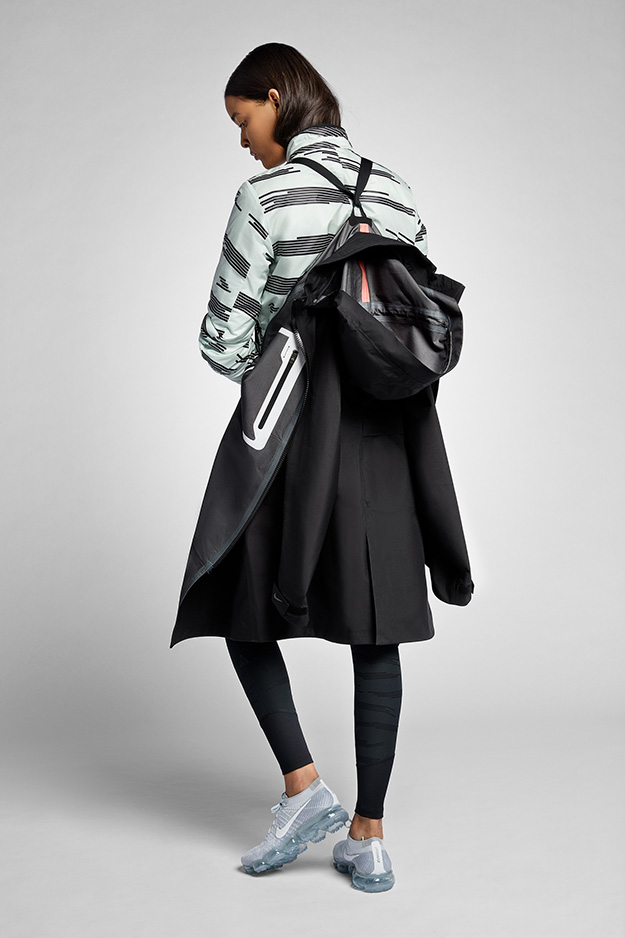 "The main thing we were looking at when we designed ACG is the ability to transition between different states," says Hugh. "The extremes we design from for ACG have to encompass the full range of possibility on the technical side. And on the aesthetic side, we know your outfit is communicating who you are and what you're about, and that's equally important for ACG. Those two have to be handled: On the one hand, to blend in and look respectable, and on the other hand feel confident and have the relevant swag."
With that in mind, I packed my relevant swag, the Nikelab ACG fleece, vest and tech-woven pants to a recent holiday in Hawaii, which saw me through various conditions. While Hawaii only experiences a very mild winter (about 19-23 degrees Celsius), the waters were cold. I spent a couple of days diving and although I had a 5mm wetsuit and a hood on, I was shivering even when standing under the sun back on the boat. This is where the fleece really came in handy - its oversized shape and zipper along the neck (added style points) made it easy to slip on and off, and kept me warm in between dives. While it may be called 'fleece', bear in mind that this is ACG, so instead of your usual fuzzy fabric, this was a high-tech version that's smooth to touch, and felt almost neoprene-like.
If there's one thing that's a must-do when you're on the island of Maui, it's the road trip called the Road to Hana. The drive takes you past multiple scenic stops; there are countless waterfalls, hiking trails, black sand beaches, lookout points, and even food stalls that have since become vastly popular, like the Halfway to Hana food stall that sells the best banana bread this side of Maui. Weather in these parts is also unpredictable - the windward Eastside of the island typically gets its fair share of rain and this was where the NikeLab ACG hooded vest was really useful. The sleeveless style allowed me to hike without feeling overheated, while the 3-layered woven-fabric body is water repellent and offers wind protection - when worn with the hood on, I felt warm and dry(ish). Large front pockets also allowed me to store my phone, car key and cash, without them getting wet.
I wore the vest with the Tech Woven pants, a chino-style pants with an extended waist, tapered legs and zippered ankle hem that's made from a heavyweight cotton blend with durable water-repellent (DWR) finish. The slightly roomy cut allowed for ease of movement and when things got slightly muddy after the rain, I was glad my pants took on whatever the weather threw at us. Clothes to blend in, look respectable and have swag? Think I found my perfect kit.
To shop the NikeLab ACG collection, please click here.