From Rihanna and A$AP Rocky's high fashion wardrobe to that infamous Y2K double denim moment, couple coordination has taken over pop culture again––yay or nay?
After a lockdown-filled 2020, fashion reemerged with in-person events back on, and so did duo dressing. Coordinating your look with your lover was the pinnacle of the nineties-turn-noughties red carpets, with famously-in-love stars, from perfect popstar pair Britney Spears and Justin Timberlake to Victoria and David Beckham, appearing in public wearing almost identically decked-out ensembles both on and off the red carpet. Enter 2022, and it's back and better than ever.
Last year, we saw a new bout of power couple imagery as the world's most recognisable couples linked their love to their style, from Megan Fox and MGK's edgy glamour to Rihanna and A$AP Rocky's fashion-forward ensembles. When done right, a shared aesthetic not only cultivates an opportunity to put the fun back into fashion, but also demonstrates a visual connection between two people (#couplegoals) and makes for pretty iconic fashion moments.
Read on as look back at some of the most iconic celebrity couple fashion moments of all time––in no particular order: 
Double denim, forever and always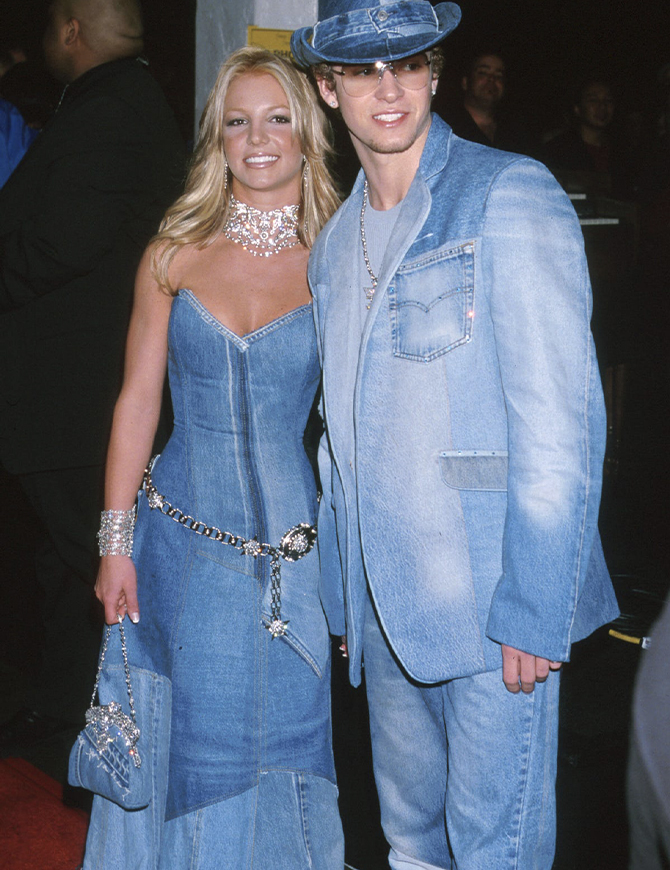 Who can forget Britney and Justin's iconic double denim moment? It's been more than two whole decades since Britney Spears and then-boyfriend, lesser-known celebrity Justin Timberlake rocked the 2001 American Music Awards in a denim-formal ensemble, with Spears in a floor-length full jean strapless dress, completed with a diamond chocker, low-slung chain belt and glittering cuffs. Her partner-in-crime came along for the ride in a full denim tux, accessorised with sunglasses and a jean cowboy hat. An epitome of Y2K couple-wear, the look continues to inspire countless more couple 'fits (see Ye and Julia Fox's recent red carpet debut at Paris Fashion Week) and Halloween inspiration until today. 
Bennifer from the block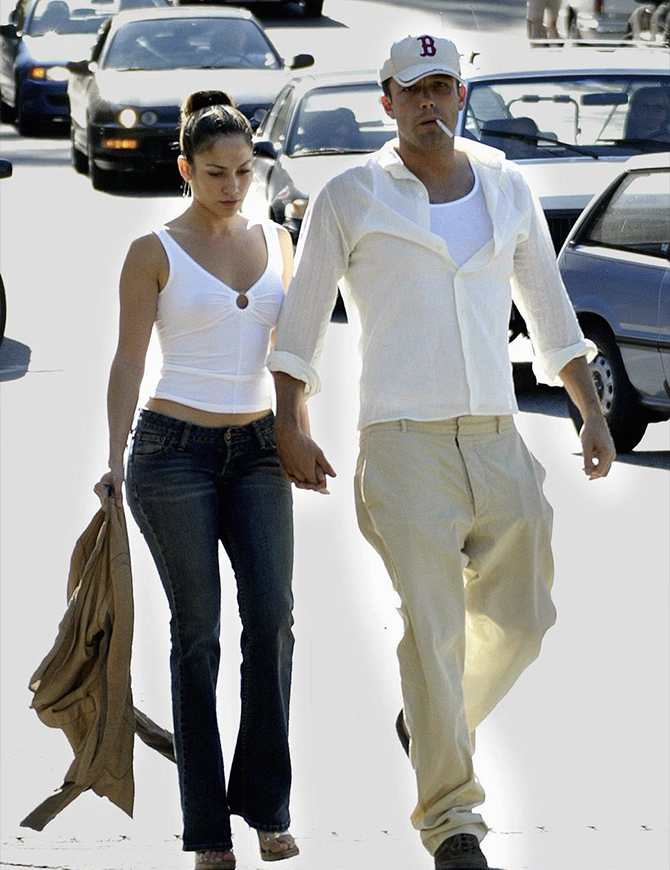 In 2021, rumours sizzled that iconic noughties couple Ben Affleck and Jennifer Lopez were back together 17 years after they ended their engagement. While Bennifer 2.0 looks to be going strong, we can't forget the power couple outfits they had in their prime during the early 2000s––their casual attire stood out and can be best epitomised as the quintessential Bennifer style. Here, they take a stroll in Vancouver in 2003, matching in white; her low-rise bell-bottoms, ring hoops and chunky heels moving in tandem with his slightly dishevelled white and cream 'fit, complete with a Red Sox cap and cigarette in tow. 
Seeing double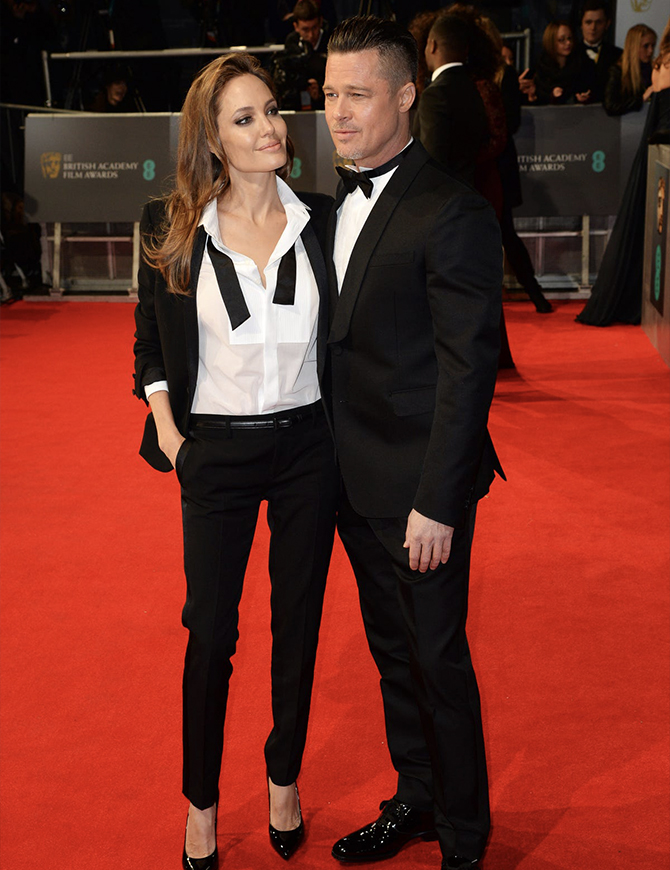 Undoubtedly one of the greatest Hollywood power couples, Brad Pitt and Angelina's red carpet looks were just as captivating as their relationship. One of the best moments was at the BAFTAs in 2014, when the Mr & Mrs Smith stars stunned in matching tuxedos (choices that landed them on many "Best Dressed" lists that year), with Jolie head-to-toe in a more relaxed Yves Saint Laurent suit, while Pitt opted for a classic Valentino 'fit.  
A pair in plaid 
Since making things official in 2019, Game of Thrones star Maisie Williams and designer Reuben Selby have set themselves apart as a couple that fully embraces gender-fluid fashion through highly-coordinated outfits––mostly notably during their twinning sets on the front rows of fashion week. Though this Dior trench coat moment comes close, their plaid looks at Thom Browne's Spring/Summer 2020 show comes up top, thanks to their matching pink shadow and one-sided four-band socks––a Thom Browne signature. 
Fashion killas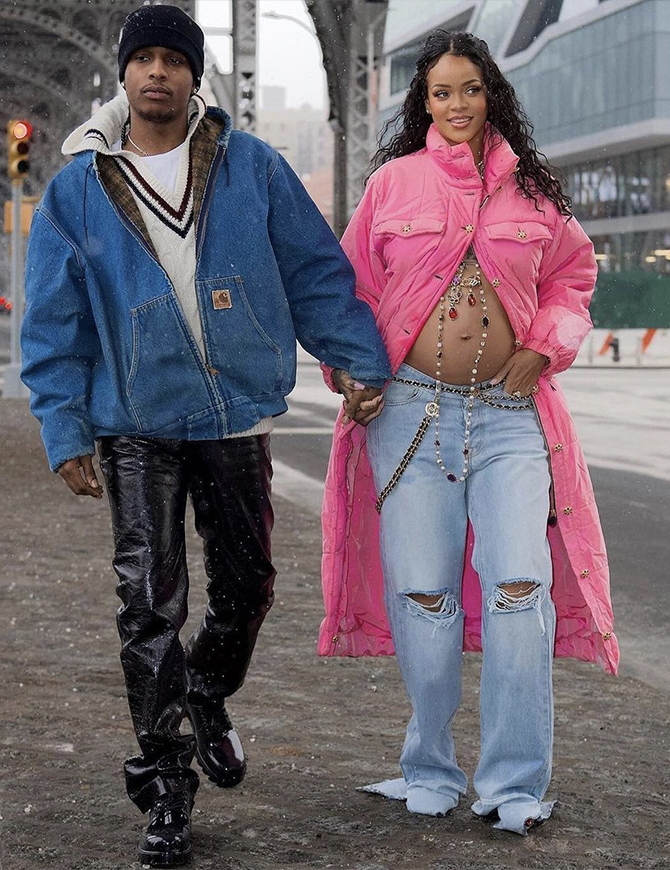 There are few couples who dress as well as Rihanna and A$AP Rocky. From their designer couple 'fits in the rapper's 'Fashion Killa' music video (directed by none other than the late Virgil Abloh) to their appearance together at last year's Met Gala, the pair basically showed that they give a masterclass in style anytime they step out. And as they enter their parents-to-be era, the couple have stepped up their game––best exemplified in Rihanna's pregnany announcement portraits released earlier this year. Taken paparazzi-style, the occasion was marked by Rihanna in a jewel-draped vintage Chanel puffer from Karl Lagerfeld's AW96 collection over ripped jeans that were spliced over stilettos. Meanwhile, A$AP Rocky donned leather trousers from one of London's brightest emerging talents Maximilian with a Carhatt denim jacket over a hooded varsity sweater. 
All leathered up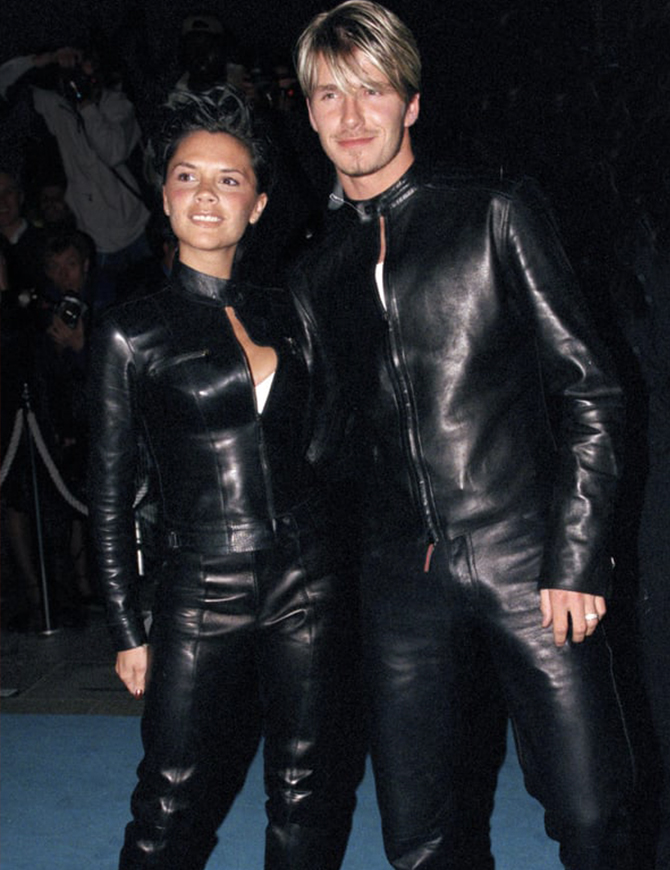 Another couple who paved the way for duo dressing in the '90s was Posh and Becks, who remain very much the sartorial definition of couple goals––no one knew how iconic a Spice Girl and pro soccer player's relationship could be. Though their complimenting style has taken on a much more subtler (and matured) approach in recent years, everyone remembers this so-bad-it-was-good (or was it?) fashion moment during the Versace Jeans Couture party in 1999. The pair pulled out all the stops and attended the event in matching moto leather ensembles over white tops––that very same year, The Matrix was released.
Pretty in pop-punk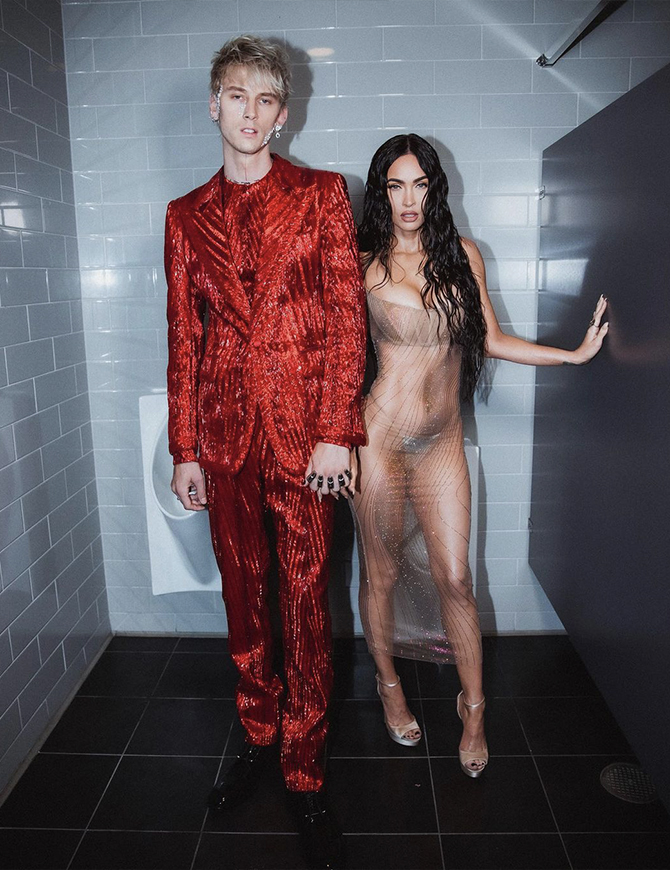 Name another couple as obsessed with each other as Megan Fox and Machine Gun Kelly are obsessed with each other. No stranger to PDA, the recently-engaged pair have been pretty open about their ooky-spooky love (who can forget that GQ couple quiz) and have also found themselves in a sartorial matrimony that can best described as an edged up mix of pop-punk glamour (or "Sunset Strip rock'n'roll glamour", as GQ called it). No moment was as shimmering as their red carpet appearance during the 2021 VMAs, when Fox wore a custom Mugler dress, made up of mesh covered in iridescent threads that subtly matched the metallic glittering panels of MGA's red Dolce & Gabbana suit. 
1 + 1 = 1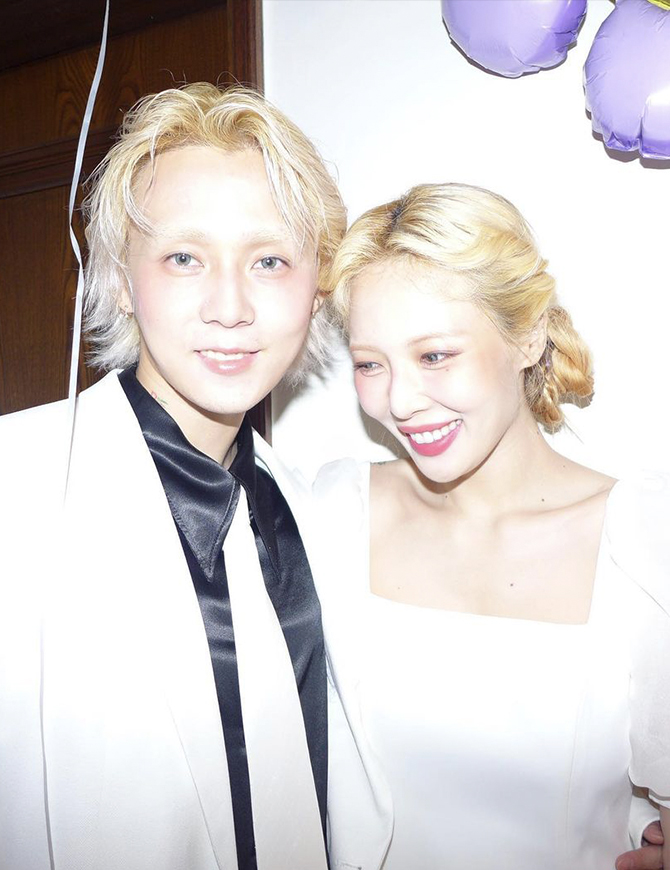 The world of K-pop may be well-versed with the art of coordinated 'fits, but when it comes to couple style, no pair is more forthcoming (or daring) than HyunA and Dawn. The duo have gone through a lot together, from going public in an industry where stars are often forbidden from dating to releasing their joint EP last year and most recently, getting engaged. Across the years, they've shared plenty of couple photos and 'fits together that show how well they can pull off just about any outfit––no matter how eccentric or over-the-top, from wearing matching Marine Serre bodysuits and whimsical designer 'fits with furry friends to a classic bridal-inspired photo op complete with blonde locks and blue contacts. 
Read more stories on celebrity style here.