From cultural appropriation to plagiarism allegations, below are some of the famous sisters' biggest controversies
With 1.8 million followers and counting (Naomi Campbell, Gigi Hadid, and Pharrell are some of the biggest names on the list), Diet Prada is undoubtedly the most influential fashion watchdogs and the voice of the call-out culture right now. From luxury fashion houses to A-list celebrities and influencers alike, the co-founders—Tony Liu and Lindsey Schuyler, who remained anonymous until they revealed their identities two years ago—are not afraid to hold the biggest names in fashion accountable, be it exposing copycat designs or cultural appropriation.
Dolce & Gabbana had to resort to cancel its Shanghai show due to its racist ad (and Stefano Gabbana's leaked controversial messages that followed). Gucci and Prada issued apologies over their blackface backlashes. But the one name who makes the most "appearance" on their list goes to Kim Kardashian. The media mogul—along with her sisters—is no stranger to controversies, and below, we take a look back at all the times they've been called out by Diet Prada for their actions.
Kim Kardashian
 The Kids Supply saga 
When: December 2017
Backstory: Over two years ago, Kim Kardashian and Kanye West launched a (now defunct) children's clothing line called The Kids Supply, and in their fourth collection, there were two pieces—a bomber jacket and a sequinned dress—that looked identical to the ones from Commes des Garçons and Vetements. Diet Prada wasted no time to call them out for ripping off other designers' work.
Kim's response: A spokesperson for the brand told Page Six, saying: "The idea behind Kids Supply is to give people the opportunity to purchase things that would never be available for children otherwise. We decided to release the Demna dress after making one on our own for North because it got such a great reaction and an overflow of people wanting it for their own children. We named it the Demna dress to pay homage to him as it was one of Kim and North's favorite mommy and me moments. The Rei jacket was a mixture of some our favorite souvenir jacket art. We have been collecting for years and have [an] archive of them. We named it the Rei Jacket out of the utmost respect for [Rei Kawakubo, founder and designer of Commes des Garçons]."
Aftermath: The star later revealed that 100% of proceeds from those two pieces will be donated to the Children's Hospital of Los Angeles, although Diet Prada were skeptical and called the move a "clean-up". Not long after, Diet Prada released a 'Kim des Garçons' parody collection, and the merch is still available on its site today.
 The Fashion Nova saga 
When: February 2019
Backstory: For the 5th Annual Hollywood Beauty Awards, Kim Kardashian stepped out in an eye-catching—to say the least—vintage Thierry Mugler dress from its Spring/Summer 1998 collection. Hours after, online fashion retailer Fashion Nova released a design that's eerily similar to the gown, and the video showed that the date of the shoot happened four days prior, and the file of the picture was labelled the "Kim Dress". Diet Prada were suspicious at the quick timing, posting "receipts" suggesting that Kim is working with the brand, "peddling her vintage finds to mass retailers ahead of debuting them for a calculated, timely release."
Kim's response: The star cleared up the allegations in a series of tweets.
Aftermath: Fashion Nova also set the record straight by commenting on Diet Prada's Instagram post, saying: "Nice try @diet_prada. Don't mean to brag but we found out about @KimKardashian in the Mugler dress when the rest of the world did—that's how fast and talented our team is."
 The Naomi Campbell saga 
When: March 2019

Backstory: In a gallery of outfit comparison photos, Diet Prada mocked Kim for sporting a series of archival designer looks that were all worn by Naomi Campbell in the '90, from a pastel slip dress by Versace to a sheer leopard print catsuit and beret by Azzedine Alaïa.

Kim's response: Although she didn't directly comment on the post, she later posted photos of her in the vintage Versace dress with the caption: "Naomi Forever" and even tagged the supermodel.
Aftermath: In an interview with People a few months later, she mentioned that her looks were a "purposeful homage", saying: "It's funny because people were writing about it like it was some scandalous thing. I've always been so open that she is the ultimate fashion and glam muse. She got the best runway looks. [Campbell] and I have talked about it and laughed that it has become such a big deal, because I've always been so upfront with her privately about how she is my forever fashion and glam muse. She is literally one of the most beautiful, iconic people that inspires me fashion—and beauty-wise."
 The Kimono saga 
When: June 2019
Backstory: Perhaps one of Kim's biggest controversies of 2019, was when she announced the launch of her new shapewear line, Kimono. While it's a riff of her own name, this didn't sit well with the public as the traditional Japanese kimono is a sacred cultural piece that has been around since the 15th Century, and the 39-year-old is cultural appropriating it.
Diet Prada revealed that the star has even trademarked the word. Daisaku Kadokawa, the mayor of Kyoto, intervened by sending a formal letter asking Kim to withdraw her trademark application.
Kim's response: She initially defended her decision with a response via the New York Times, clarifying: "I understand and have deep respect for the significance of the kimono in Japanese culture. Filing a trademark is a source identifier that will allow me to use the word for my shapewear and intimates line but does not preclude or restrict anyone, in this instance, from making kimonos or using the word kimono in reference to the traditional garment. My solutionwear brand is built with inclusivity and diversity at its core and I'm incredibly proud of what's to come." 
Aftermath: When the public backlash didn't die down, she decided to change the name in the end. More than a month later, the eldest Kardashian took to Twitter to announce Skims Solutionwear, the new name of her shapewear line.
 The Carolina Lemke eyewear saga 
When: July 2019

Backstory: Just one month after the Kimono saga, Kim Kardashian is in hot water again for her collaboration with eyewear brand Carolina Lemke. The collection features a design that's very similar to the sunnies from Emilio Pucci Spring/Summer 2017 line, which the star was spotted wearing the year before. Diet Prada posted a side-by-side comparison of both shades, and Laudomia Pucci, the daughter of Emilia Pucci and the deputy chairman of the brand, commented on the post with a blue heart emoji.
Kim's response: None.
Aftermath: Mid-way through their supposed two-year partnership, the owner of Carolina Lemke, the Castro Group announced that it's parting ways with the media mogul as the results failed to meet expectations. It's been reported that the brand paid USD 6 million to the star for the collab.
 The Mario Testino saga 
When: November 2019

Backstory: Back in July, Diet Prada exposed photographer Marcus Hyde's misconduct, whereby he allegedly solicited nude photos from models in exchange for photoshoots. The photographer has worked closely with the Kardashian-Jenner family in the past. The reality star took to Instagram Story to speak out against his behavious, saying she's "deeply shocked, saddened and disappointed to learn that".
But just four months after, she shared a black-and-white photo of herself and her daughter North West. The photographer? Mario Testino, who was accused of sexual misconduct by 13 male models and former assistants in an exposé published by the New York Times. Diet Prada were quick to accuse her of hypocrisy—of Kimprocrisy, as they call it—but there were no response from Kim on the matter.
 The blackface saga 
When: December 2019

Backstory: 7Hollywood, a biannual fashion collectors magazine unveiled its cover for Winter 2020 on Instagram, and the star was none other than Kim Kardashian, who channeled Elizabeth Taylor in the spread. In the comment section, however, many pointed out that it's a case of blackface, as her skin colour is a lot tanner in the pictures. Shortly after, Diet Prada reposted the photo asking their followers' thoughts, and the comments were divided.
Kim's response: While neither Kim nor 7Hollywood responded to the accusations, this wasn't the first time the star has been wrapped up in such controversy, as her 2017 campaign for her KKW beauty line was slammed for the same issue too.
Kendall Jenner
 The Coke ad (or not) saga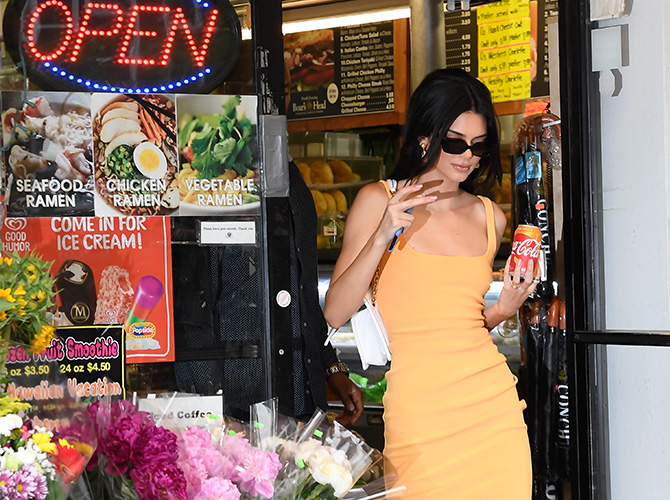 When: June 2019

Backstory: In June last year, the It-model was spotted buying a can of the newly launched Orange Vanilla Coke. While it looked like an ultra-glamorous bodega run, Diet Prada questioned her choice of dress—in the same tangerine colour—may not be a coincidence, and that it may be a marketing gimmick. According to USA's Federal Trade Commissions' social media advertising guidelines, all influencers have to disclose paid posts.
Kendall's response: None, but she did post a snap from the store's security cam on Instagram.
Coca-Cola's response: A representative of the brand sent a statement to Insider stating that the model "is not a paid partner of the brand."
 The tequila saga
When: February 2021
Backstory: New year, new drama. On February 17, 2021, the model announced the launch of her new "handcrafted" tequila brand, 818. Aside from congratulatory messages, her comment section was also filled with backlashes from Latino Americans. One of the comments reads: "Tequila production is traditionally a family business in Mexico. I think it's disgusting that another rich white celeb is appropriating Mexican culture with the audacity to think you're making it better than Mexicans."
Diet Prada, of course, picked that up and labelled it "cultural appropriation". While we understand where the fashion watchdog is coming from, the fact is, there is a slew of celebrities who have created their own tequila lines over the years without getting name-shamed. "I get it. But why don't the male celebrities (George Clooney, The Rock, Nick Jonas, Diddy) get this same type of energy directed towards them. Here goes cancel culture picking and choosing. At least be consistent," one comment read. 
Kendall's response: None
Kylie Jenner
 The copycat saga(s) 
When: July 2018, March 2019, and March 2020
Backstory: While Kylie's sagas were not as severe as her eldest sister, Kim's, she was called out by Diet Prada a number of times for looks that were way too similar to the originals', including a number of Beyonce's ensembles (down to the hair), Naomi Campbell's, and her and then-beau Travis Scott's cover for GQ, which took inspiration from photographs of Jane Birkin and Serge Gainsbourg taken by Helmut Newton in 1978.
Kylie's response: None.
 The Stassie x Missguided collab saga 
When: August 2019

Backstory: Anastasia 'Stassie' Karanikolaou collaborated with UK-based retailer Missguided on a collection, and of course, her ever-supportive BFF Kylie Jenner took to Instagram Story to show herself in a full outfit from the line ahead of its release. Soon after, Diet Prada noted that the bag from the collection not only looked very similar to The Row's famous Double Circle bag, but it's also already available on the brand's website before the partnership. "Oh, to be able to leverage your BFF's fame and do nothing but slap your name on a product and call it a day lol," the duo said in a post.

Kylie/Stassie's response: None.

Aftermath: The bag was removed from the collection when it went live.
This story has been updated on February 25, 2021.