Cosmic, celestial, astronomical – call it what you want; Swarovski is already serving up these interstellar jewels in its Winter 2019 collection. Add to cart now before they're all sold out
If you've been scrolling on Instagram, you would've seen a hard-to-miss trend around the wrists and necks of fashion It girls: gold-plated accessories that are either loosely layered or stacked and chunky. As you pinch to zoom, you'll also notice that those pendants are often bearing motifs of the moon, stars, the milky way or their zodiac sign. Our conclusion? Mercury is in retrograde and cosmic jewellery is in orbit a big trend right now.
Don't know where to score similar cosmic trinkets? Easy. Just shop Swarovski's latest Winter 2019 collection (psst, it's available online too). Plus, this season, the brand is all about empowering women to reach for the stars, both metaphorically and literally, with a collection that's inspired by the magical Nordic night skies. The outcome? A constellation of glittering gems that gives you the freedom to add subtle sparkles or major bling — your choice.
Check out some of their charming campaign snaps here:
The main collection you should be paying attention to? The Symbolic Collection featuring motifs that range from chic crescent moons to sparkly diamanté stars in silhouettes that allow you to remove certain sections (like the long moon earrings), making it easy to dial up or down the glamour. In other words: versatility. Palette wise, monochrome Swarovski crystals are paired with metallic tones (gold, silver, rose-gold) for a polished, refined charm.
Not a fan of gold or rose-gold metals? The Moonsun by Penélope Cruz Collection is your (also literal) silver lining. This range – taking inspo from the galaxy and night sky as well – oozes easy elegance and lots of shine, with pretty pieces that make it a breeze to transition from subtle daytime sparkle to all-out opulence at night. Our pick to make a stellar statement? The long layered necklace and crescent-shaped bangle and ring.
Like having bling on your timepiece too? Then add the Octea Lux Moonphase chronograph watch to your accessory arsenal. This iconic Swiss-made best-seller may be a popular design, but the 2019 edition is even more special because it celebrates the 50th anniversary of the first moon landing. The one-of-a-kind moon dial is the main star here and up close, you'll be able to spot a stunning milky way surrounded by a cluster of clear crystals and encapsulated by a brilliant crystal bezel.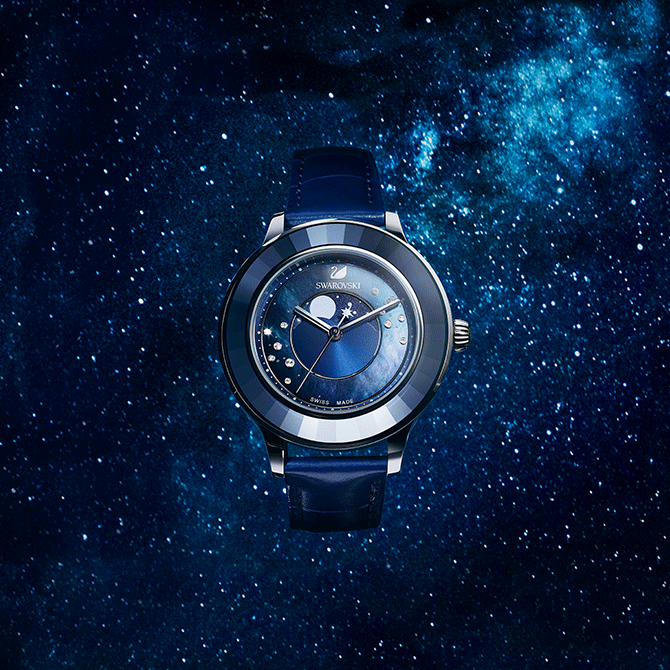 So, which of these celestial trinkets will you be adding to your cart?
The Swarovski Winter 2019 collection is now available starting from RM299 at all Swarovski stores nationwide and online on Zalora.