Pantsuits are passé, athleisure is here to stay.
As the health and wellness movement gains steady momentum, many have come to recognize the comfort of athletic garb. Technical fabrics can enhance performance at the gym, but those buttery leggings hardly speak workplace credibility.
Don't get us wrong, we're thrilled that this change du jour encourages fitness past our January resolutions and has sparked a much-needed revamp to the activewear industry. However, we still believe in a distinction between the gym and the office. Athleisure at work hinges on the balancing act between sporty ease and the polished quality of work wear.
Here are a couple of ways to ensure your athleisure ensembles are boardroom ready:
Sweat the small stuff
They say God is in the details. To elevate a piece of clothing with the original purpose of placing function over form, a few cornerstones need your attention. Most fundamentally, fabrication and cut. Choose items that swap jersey and lycra for more upscale materials such as (or mimic) satin, crepe, or even, leather. This way, it is obvious that they're not meant for a run on the treadmill.
When the fabrication is a little less prominent or if you revel in the no-wrinkle brilliance of performance fabrics, focus on the cut and details. Oversized silhouttes, asymmetrical designs, additional panels, pleats, and flounces are all welcome features to elevate athleisure pieces. 
The Sacai jumper shown below looks pretty non-descript upfront but the exaggerated lace-up back gives it a fashionable twist, setting it apart from the lazy sweatshirt.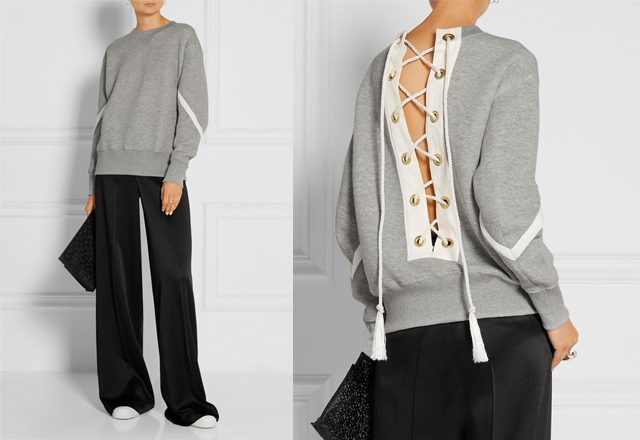 From jackets to shoes, these pieces could be your next wardrobe MVP:
On the right track
A reversal of the first tip to a certain extent; in lieu of traditional athletic outfits, embrace the trend through the celebration sportswear detailing by integrating them into non-traditionally sporty clothing.
One great example is how the distinctive athletic stripes usually found on track pants adorn these Stella McCartney wrap-effect silk crepe de chine tapered pants. In no way do they resemble something anyone would attempt to exercise in but they instantly evoke the notion of athleisure with the mere presence of an eye-catching sportswear component.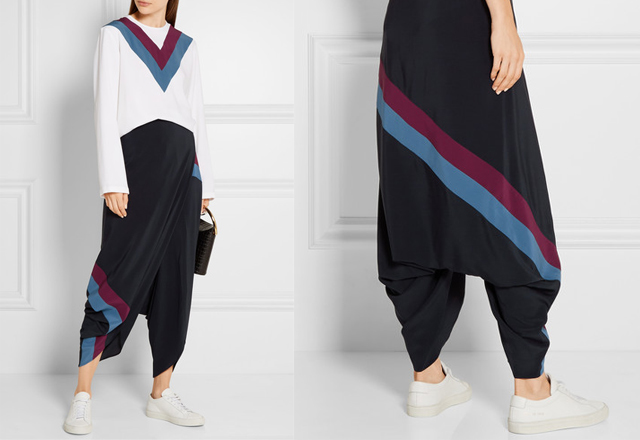 More pieces that hit it out of the park:
It's time to bring your 'A' game.
Related stories:
7 Pretty fly bomber jackets to sport now
Beyoncé dabbles in athleisure with her new collection

#WednesdayWishlist: Athleisure picks we want to wear all day long