Get your bridal OOTD down pat with a pair of shoes you'd feel comfortable in all-day long.
If you are the sort who'd rather go barefoot than totter around in heels, today's guide to alternative bridal footwear might just pique your fancy. While heels are deemed a requisite for most brides (whether diamanté studded or dainty lace options), go for something within your comfort zone (quite literally) on your big day. From glitter-fied sneakers to beach-worthy flats, these one-of-a-kind steppers can trump any basic bridal heels easily:
COOL KICKS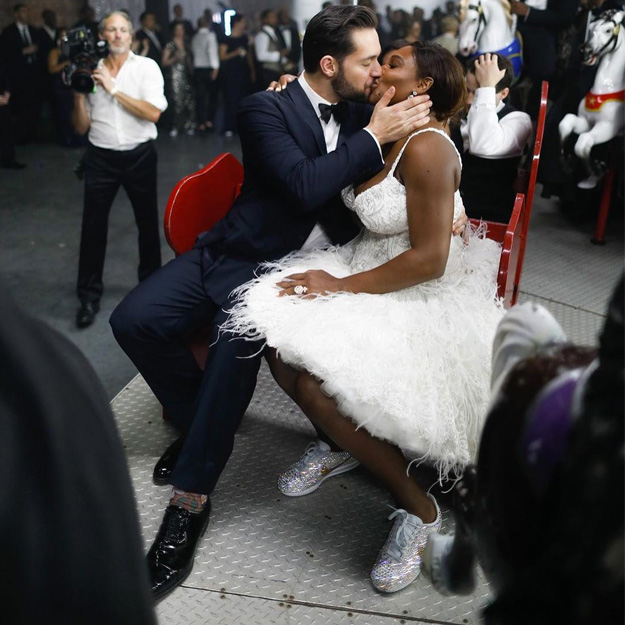 Serena Williams' wedding last November made headlines for all the right reasons — one of them because she proved that sneakers can be every bit wedding-appropriate. Rocking a short feathery gown to her fairytale wedding, Serena wore a pair of Swarovski-encrusted Nike Cortez that was hand-bedazzled by Michelle Meneses (the task took 24 hours to complete.) But if you can't find someone who would painstakingly apply crystals on your favourite kicks, opt for glittery options such as Miu Miu's embellished sneakers and Gucci's Falacer kicks, or crystal-buckled slip ons from Roger Vivier.
KEEP IT BOOT-IFUL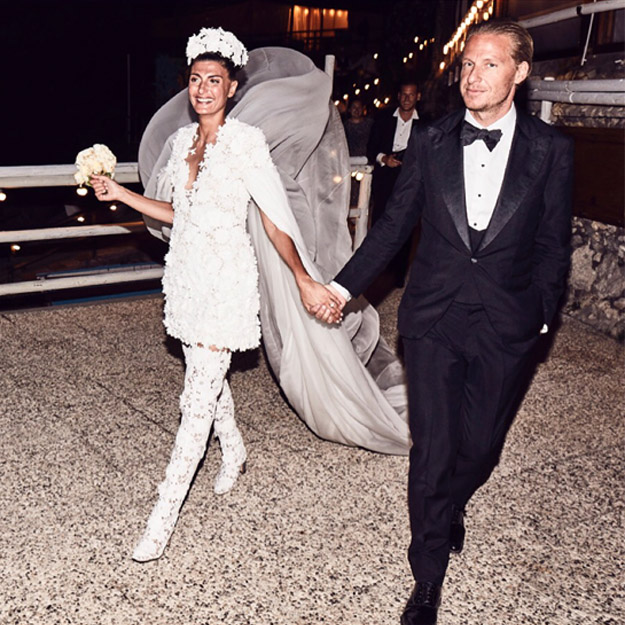 Go against the grain like Giovanna Battaglia, who pulled off thigh high Manolo Blahnik boots that matched her macramé minidress during her wedding party look. If one of your outfit changes include a fun party dress that you want to shimmy in on your big night, make a statement with over-the-knee boots from Balenciaga and sequined boots from Dolce & Gabbana, or add a bridal-esque element with tulle and satin knee boots from Off White C/O Jimmy Choo. 
SUMMER-WORTHY WEDGES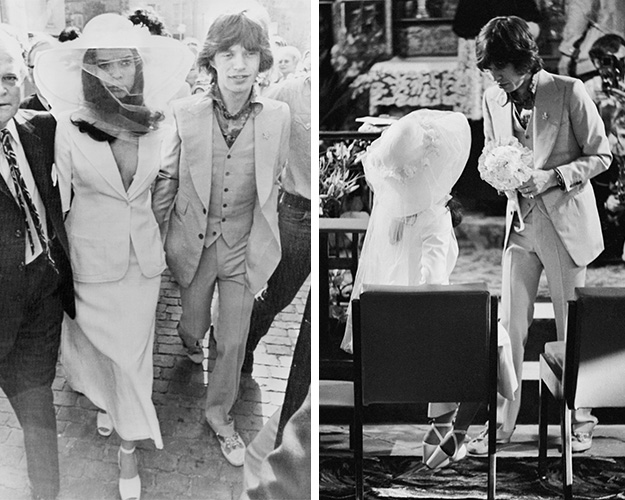 It may have been a short-lived union, but Bianca Jagger's made wedding style history back in 1971 when she got married to Mick Jagger in St. Tropez, donning a YSL Le Smoking jacket (with nothing underneath), a languid white skirt and matching white peep-toe wedges. Emulate her look with lace espadrilles from Castañer and wedge sandals from Stuart Weitzman, or go an extra mile with glitzy gold-tone sandals from Saint Laurent. 
ALL PUMPED UP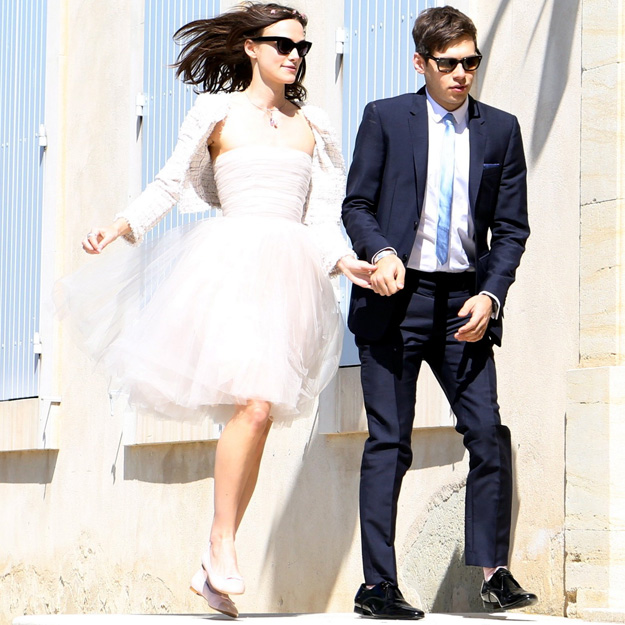 Keira Knightley did girly without being cloyingly sweet for her wedding back in 2013, wearing a pale pink tulle dress, a Chanel tweed jacket, and ballerina flats (in pink, no less). Add a saccharine sentiment to your bridal look with these unusual ballet pumps, including bowed flats from Salvatore Ferragamo, silk satin slingback flats from Simone Rocha, and ruffled leather pumps from Anna Baiguera.
BOHO-CHIC FLATS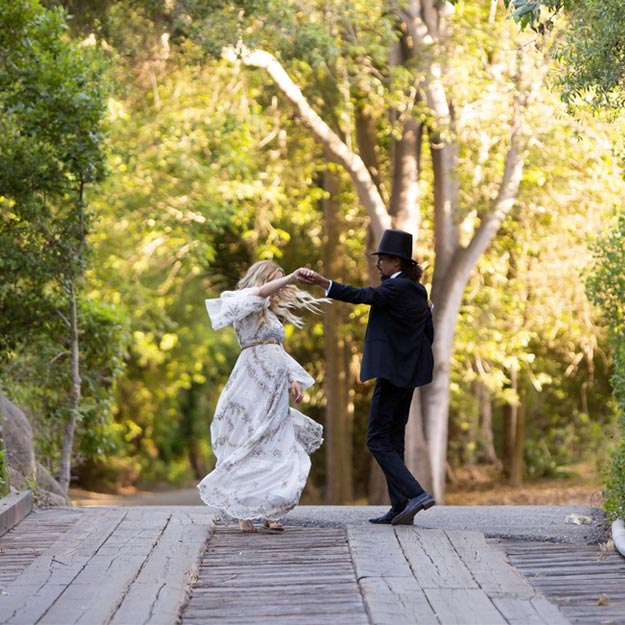 Flat sandals are a go-to choice if your wedding is held in a forest, beach or anywhere in nature — it's pretty much impossible to trot in four-inch heels in those terrains anyway. A foolproof way to work wedding flats is to opt for anything embellished, whether it is pearl-studded slides from Chanel, nappa leather sandals from Manolo Blahnik, or rose-gold hued sandals from Alaïa.
KITTEN HEELS - AN UPDATE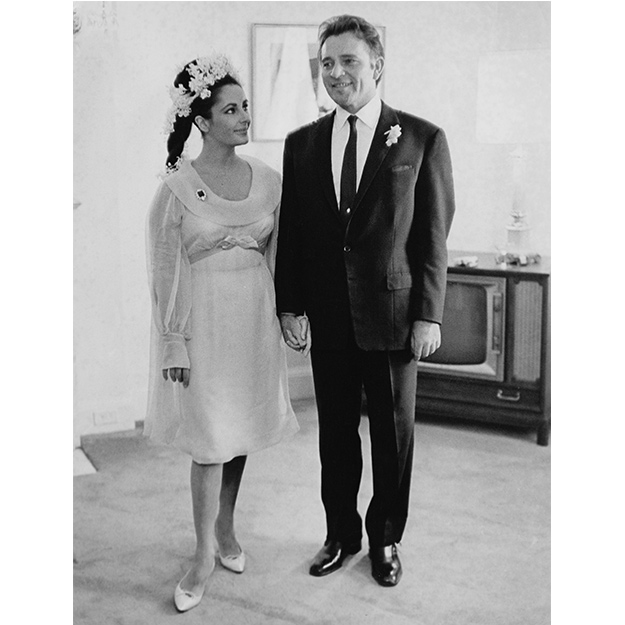 If you really want to wear heels on your wedding but prefer not to subject your feet to numbing pain, try this season's most popular heels — the kitten heels. Channel eternal grace like Elizabeth Taylor did during her wedding day, with Dior's metallic slingbacks, quirky embellished pumps from Loewe, and suede mules from Jacquemus.