Graphic artist and master of mathematical representations, M.C. Escher makes his Southeast Asian retrospective debut
The ArtScience Museum at Marina Bay Sands is set to play host to a major retrospective of the works of M.C. Escher (one of the world's greatest graphic artists) beginning on the 24th of September 2016. The unveiling of this collection of more than 150 works marks the exhibition's premiere in Southeast Asia.
The works of Escher explore the intersection between art, mathematics, science and poetry and have astounded creatives from all fields, for many generations. So aptly titled, the exhibition—Journey to Infinity: Escher's World of Wonder—will highlight his enigmatic sketches and perplexing designs that are executed with incredible detail and mathematic precision—constructing impossible worlds and paradoxical representations of infinity.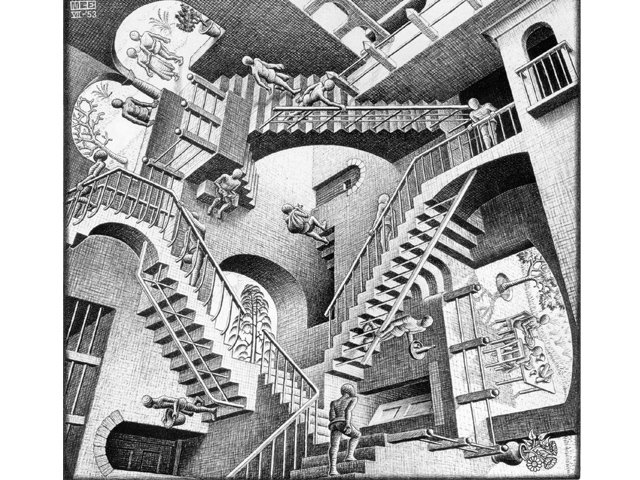 "Journey to Infinity: Escher's World of Wonder celebrates the confluence of art and science through the work of one of the great icons of 20th century art... As such, there is no better place to stage a major exhibition of his work, than right here at the ArtScience Museum, an institution dedicated to the interconnection of art, science and culture," says Ms. Honor Harger, Executive Dierector of ArtScience Museum.

In the words of Dr. Federico Giudiceandrea, curator of the exhibition, "The works of M.C. Escher have inspired and influenced some of the greatest designs of the 20th century. I have seen Escher's works hundreds of times but I am still very intrigued and will always discover something new. The exhibition in Singapore will bring visitors into Escher's world, and through his tessellations and impossible structures, open a window that allows them to grasp the complexity of the world".
The retrospective will include earlier nature and landscape pieces from the 1920s and 1930s, to the figurative and abstract art developed in the late thirties, and his explorations of infinity that were brought to life in the 1970s. The final gallery of the exhibition will display works by artists, designers, musicians and film directors who were inspired by Escher.
The exhibition will be on from 24 September 2016 to the first quarter of 2017.
Tickets for Journey to Infinity: Escher's World of Wonder are available at the box office and on the website.
A standard ticket for adults is priced at $17 and $10 for children (SGD). Singaporeans enjoy a reduced rate of $14 for adults and $7 for children (SGD).
Find further information here.
Related links:
Art in Rio: Larger than life athlete installations by artist JR

Jaeger-LeCoultre pays homage to Vincent Van Gogh