While we're still in the middle of Olympics, why not check out the music scene in Rio?
When I think of Brazilian music, samba is the first genre that comes to mind. Quintessentially Brazilian, this musical genre and dance style well embodies the South American nation's vibrant, carnival-loving culture. But of course it is not the only type of Brazilian music out there, there is also pagode, a type of pop-samba, the part experimental part rock tropicália, the Afro-Brazilian sounds of maracatu and their own style of funk called funk carioco, amongst others. Little did I know that bossa nova (one of my personal favourites), too, is a genre of Brazilian music. How could I not have realised—it is a groovy, lyrical fusion of samba and jazz after all.
Ramblings aside and back to the main point: music is clearly an essential part of Brazilian culture. Even their popular form of martial art capoeira is never played without some beats on. It is probably safe to say your visit to Rio won't be complete till you go for a night out of good ol' live music. Not sure where to start? Here we've got you covered:
Carioca da Gema
Avenida Mem de Sá, 79 - Centro
Great music, delicious food, friendly service—there is no reason why you shouldn't give this welcoming, warmly lit little place a go. One of Lapa's pioneering bars, it hosts some of the city's best samba bands and a good mix of local and international crowd. It is open every night so whenever you need to feel like dancing the night away, you know where to go.  
Rio Scenarium
Rua do Lavradio, 20 Lapa
Spanning three floors, each decorated with beautiful antiques, Rio Scenario is one of Rio's most photogenic and hottest nightspots. Not surprisingly, it is very popular with tourists. But the locals love it here too—high on energy and big on music, this is a great night stop for food and festive Brazilian beats. 
Almirante Gonçalves, 50 Copacabana
The atmosphere at Bip Bip is pretty cosy, since it basically consists of a storefront and a scatter of tiny tables. They don't have a waiter—just make yourself at home and grab a beer from the fridges when you're there. When it's time, jam sessions will take off and you'll find yourself in the middle of a lively roda de samba, also known as informal samba played around a table.
2nd floor, Rua Vinícius de Morais, 39 Ipanema
This is probably not the best place to go for if you're looking for good food, but if amazing bossa nova is what you're looking for, this is the place to be—it is not known as the temple of bossa nova for nothing. There is the occasional Música Popular Brasileira (MPB) and samba on some nights too.
Rua Conde de Lages, 19 Lapa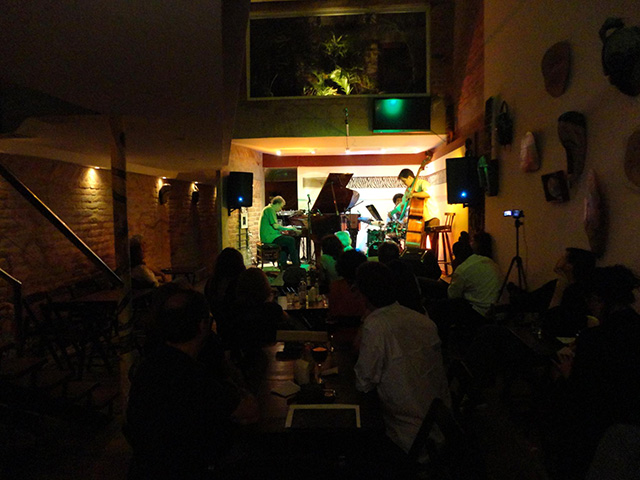 If you had your fair share of samba and want a change of scene, head to TribOz and indulge in a night of the music showcasing the best of Brazilian and international jazz. Housed in a mansion, this place is quite different from the usual music venues in Rio. Here, audiences are required to follow a no-talk policy during the performances. Besides excellent music, the food is also good, with tasteful and comfortable ambience to boot.
Related stories:
Art in Rio: Larger-than-life athlete installations by artist JR
Top Brazilian fashion designers you should know
For members only: The Omega House on Ipanema Beach in Rio

Source: