The film producer for 'Chinese Ghost Story' sheds light on her latest venture and how she juggles multiple professional roles
She is a film producer for two production houses, Monte Productions and Little Monkeys, and the founder for RedRibbon Days—how does she find the time for all of it? Find out here as we chat to Sherin Wong on the new film Chinese Ghost Story and her involvement in the film industry:
Tell us about Monte Productions' latest film Chinese Ghost Story. How did the idea come about?  
"Chinese Ghost Story is an accidental movie produced from our end. At the initial stage, we were supposed to produce a Malay film and pre-production has also commenced. However, things didn't work out as one of the business partners pulled the plug when he couldn't secure the cast he wanted. We then were left with the decision of what to do with the production team (a group of close to 30 people) that has been engaged for the project. All work came to a halt as we had to decide what to do next. It was hard to make a decision then. We could quite easily call it off and dismissed the team, but that would also means a group of people (mainly bread winners) will be left jobless. The decision was hastily left to me to decide.
I ultimately decided to continue production. Question then is: what will we be producing? Ideas were thrown on the table, and scriptwriters were called in to brainstorm on a new story, but the ideas just didn't seem quite fitting. I then decided to take a bold approach to the problem and voice out something that I've been quite wanting to do for a while.  I gave the idea and story to our director  and his eyes suddenly lit up—Chinese Ghost Story was conceptualised. It started with the title "3" (in Chinese, 三). My original story was pure horror, but the director was worried about the story being too dark. So he decided to add in punches of comedy in it to appeal to more viewers. Production started with full force end of August 2015, right smack in the month of the Ghost Festival."
How long did production take?
"The entire production took more than a month, including the hiccup at the start. It took place during the Ghost Festival month, which really added to the excitement of shooting a ghost story."
Were there difficult challenges or interesting stories from the set to share?
"The hardest part was of course when one of our business partners decided to pull the plug on production. As a result of that, we had to form a new company quite quickly so that we could get everything rolling smoothly. And just like that Monte Production was founded and Chinese Ghost Story is the first movie produced under this company."
What are you hoping to achieve with this film, both on a personal and professional level?
"Would I say I've given all my best on this film? The answer is no. This is only the beginning for me as I've learnt a tremendous lot from this film. Personally, I am a hard-core horror/slasher fan so I was hoping to see more of such element in my film. This film has challenged me to learn so much more about production, as every production has its own set of challenges and they are never really quite the same. I hope Chinese Ghost Story will set us on the right path in the film industry and give us a benchmark moving forward."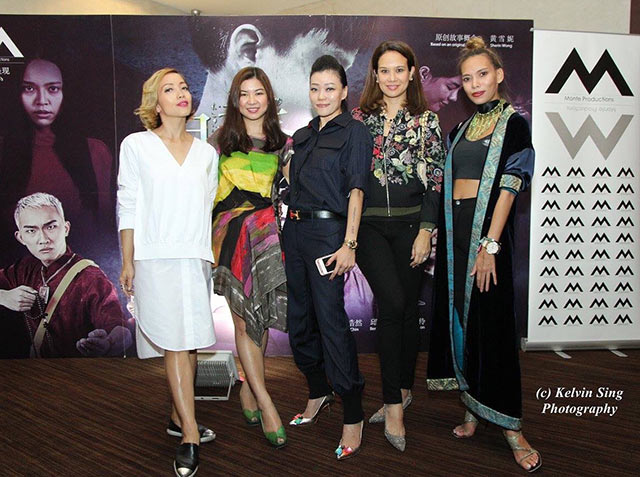 Tell us about your role as a film producer. What is involved in the job?
"A film producer is mainly responsible to control film budget and schedule but I tend to stick my head into every department, as I need to know what is going on within the production team. This includes script writing, props and set designs and the casts' wardrobe. I find it extremely important to have first hand knowledge of everything. Many a times, I thwart off problems by detecting them early since I involve myself from the very start.
A producer is also the main contact person for all decision making as well as fire fighting problems and issues. On the production set, there's also a lot of conflict between teams and people—so most of the time, I need to be the intermediary that mediates and resolve conflict. I also have to negotiate for sponsorship of products and promotion of the movie once it is ready to be released to the cinema for screening. In summary, a producer needs to be on the top of things from the start till the end."
You are a producer for two production companies and you run RedRibbon Days. How do you juggle between work and play?
"Yes, I'm also a producer for another company called Little Monkeys, mainly focussed in the production of local dramas for tv station. It's all about planning and time management.  For the past 8 months, I've been preoccupied with shooting and working hours are between 16-18 hours a day.  I try to do as much as I can when I'm on the set using my laptop or handphone to reply emails.
As for RedRibbon Days, we turned 8 this year. I have a team of capable people, and I'm proud to say some of them have been with us since day 1, so I don't need to spend as much time on it as I used to as they are used to the daily grind of the business. As for playtime, I have to admit it has been lacking for the past 8 months since I was on set most of the time. Now that we have completed shooting, I'm taking a few days off to recharge and be inspired for the next movie idea."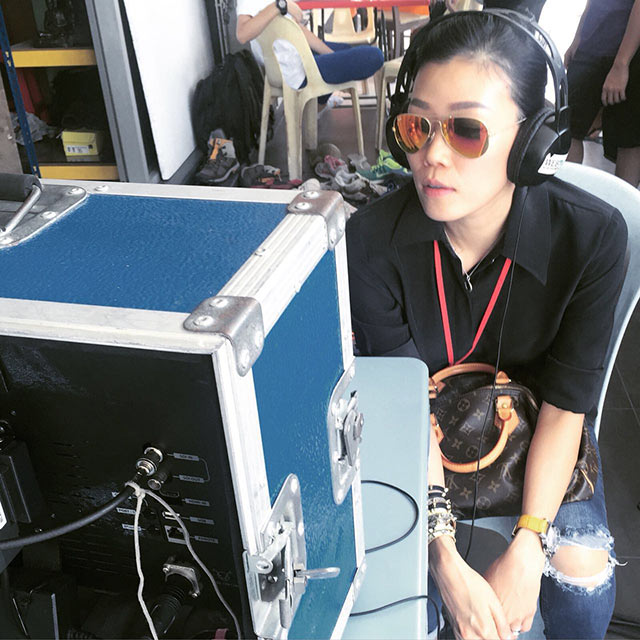 What made you decide to venture into the film industry?
"I am a big fan of movies especially horror movies. I've watched a lot of movies since young and I tend to watch one movie numerous times; and each time I will be looking out for different things that makes the movie interesting. It can be from the general storyline to wardrobe styling, and even set design, props and the use of mood music and theme song. So when I was offered the opportunity 3 years ago to enter the industry, I thought it would be a great opportunity for me to finally realise my dreams."
Is there anything else you're hoping to dip your toes in?
"I just recently wrapped up production for a 30 episode blockbuster drama series for NTV7, in which I was very involved in all departments—from casting to set design. I was also a prop master whereby I have to prepare fake bricks, stones, leg cast to fake blood. Next up, I'll try to challenge myself with directing and song composing. I'm learning as much as I can know from the directors that I've worked with and of course, it wouldn't be quite the same until I've really put my hands into directing my very own movie. I have also played the piano since young and completed my 8th grade exam so music composing is definitely something I would be keen to look into. There's just so much to do but so little time!"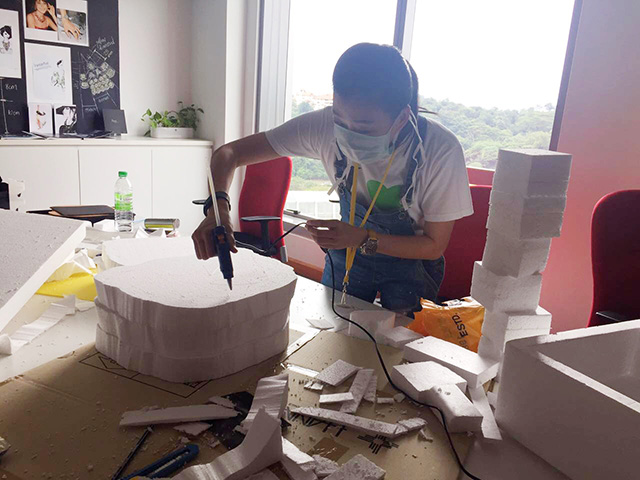 What do you do to wind down from a long day at work?
"I love to cook. So if I'm not on set and not too tired from a day's work, I'll definitely whip up something for dinner and savour it over a bottle of champagne or wine. I will then either watch a movie or drama series (which is also part of work now) or read a book. On days when I'm feeling bogged down, and I need to release stress, I run."
What is your go-to comfort food?
"Hot pot! I crave for Sichuan style (super spicy) hot pot all the time! When I'm down and depressed, I'll definitely crave for this as they never fail to boost up my mood."
Favourite holiday destination?
"Bhutan. I've fallen deeply in love with this happy place—it was love at first sight. It was my first time visiting the beautiful country earlier this year and I'm going again end of this year. Early this year I only visited Paro and Thimphu, end of this year I'm planning to complete Kora."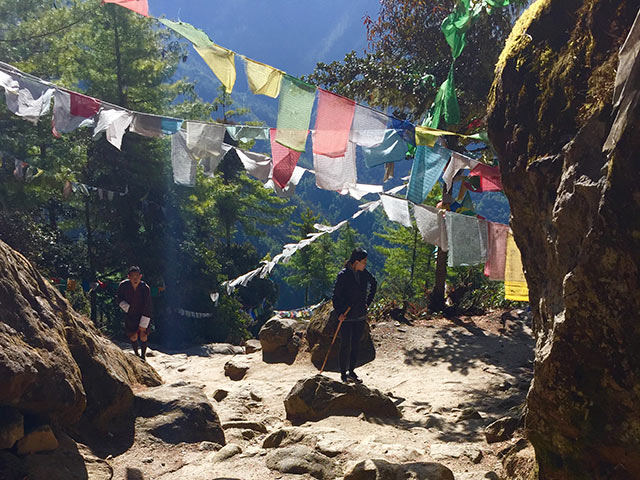 As someone who is always on the go, what are the 5 essential items we can find in your bag?
"Lip balm, wipes, credit card, notebook and pen."
Who or what inspires you?
"People who didn't believe in me. When I was younger, I used to be compared a lot with my peers who gets outstanding results in school. At some point when I was in college, I said to myself: 'People that didn't believe in me, just wait and watch me succeed.'"
Is there a life mantra you live by?
"What doesn't kill me makes me stronger."
Lastly, what will be your advice to someone who aspires to do what you do?
"Don't doubt yourself, and don't let what other people think of you affect you. Life is too short to ponder and wait—if there's something that you want to do, do it now. Quickly pen it down on papers, plan and execute it. Execution is key. Lastly, when opportunity knocks at the door, answer it."
'Chinese Ghost Story' is now in selected cinemas nationwide.
Related stories:
Catching up with Froya before Good Vibes Festival 2016
Emilia Clarke of 'Game of Thrones' on the reality of fame