Lauren Ho shares about writing books set in Southeast Asia with relatable female characters, and whether truth is stranger than fiction when it comes to the trope of meddling families
If you are—or have been—single, career-driven and in no hurry to settle for anything less than your heart's desires (despite what your family has to say about that), you'll recognise yourself within the pages of Last Tang Standing.
This sensational debut novel of Malaysian-born author Lauren Ho places us in the well-heeled shoes of Andrea Tang: A successful lawyer who relishes her comfortable and cosmopolitan life in Singapore. While the 33-year-old has her sights on making law partner ASAP, her Chinese-Malaysian family is concerned about the lack of a different sort of partner in her life. In an attempt to survive her thirties with her heart and pride intact, Andrea takes on the challenge of reconciling family expectations with personal happiness, while simultaneously navigating interracial dating (shh, don't tell her family!) and workplace politics.
All these wouldn't be as entertaining if Last Tang Standing didn't serve up home truths with plenty of humour. Reminiscent of Crazy Rich Asians in its depiction of large and very involved Asian families, and Bridget Jones's Diary in its honest look at dating as a career woman, this novel is Ho's witty love letter to the pursuit of happiness.
As a former legal counsel who lived and worked for a time in Europe before moving with her family to Singapore, Ho is intimately familiar with her protagonist's dilemmas and goals. Though there are differences between Andrea and herself—Ho has said that she's not as obsessed with rank—we can relate to this fictional character because we see ourselves, and the people in our friend group, in her. We empathise with her struggles to be respected for her ambition and brains, and perhaps with the complicated relationship she has with her family.
In every family where there are nosy uncles and aunties, there's a juicy story of outrage and exasperation. Got asked who you're dating and when you'll be handing out wedding invitations? Been there. Dodged comments on your appearance with as much wit and politeness as you could muster? Done that. A relative you barely know clucked her tongue and not-so-subtly hinted that you'll soon be too old for kids? Take a seat and join the support group.
Meddlesome families in fiction
If tales of colourful families are your guilty pleasure—to know you're not alone, and also to measure just how out there your relatives are—we're thrilled to share that the Singapore Writers Festival has gathered three authors (including Ho!) for a chat on 'The Blurse of a Meddling Family'.
Ho will be joined by Akshita Nanda (Nimita's Place) and Jesse Q. Sutanto (Dial A for Aunties) in the session that's taking place on 11 November at 7.30pm to 8.30pm. In what is bound to be a lively discussion, they'll talk "the lengths to which a determined family can go to meddle in their protagonists' love lives", followed by a live Q&A.
You can tune in to the livestream remotely through Sistic Live by purchasing a festival pass at $20 (Singapore dollars). This pass grants you access to many other bookish conversations that are part of the programme, including 'Beware the Smell of Frangipani At Night' (on Asian horror; 14 November from 11.30am to 12.30pm) and 'For the (Young) Love of Southeast Asia' (on love stories set in Southeast Asia; 14 November, 3.30pm to 4.30pm).
Click here to find out more about ' The Blurse of a Meddling Family and to purchase a festival pass
Ahead of Ho's session at the Singapore Writers Festival, we reached out to her to find out where she gets her sense of humour; whether her family likes having an author among their ranks; and her upcoming second novel which zooms in on elective co-parenting, a rising movement whereby two people who are not romantically involved decide to raise a child together.
Q: Did your parents recognise traces of themselves and your extended family in Last Tang Standing? What did they have to say about that and your publishing deal?
Lauren Ho: "I think writers drawn from what they know, but the world in Last Tang Standing is fictionalized, and I made sure my parents understood that. They were really happy when they heard I was getting published. They had always encouraged me to write and were never tiger parents in the sense that they didn't push me to pursue certain careers or restrict my career choices."
Q: What's your take on the saying that when you marry someone, you're marrying their family? Having lived in Asia and Europe, is it really more of an Asian thing?
Ho: "I don't like generalising, but I do think that it is true that when you marry someone, you marry their families—especially if your spouse is close to their family members. I think this is universal no matter what your cultural background, although in my experience, it is especially true of the Malaysian-Chinese culture I come from."
Q: Pleasing others vs pleasing yourself: Is it an ongoing struggle for you, or have you found the sweet spot that (mostly) satisfies all?
Ho: "I doubt you can live your life just pleasing yourself, because we don't live in isolation, so I think it's more important to live your life so you have as few regrets on your deathbed as possible."
Q: Your background is in the legal profession. Was it tough to put a marketable manuscript together? How did you do it and what did you find useful?
Ho: "I've always been a writer of short stories, so it wasn't that big a leap to write a novel. I can't say my legal background was useful in terms of writing this novel, except maybe when I was reviewing my contracts!
"For Last Tang Standing, the biggest influence from my background was my two years as an amateur stand-up comic. That really helped with the voice of the protagonist, Andrea Tang, which has been described as witty or humorous in my trade reviews. My advice to aspiring authors is not to chase trends, or try to be 'marketable' beyond having a sound story and solid craft, and keeping abreast of what sells in a general sense, especially in the genre you write in."
Q: In your upcoming second novel, Lucie Yi is Not a Romantic, you tackle the subject of elective co-parenting. Do you think it's something more Asian women will opt for when they've not found "The One" by a certain age?
Ho: "I think it's an interesting option for anyone, not just women from this part of the world. It's not traditional, and it comes with its own challenges, of course—but that is true even of 'traditional' institutions like marriage."
Q: What else should we know, and what can you tell us, about Lucie Yi is Not a Romantic?
Ho: "Lucie Yi features an all-Asian cast. The lead is Singaporean-Chinese and one of her love interests is an Asian-American (with Malaysian roots), and I loved writing the cultural clashes involved in their relationship."
Q: Who or where do you get your wit and humour from? Was it cultivated over time, or were you "born with it"?
Ho: "Thank you! Whatever I had, it was honed on stage when I tried stand-up comedy."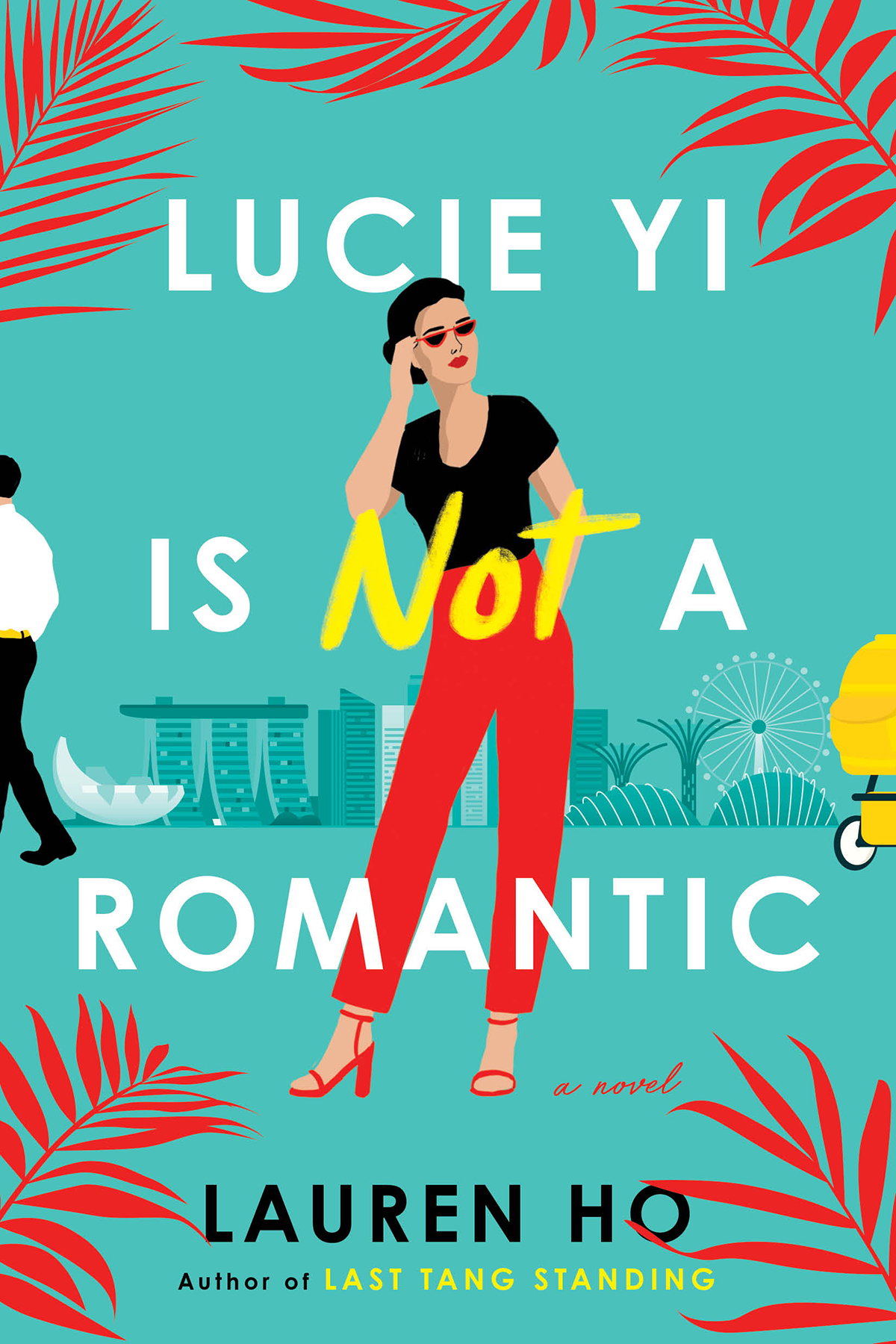 Lucie Yi is not a Romantic (check out the gorgeous cover!) will be published on June 21, 2022. In the meantime, delve into the world of Last Tang Standing (if you haven't), and connect with Lauren Ho on Instagram and Twitter.