Get to know Lee Ee Vee, a name that is quietly, but surely, making waves with her handcrafted ceramics amidst the maker movement
It probably isn't that much of an exaggeration when we say that everything Lee Ee Vee touches turns to gold. Her first artisanal venture finds its roots in 2009, when she co-founded The Last Polka, one of Malaysia's first handcrafted ice cream brands that became an instant hit with its novel flavours. While that chapter of her journey has since come to a close, the 35-year-old pens a new adventure with Thirty3Eleven, a ceramics label of which she is both the designer and the maker.
Every piece that comes out from Ee Vee's studio is hand-built. What you get are not standard, run-off-the-mill products, rather creations that each come with its own personality and charm, marked with perhaps an endearing imperfection here, a stroke of texture there.
Hi Ee Vee! Can you tell us about yourself and what you do?
"I am an introvert, rather fearful of new challenges but at the same time a person who doesn't want to live life regretting never accomplishing all that I was meant and made to be, and I have for the past three years been dabbling with hand-making ceramics here in KL."
When did you get into ceramics and what drew you to it? Have you always been a maker?
"Growing up, I always desired to be an interior designer. That didn't pan out, but I took my first ceramic classes back in September 2015 and... here I am! I was first drawn to ceramics on a trip to Paris. I was there for a few months studying French, when I stumbled into a ceramics shop and I was so amazed. It was magical and I thought it would be nice to one day have a shop filled with such beautiful things. To be honest, I never imagined I'd be a maker, but I'm happy with how things turned out and where I am right now.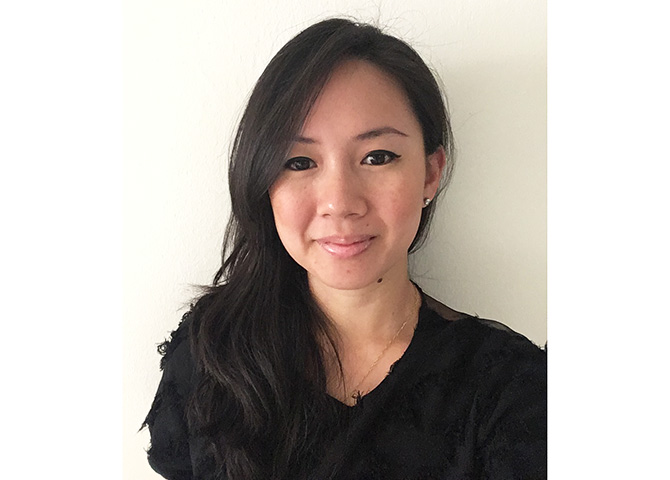 How did the name Thirty3Eleven come about?
"The name is a play on the numbers based on a Bible verse from Exodus 31:1-3 which partly says 'See I have chosen Bezalel son of Uri...and I have filled him with the Spirit of God, with skill, ability and knowledge in all kinds of crafts...'"
What was the first piece you made?
"An ugly bowl but it was necessary to learn the technique of coiling clay."
Take us through your ceramic-making process.
"It is actually a tedious and labour intensive process—I don't think anyone could imagine how much goes into the process of something you'd think to be simple. It starts with wedging clay, a preparation process to get air bubbles out. Then I'll move on to shaping the clay, where I trim or smooth the edges out. The piece is then left to completely dry out for about four days in our weather. This is followed by a first firing in the kiln, which goes up to about 1000°C degrees. It takes two days for this process, then comes a little sand down before glazing each piece. After that, a second firing—glaze firing—that goes up to 1240°C degrees, which takes another two days before it is complete. That is essentially a few weeks worth of work condensed into a paragraph."
What is your favourite part of the process? Is it also the most rewarding?
"The forming and shaping bit would have to be the favourite, as you basically get to see a lump of clay turned into something aesthetically pleasing. It isn't always the most rewarding though, as the pieces don't always turn out at this stage (they warp, ie don't dry flat, crack etc)."
How much time goes into a piece?
"All in I'd say it takes about four weeks to comfortably get a kiln load of pieces. In my small kiln that ranges between 20-40 pieces, depending on what I'm making."
How would you define the style of your work?
"Simple, quiet and monochromatic."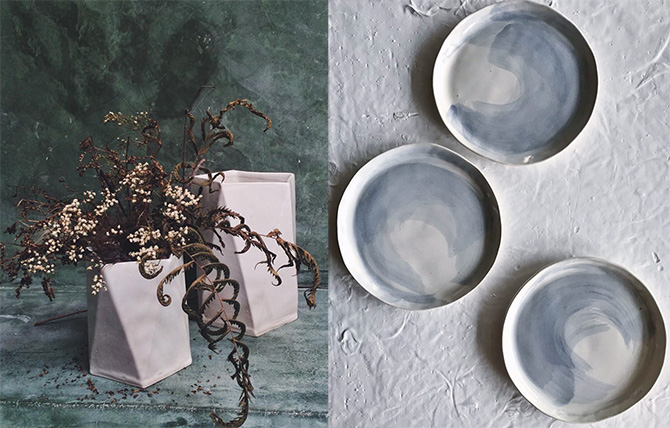 Tell us about some of the projects you've worked on.
"I've been privileged to customise a lampshade based on a small rice bowl design in my collection for KLOE Hotel, which is due to open sometime in the first quarter this year. I've also recently made a couple of hundred of plates for The Ruma's in-house fine dining restaurant, ATAS."
Clearly a lot of skills, care and patience go into ceramics—has the craft influenced the way you live in any way?
"I think it's the way that I live that has influenced my decision to stick with ceramics, and I find that the craft is really in tune with the core of who I am. The idea that I am working with nature, taking something as humble as mud and being able to transform it to something to be admired and used for the home, is a wonderful thing."
Who or what inspires you? 
"When I first started following potters on instagram, Jono Smart really caught my attention—I was really inspired by his life story. He suffers from bipolar disorder, was going through a divorce, had given up his dream job working for a renown landscape designer and took up pottery while on a break, and now his work sells out in less than an hour every time it goes live online. I think what really struck me about him was his openness about the issues he was dealing with. Physically and mentally that is such a feat and a real inspiration to me because I often feel I'm not as physically fit as others, and if he could do it, perhaps I can as well."
And finally, any goals or resolutions (whether personal or career-wise) for the year ahead?
"To figure out how to ship ceramics without them breaking!"
Thirty3Eleven is currently available at Ilaika Select store, Kedai Bikin and Kopenhagen Coffee. Follow Ee Vee's work on Instagram at @thirty3eleven.