Harvard's colourful collection is filled with 2,500 pigments from around the world
Housed inside the Straus Center for Conservation and Technical Studies at Harvard Art Museums, the samples from the Forbes pigment collection are placed in tinctured bottles behind tall glass cabinets. It was named after the Straus Center founder and former Fogg Art Museum Director, Edward Forbes, who began the collection at the start of the 20th century. On his travels, Forbes collected his samples from all around the world—from rare lapis lazuli found in Afghanistan to pigments from excavated sites at Pompeii.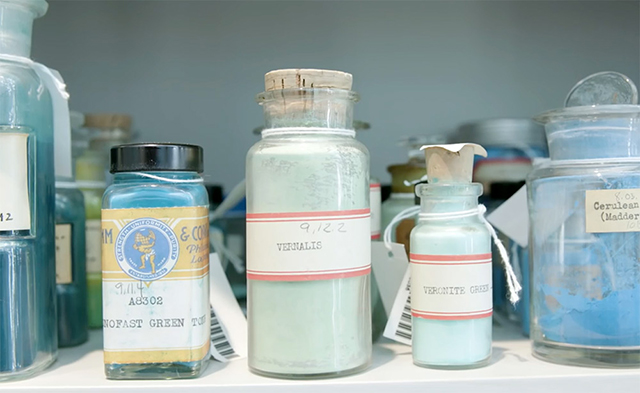 The purpose for the pigment collection is to help doctor and conserve paintings. Forbes' interest in preservation of paintings began with his purchase of the 14th century Madonna and Child with Saints in 1899. Upon his ownership of the painting, he noticed that it was quickly deteriorating. This sparked an interest into the process of how paintings were made, and lead the way into the collection of materials needed for the preservation of fine artworks as well as his own collection of early Italian paintings.
Just recently, the team from Great Big Story took their cameras inside Straus Centre for a closer look. Watch as Straus director Narayan Khandekar takes us through the impressive collection:
Related stories:
This photographer captures the beauty of textile creation
The world's most valuable missing paintings