Chloe Moretz's intense blue eyeliner is the stuff of dreams – and it takes less time than you'd spend in the shower to perfect
We're not sure if we're more heartbroken over the news of Chloe Moretz and Brooklyn Beckham calling the quits (ah, young love) or the starlet's decision to pull out of her upcoming movies - The Little Mermaid remake included - to "...reassess who I am and find myself within my roles again. I'm realizing that I can slow down." Being such an accomplished actress at 19, who can blame the girl?
That said, Chloe showed no signs of slowing down where style and beauty is concerned when she recently rocked this stunning 80s-inspired eyeliner look with aplomb. We checked-in with our makeup artist friends for a quick 3-step guide to nailing the look.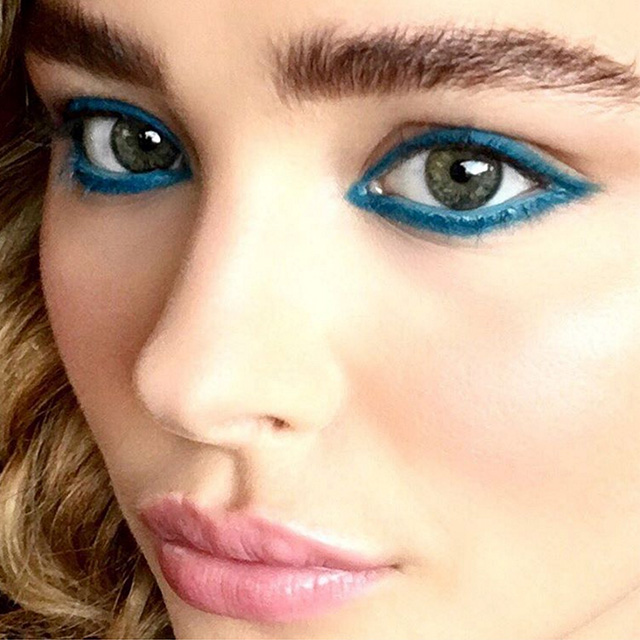 PREP & PRIME
Start by applying an eye primer all over the lid to create a smooth canvas - this is important to crease- and fade-proof the shadow and liner, making sure it stays put all day.
Try: Too Faced Shadow Insurance Primer, RM95
PLAY UP YOUR EYES
Good news is, blue eyeliners will really make your eyes pop, especially if you have brown or darker brown eyes - that makes the most of us! Using electric blue or teal eyeliner of your choice, carefully line your top and lower lash lines, extending at the inner and outer corners of your eyes to create a diamond shape - this works to enhance the shape of your eyes.
The trick here is to be bold, so be really generous when lining your eyes - it's ok to go a little bolder than you normally would, and start as close as you can to your lash lines. We recommend you use a liner with creamy or gel texture for easy application and the most intense result - and that's really all it takes! Bonus: with this look, you don't have to worry about perfection as a slightly smudged effect creates a totally different effect so either way, feel free to fake it til you make it.
Try: M.A.C Cosmetics Pearlglide Intense Eyeliner in Petrol Blue, RM85 or Makeup Store Glitter Eyeliner in Dancing Queen, RM109 for a little shimmer and shine for night
FINISHING TOUCHES
Using a black eyeliner, liner the inner rims of your eyes before finishing off with a coat of mascara for added definition and you're good to go!
Try: Dimensions de Chanel Mascara, RM120