Modern living means we are constantly on the go but at what expense? The revelation from YSL Beauty might just jolt you into a better self-care routine this new decade and we have the perfect solution for you
There comes a time, at least once in your life, that you'd be pinching yourself as you step onto a foreign land which exudes a mystical charm. The air is peppered with a heady mix of spicy and woody scent, the light shines with warm vibrancy and the view as breathtaking as you imagine it would be. That must have been what greeted and charmed Yves Saint Laurent the first time he visited Morocco in the 60s with his long-term partner Pierre Bergé. And that is exactly what I was drawn to when I found myself in the heartland of Marrakech at the invitation of YSL Beauty.
YSL's affinity with Morocco is a tale as old as time. We were flown in to learn of its heritage and experience the new YSL Beauty Pure Shots. Its latest skincare collection was developed to help modern women tackle skin issues of a fast-paced lifestyle. Quite apt for yours truly who have travelled halfway across the world and thrust into a number of educational and fun activities. As they say, no rest for the wicked! I couldn't have been more intrigued about the revelation and find the correlation between urban living and the state of our skin.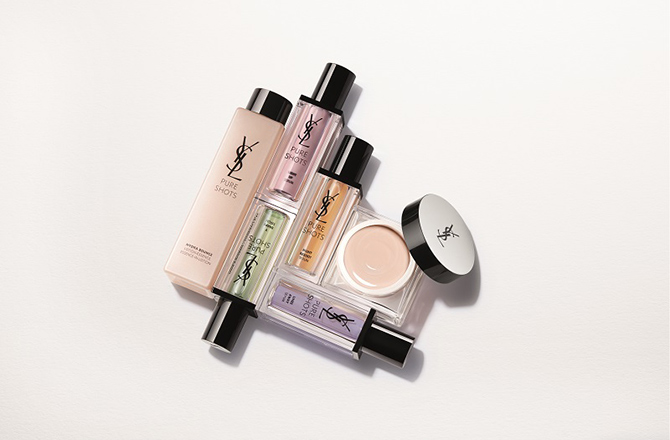 The research
The Pure Shots range encompasses four types of serum, an essence-in-lotion and a face cream. Each has been formulated with the best ingredients that the Moroccan plain has to offer supported by the brand's scientific expertise in the area of precision medicine.
"The Pure Shots range is our avant-garde approach to skincare, where we find ways to treat and prevent certain skin issues based on an individual's environment and way of life," explained Caroline Negre, the Scientific Director at YSL Beauty. "So we're not purely just focusing on the skin but also the lifestyle." What she's referring to is the game-changing discovery that was made through the brand's research—urban lifestyle speeds up skin ageing by up to a whopping 30 percent! Yikes!
If you have been living in denial, all those hard days at work (or party) and bingeing do take a toll. According to Dr Frederic Flament, YSL Beauty's Urban Skin Scientist, studies have long found that urban conditions such as UV rays, outdoor activities and pollution are the main culprit of skin ageing. That's not new but what's alarming is how early the deterioration starts. "Even young women, between 20 and 30 years old, see a clear change in skin quality in terms of dullness, fatigue and an uneven skin tone at the end of a busy day in the city," he said.
Other factors like stress, long daily commute, hectic social life, diet, smoking, alcohol and more also contribute to the skin's ageing process. Yes, your lifestyle affects the way your skin cells regenerate. Hence, you're prone to: wrinkles, flawed skin texture, sagging and drooping upper eyelid, pigmentation and visible veins.
From its research, YSL Beauty found that overworked urban skin is characterised by two imbalances—i) those of the epidermal cells responsible for skin renewal and ii) those of the skin's essential elements such as Vitamins C, E and B, aminoacids, peptides, hyaluronic acid and ATP (the skin cell's energy). Thus, as you live a fast-paced lifestyle your skin experiences these biological imbalances that can accelerate skin ageing by up to 30 percent.
TLDR: The main takeaway is that it's really not just about the health of your skin but also how well you're living your life.
The garden of inspiration
Based on its findings, the team at YSL Beauty got to work by combining nature and science to help replenish the skin's essential elements and correct the damages of an urban lifestyle. The inspiration of course was found right at YSL's very own Ourika Gardens in Marrakech where they were able to monitor the plants and harvest the powerful active ingredients that will benefit the skin.
"The YSL Beauty potent botanicals come from Morocco—we grow these ingredients in the Ourika Valley close to the Atlas Mountains. This location means the plants grow in a harsh climate—they are exposed to extreme temperatures, but this only makes them more powerful, and enhances their special properties beneficial to the skin," Negre shared.
"We apply a unique and eco-friendly extraction process to obtain a pure extract with very concentrated ingredients. It is a slow and cold process that uses less energy and less water to obtain the botanical sap, thereby protecting the environment. Using this process, we extract all the potent and effective molecules from the ingredients and transform them into a pure, concentrated extract with potent, highly effective botanical active ingredients."
The Ourika Gardens are truly a sight to behold. We visited the fields one misty morning to see local women toiling away harvesting the crops. Here, we also got to witness how talented landscape artists, botanists and experts have transformed the plots of land into a flourishing botanical garden that produces plants used in YSL Beauty makeup, fragrance and skincare. Some of its signature ingredients were sourced from here including the moonlight cactus, Barbary fig, iris root, marshmallow flower and orange blossom for the Pure Shots range.
The Pure Shots collection
Through a careful selection of potent active ingredients, YSL Beauty has been able to harness the goodness and power of each botanical's most vital component into the Pure Shots products:
Swipe through the gallery and discover more about the Pure Shots collection in detail below:
YSL Beauty Pure Shots skincare collection is now in store. Price starts from RM250 for the Essence-in-Lotion, RM307 for the serums and RM384 for the Perfect Plumper Cream. Get more info here.