The new Daily Dose Serum from Supergoop! is an absolute game changer—here's why
Don't panic, but you've probably been using your vitamin C incorrectly this whole time. Let us explain: Vitamin C has long been revered for its health benefits, but its popularity has grown exponentially within the skincare industry in the last decade. It is ubiquitous in the beauty market today, and it's clear to see why. Within the right formulations, the ingredient delivers potent anti-ageing benefits, from brightening effects to antioxidant action.
There's just one catch: As an ingredient, Vitamin C is incredibly unstable—especially when there is heat, light, air, or UV involved (so, basically all the time). While most brands use air-tight packaging and tinted bottles to keep their formulations fresh in storage, issues arise once the product is dispensed and applied to the skin.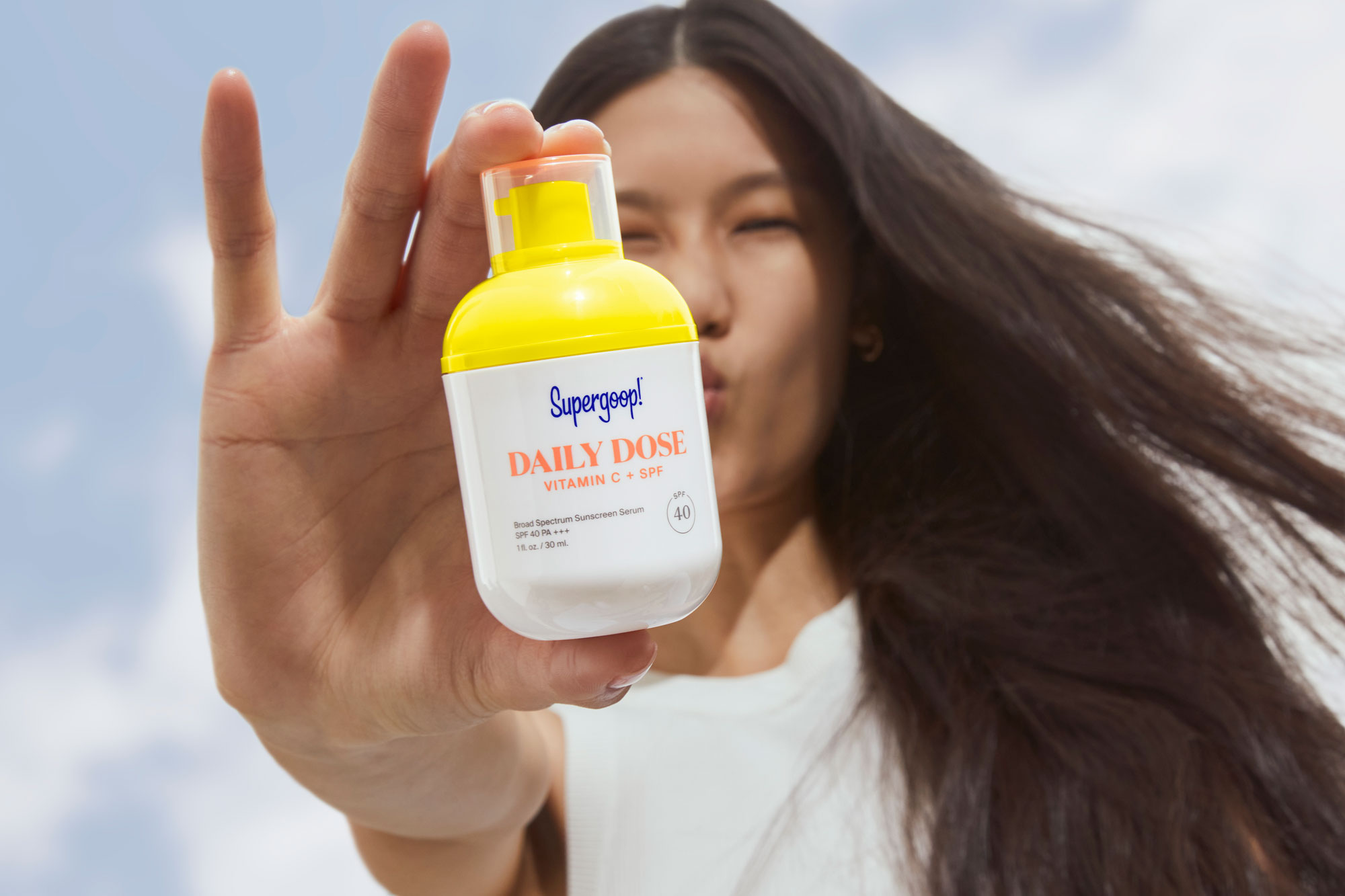 Mind you, while air, light, and heat do degrade the molecule in the long-term, the process usually takes a couple of months. The sun, however, is not so forgiving. You see, while the buzzy ingredient is a great antioxidant for daytime use, it becomes virtually useless as soon as it comes into contact with UV rays.
Indeed, the molecule is photo-incinerated under sunlight (in other words, totally burned away). This means that, without using an adequate amount of UV protection with your vitamin C products, you're wasting your hard-earned money.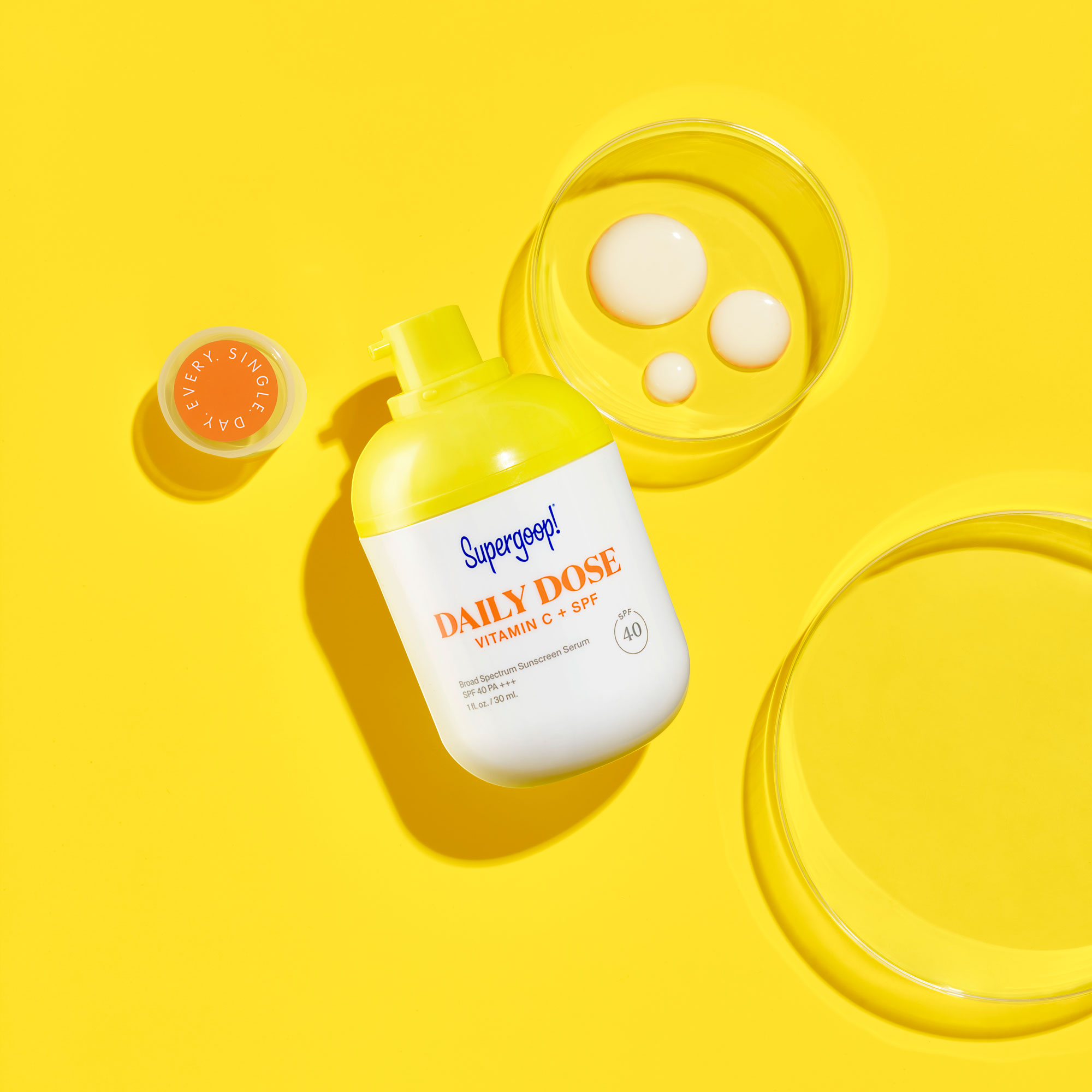 That's where Supergoop!'s brand new Daily Dose Vitamin C and SPF40 Serum comes in. As the name suggests, the revolutionary formulation blends high potency Vitamin C together with SPF40 to create a powerful serum that keeps your actives fresh and efficacious, even under the sun.
The dynamic duo within this hydrating, oil-free formula work synergistically—the chemical SPF prevents UV damage from occurring in the first place, and the brand's Vitamin C Brightening Complex corrects any damage that the skin has already accumulated.
What is the "Vitamin C Brightening Complex", we hear you ask? Simply put, this powerful blend is made up of three key ingredients for maximised skin benefits: 10 per cent Vitamin C in the form of 3-O-ethyl-ascorbic acid to brighten the skin and lighten hyperpigmentation, two per cent Kakadu plum extract to improve skin radiance, and two per cent niacinamide to even out the skin tone and reduce the appearance of pores.
That's not where the benefits end, either—the serum has also been formulated with the marine-derived Pseudoaltermonas ferment extract for an extra boost of blue light protection. In essence, it keeps you protected from all causes of dark spots and helps to prevent further photoaging within the skin.
The facts only work to support the claims, too: In an independent clinical research study of the serum, 91 per cent of participants found that their skin was brighter after four weeks while 94 per cent reported overall healthier skin after eight weeks.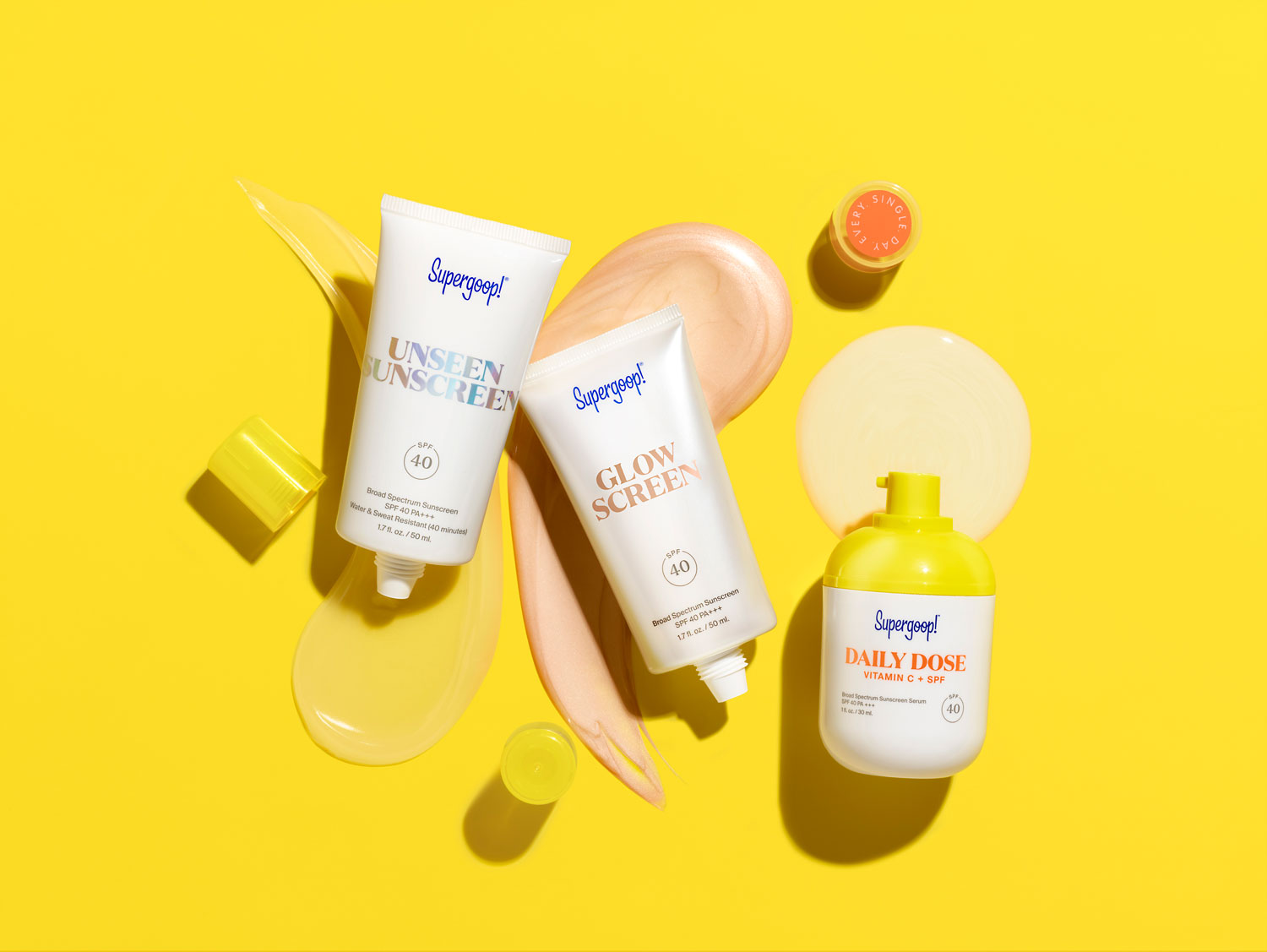 Needless to say, this hybrid serum is the ultimate addition to your SPF wardrobe, leaving your skin instantly hydrated and glowing from within. Better yet, it's so easy to use: Just apply the product as your serum step (after toning and before moisturising) 15 minutes before sun exposure. It can be used on its own or layered under your Supergoop! sunscreen of choice—the world is your oyster!
For good measure, we've compiled our three best tips for using the Daily Dose Vitamin C and SPF40 Serum:
TIP #1: Shake well before use
TIP #2: If used on its own, be sure to apply two to three pumps of the product for adequate protection.
TIP #3: If layered under another sunscreen of your choice, allow the Daily Dose Serum to sink in for at least three to four minutes before adding your next layer—this prevents pilling.
TIP #4: Avoid using mineral sunscreens with your Daily Dose Serum—the two ingredients thrive on totally different pH levels and don't play well together.
Keen to try out the future of Vitamin C for yourself? Shop for the Daily Dose Vitamin C and SPF40 Serum here.