Are Foreo's devices *actually* worth the hype? One Beauty Writer puts the buzzy brand's three best-sellers to the test so you don't have to
When it comes to my skincare routine, I'm all about taking the most efficient course of action. Exempting the one day a month that I dedicate entirely to self-care, my skincare routine is equal parts extensive and rushed. Specifically, while I like having an elaborate, multi-step routine, I'm also very impatient.
You see, I love a good sheet mask. However, I don't like having to wait around for 20 minutes, feeling absolutely useless, before I can take it off. Similarly, I also love a deep cleanse, but I don't like having to stand about, working said cleanser into my skin, while water drips down my sleeve.
As such, I will jump at any opportunity to make my routine more streamlined. Now, given that Foreo's devices are built to work effectively in just a matter of minutes, you can bet that I sought to get my hands on them ASAP.
I received three of FOREO's best-sellers to try—the Luna 3, the UFO 2, and the Bear—and I put them through months of vigorous testing. From all the different ways one person can use the Luna 3 to the best masks to use with the UFO 2, find my full review of Foreo's lineup ahead:
Luna 3 Plus Sensitive Skin Facial Cleansing And Toning Device, RM1,490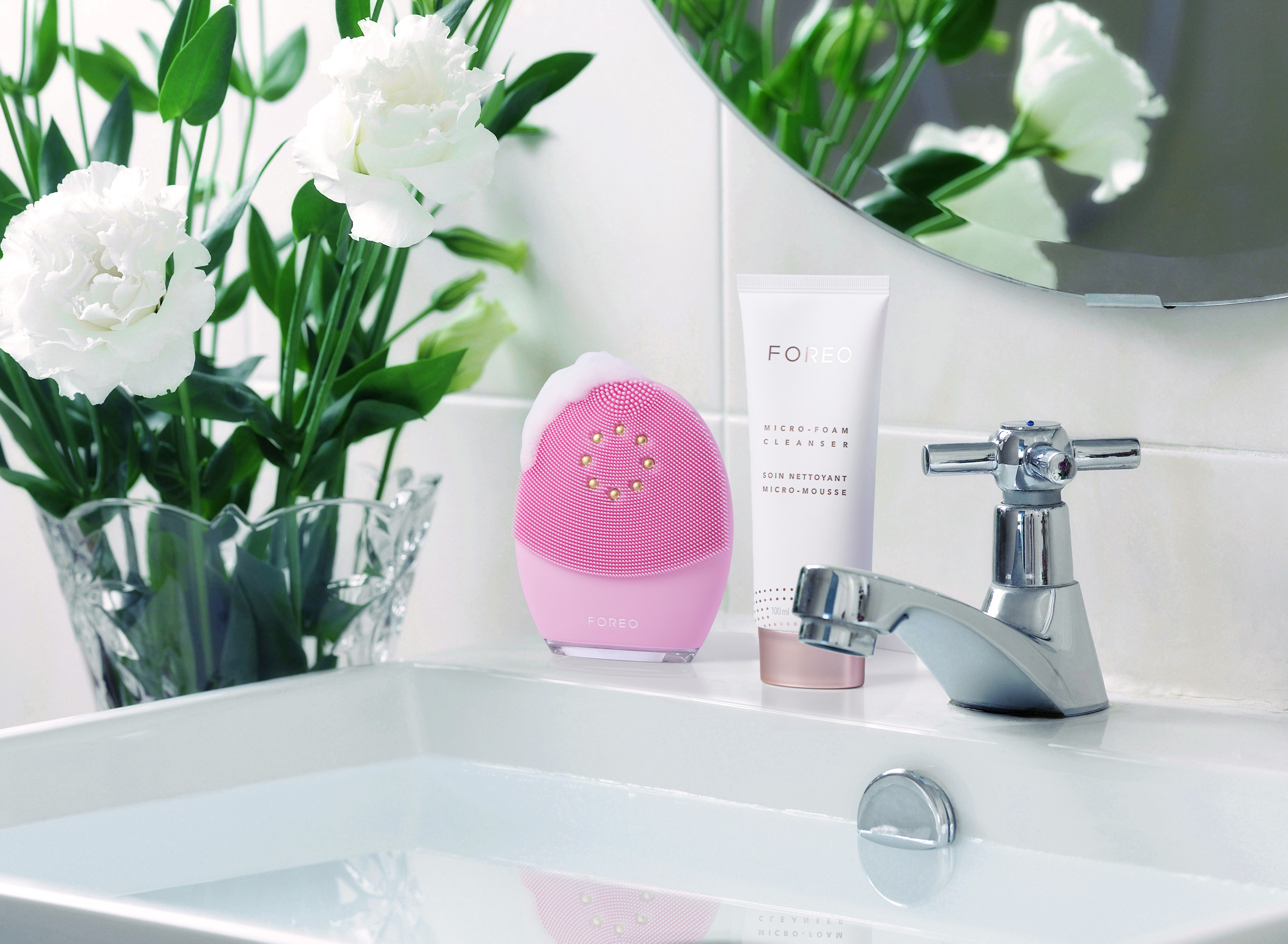 My combination skin is somehow both akin to an oil slick and prone to flaky, dry patches—truly, the duality of man. As a result, I like to exfoliate fairly regularly. Prior to receiving the Luna 3 Plus, I was a big fan of gentle face scrubs and topical exfoliants. Now, while these are still staples in my routine, I have to say the Luna 3 Plus has completely rocked my world. 
It's an absolute staple in my two-step cleansing routine. For my first step, I'll typically use an oil cleanser to get my makeup and sunscreen off. Then, once that's emulsified and thoroughly rinsed away, I'll go in and use the Luna 3 Plus to work my foaming cleanser into my skin.
NOTE: Oil damages silicone, so it's important to make sure that your cleansing balms and oils are completely removed before using your device.
I've been using my Luna 3 Plus unit for a solid three months now. Overall, the silicone brush manages to clean and gently exfoliate my skin without leaving me feeling raw, which is something my sensitive skin greatly appreciates. I also love the thermo-facial cleansing feature—it has made my cleansing routine a really soothing ritual to wind down with.
I've found that I get the best results with my favourite salicylic acid cleanser from Clear Start—it's an acne-fighting combination that has really helped me in clearing my hormonal breakouts. In fact, I've noticed that my skin looks visibly more congested on days when I have skipped out on cleansing with the brush, so the Luna 3 Plus has officially cemented itself as a must-have in my routine. Not to mention, the unit also doubles as a great makeup brush cleaner. The little silicone fingers do a far more efficient job of scrubbing makeup off of my brush bristles—in fact, doing things this way has actually cut down my brush-cleaning routine by half and left me with much cleaner brushes.
The device does also feature microcurrent toning (with a corresponding treatment plan on the app), but if I'm completely honest, the feature has been left woefully under-utilised by myself. It's not a fault of the product—it's just that I am too lazy to fully take advantage of it and follow through with the program regularly (oops). That said, if you're looking for a versatile device that does it all, I did very much enjoy the set programmes available on the app for the Luna 3 Plus!
Foreo UFO 2 Facial Treatment Device For All Skin Types, RM1,250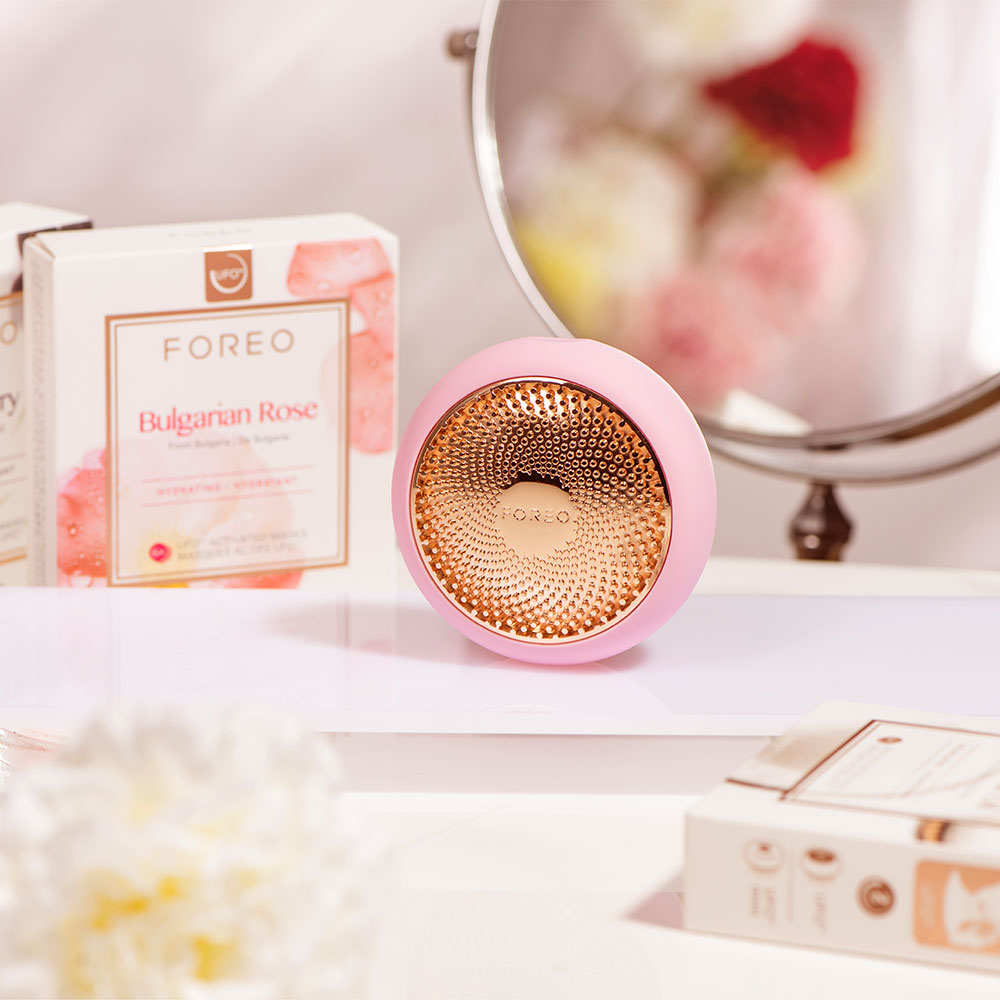 I've been a fan of this LED facial device for a long time now—not only is it super user-friendly, but it's also a great way to pamper your skin after a long day. The UFO 2 offers eight LED wavelengths, from anti-ageing red light to acne-busting blue light and beyond, along with thermo- and cryo-therapy and the brand's signature T-Sonic massage technology. It's super easy to customise your treatment via the app—you can either choose one of the set presets or DIY a custom treatment to suit your needs.
The device comes with a range of masks that have been designed specifically for use with the UFO 2 unit, but the device can also be used with any sheet mask you have on hand. I've tried it both ways, and I can genuinely say I have no preference one way or another.
I will say, however, that the sheer range of face masks available from Foreo is a huge plus for those with temperamental skin and constantly evolving needs (AKA, me)—whether you're struggling with congested pores, dullness, dehydrated skin or something else, the brand has probably created a UFO-activated mask for your needs. My personal favourites include the anti-pollution Make My Day mask, the purifying Green Tea mask, and the revitalising Manuka Honey mask.
Now, while sheet masks aren't the most eco-friendly option, I do have to say that the UFO 2 has become an indispensable part of my skincare routine. Apart from being a fun and novel way to wind down before bed, the UFO 2 has genuinely had a wonderful impact on my skin.
On weeks where I've used it on a nightly basis, I've noticed that my skin looks so much better—specifically, my pores appear more refined, my skin tone looks way more even, and there is generally less inflammation and dryness around my spots. Further, I've genuinely noticed that my breakouts tend to heal up much faster after being treated with the UFO.
Needless to say, I look forward to my pre-bedtime UFO 2 routine pretty much every night. The T-Sonic pulsations paired with the thermo function on the device makes for an extremely soothing nighttime ritual. Further, while it's a little more hands-on than my Dr Dennis Gross LED mask, I much prefer the almost instantaneous results I get with the UFO 2. Overall, it's a great companion to the Luna 3 Plus and has genuinely made my nightly masking routine far more efficient.
Foreo Bear Microcurrent Facial Toning Device, RM1,490
If I'm completely honest, the Bear device isn't a must-have for me. Don't get me wrong—it's definitely fun to have, and the massage ritual is wonderful for sculpting and depuffing, but I'm just too lazy as a person to keep up with a steady routine. Unlike the Luna 3 Plus or the UFO 2, the Bear doesn't help me streamline any part of my existing routine.
You see, I need to cleanse my face daily, and the Luna 3 Plus makes the process much more efficient and enjoyable. Similarly, I already mask up regularly, and the UFO 2 helps me cut that process down from 20 minutes to two minutes. Put simply, the other two devices actually do make my current skincare routine significantly easier.
With the Bear, however, as a dedicated face massage isn't something I really carve out time for anyway, I find myself having to go out of my way to incorporate the device into my routine. That said, while it's not my cup of tea on a regular basis, I've had a lot of fun playing around with the device on my "pampering days".
From my experience, the Foreo Bear is extremely well-designed and easy to use, and the set programs available on the Foreo app are simultaneously relaxing and invigorating. It's the perfect way to wake up for the day or wind down for the evening, depending on your mood. The device comes with anti-ageing microcurrent and T-Sonic massage technology that works to tone and train the muscles in your face and neck—when used correctly, it improves the facial contours, tightens areas of sagging, and smoothes premature wrinkles. 
Overall, I can definitely see the device being a go-to for those who would are looking to upgrade their own depuffing and toning facial massage routines, as well as those looking to tackle the signs of premature ageing. Though it's not a part of my everyday routine, it is definitely nice to have on my monthly self-care benders.
So, is the Foreo lineup worth the price tag? I'd definitely say so! Not only do they genuinely work, but they also work quickly. In fact, in the last few months that I've been incorporating them into my routine, I've found that my skin looks glowy and healthy—pretty much everything a girl could want from her skincare routine.
Will you be trying anything from Foreo's lineup?
Find more beauty reviews like this here.