A new world-class beauty landmark offers reprieve and reinvigoration in the heart of Bangkok
With a revamped concept of discovering beauty, finding Zen in Central Bangkok takes on a whole new meaning. Amid the hubbub of the city, one would need to be completely oblivious to not register the impressive properties owned by Thailand's Central Group. Amongst them is CentralWorld, the largest lifestyle shopping destination in Bangkok and also the place you will find Zen—a seven-level megastore catering to trend- and style-conscious shoppers.
So, when Buro 24/7 Malaysia received an invitation to the department store's newly refurbished beauty floor, a special experience was the inevitable expectation. We soon found out how mistaken we were. For it was not a singular experience that Zen Beauty provides, but a series of unique ones under a single roof.
Zen Beauty sets itself apart with a "maximise design concept", which facilitates full use of vertical space—a first in Thailand. What this means is that every brand is granted freedom in the design of their beauty counter, from signage to shelving, and layout to lighting. Dare we say this beats even a high street block dedicated solely to cosmetics? Picture this: An expansive floor of compact but distinctly designed stations that represent the world's best beauty brands, all beckoning exploration while you remain abreast of the little luxuries of air-conditioning and mall facilities.
On top of innovative design, many of the brands also embraced the digital movement that is changing the modern beauty sphere. Take the Dior Backstage Studio for instance; a digital presence is made clearly known using a large LED screen and an upcoming Backstage Live Wall, which would connect shoppers to the online world of the brand. But the most refreshing element of the setup remains the individuality each brand could express. La Mer's connection to the sea is apparent in an aquatic feature in the middle of its floor space and undulating waves covering its ceiling. Chanel keeps their space trés chic with white panelling and glossy black fixtures, M.A.C is snazzy with tubular showcases that mimic lipstick bullets, and Aesop's signature restraint serves as a peaceful nook by the side of the store. How often would you find the ambient warmth of Estée Lauder's beige furnishing a mere five feet away from the snazzy fluorescence that illuminates YSL?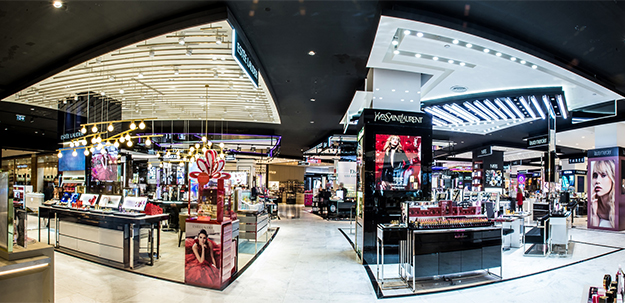 At Zen Beauty, products from over 130 brands, which include cosmetics, skincare, and fragrances for both men and women are offered alongside a curation of exclusive beauty services. And whether you're an avid lover of beauté à la française or a champion of Asian labels, you will still be spoilt for choice. Find American heavyweights like Bobbi Brown, Benefit and Kiehl's; Clarins, Lancome and Make Up Forever from France; Japanese market leaders like Shu Uemura, Kose and Kanebo; and of course K-beauty pioneers, Sulwhasoo and Mamonde.
The all-new Zen Beauty is located on Level One of CentralWorld in Bangkok, Thailand. Why not give this place a spot on your must-visit list for your next weekend getaway.