The Buro 24/7 team leaves it to the professionals as we try out shu uemura's 3D brow styling service
Got a special occasion to celebrate this evening and need your brows to be absolutely perfect? Or is it time again to shape those arches? Perhaps a visit to shu uemura is in order—learn about the renown Japanese brand's 3D brow styling service here before you take the plunge:
About 3D brow styling
One of shu uemura's signature services, a 3D brow styling appointment gives you an in-store session where a brow artisan will work her magic to give you beautiful, natural-looking 3 dimensional brows in just 20 minutes. This includes brow shaping and styling using shu uemura's professional tools.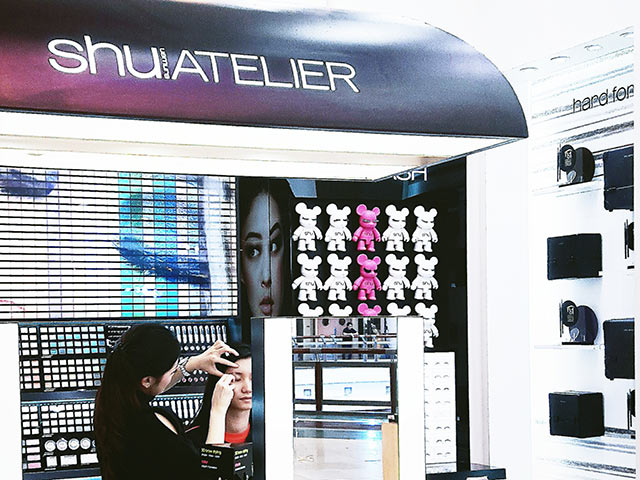 After shaping (trim and pluck), the brow artisan will proceed with a 3-step brow styling process:
1) Shade a natural eyebrow shadow
Product used: shu uemura eyebrow ink or brow:palette
2) Draw to define
Product used: shu uemura hard formula hard 9 eyebrow pencil or brow:sword
3) Colour in for a finishing touch
Product used: shu uemura eyebrow manicure
We went to the shu uemura store at One Utama to try out the 3D brow styling service. While there, we were introduced to a shu uemura cult classic—the hard formula hard 9 eyebrow pencil. This brow pencil is unique for its signature thin, flat sides with a curved edge known as the naginata samura sword shape. Sharpened this way, it boasts better versatility and retains sharpness longer compared to the conventional shape. According to shu uemura international artistic director Uchida, the naginata shape requires meticulous craftsmanship, and can take up to 10 minutes to sharpen into its precise form.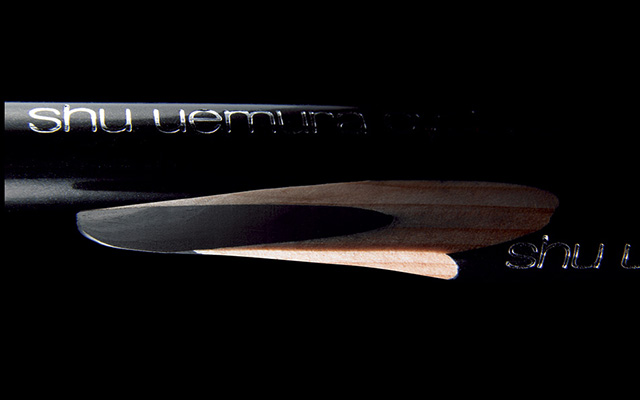 The hard formula hard 9 pencil is formulated with a mix of powder, wax and small amounts of semi-solid oil, a brilliant hard lead formula that is smudge-proof and long lasting. And get this—it only releases colour pigment when it interacts with the natural oils on your eyebrow hair. The result? Defined brows in your desired style, whether it's thin, thick, curved or straight, with an effortless natural finish.
Tan Su Fen, Writer
Confession: I have zero confidence when it comes to drawing brows. It is not that I haven't tried, but my attempts so far have been pretty unfruitful, and I always end up with brows that look so drawn on that I'd rather go out without doing anything to them—it doesn't help that I am not the most patient of people too. Needless to say, I was more than happy to try out the 3D brow styling service at shu uemura. I love how quick it took to shape and style my brows. Our brow stylist Elise clearly knew what she was doing, and it took less than 20 minutes for her to create a beautiful set of bold yet natural-looking brows for me. I was also really impressed by the hard formula hard 9 pencil; it was quite fascinating to see how it worked by interacting with the oils in our brow hair, and it gave the most natural finish amongst the pencils I've used so far. Besides finding a place I can go to for a quick brow pick-me-up, I think I just found my new go-to brow product.
Alyssa Lee, Editorial Assistant
Despite going into the 3D brow styling appointment fearing the worst-case scenario of tadpole brows, I could not wait to have my first professional brow-grooming session; and to experience it in 3D—too cool. Turns out, no 3D glasses were involved. Instead, my brows were cleaned up and given a slight reshaping, followed by a 3-step styling session to help them achieve their full three-dimensional potential. First came shading using their brow ink to create natural shadows of a full brow; then, sparse spots were filled in using shu uemura's iconic hard formula hard 9 pencil; and the last step was to coat, define and lift the hairs ever so slightly to create that 3D effect. The consultant patiently walked me through everything and always checked if I was comfortable with each of her suggestions. I came out of the session with a new and improved set of brows that in no way resemble baby frogs. So happy.
Shu uemura 3D brow styling service appointments can now be booked online. You can pick the date, time, location and even your preferred makeup artist, just head over here and fill up the booking form.
You may also like...
Shu Uemura Color Atelier: Warrior Women
Break up with uneven brows once and for all