Yes, the wait is finally (almost) over. Here is all you need to know about the much-talked about beauty brand before it hits our shores:
Mark your calendar ladies, because there is just 10 days to go before we'll be able to get our hands on cult beauty brand Kat Von D Beauty right here—no more waiting for weeks for your online purchases to arrive. Tattoo artist, television and makeup mogul Kat Von D herself was in Singapore recently for the official media launch of her brand in the region, oozing charming down-to-earth vibes as she spoke about her amazing makeup creations.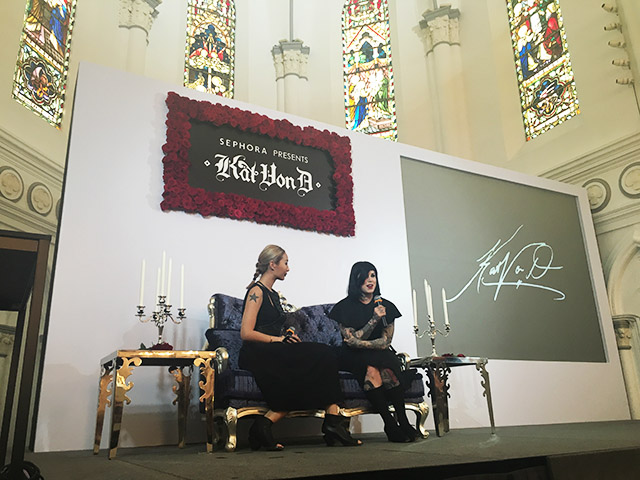 We're definitely not exaggerating when we say amazing; expect products that deliver extreme performance with intense pigmentation, full coverage and long-wearing capabilities. We got to try them first-hand, and they met every expectation we had for them, and more—they held their ground and remained intact even through the scorching weather we have here. 
What are the must-have products from the Kat Von D Beauty makeup collection? We break them down here:
Kat Von D Everlasting Liquid Lipstick, RM99
One of the star products of the brand, the Everlasting Liquid Lipstick is the liquid lipstick to have. Many beauty junkies have sworn by this, and it is easy to see why: the high-pigment, non-drying formula glides on the lips comfortably, and dries to a true matte finish. Keep a look our for Lolita, a chestnut rose shade that is possibly the most beautiful brown hue you can sport on your lips.
Available in 26 shades.
Kat Von D Tattoo Liner, RM99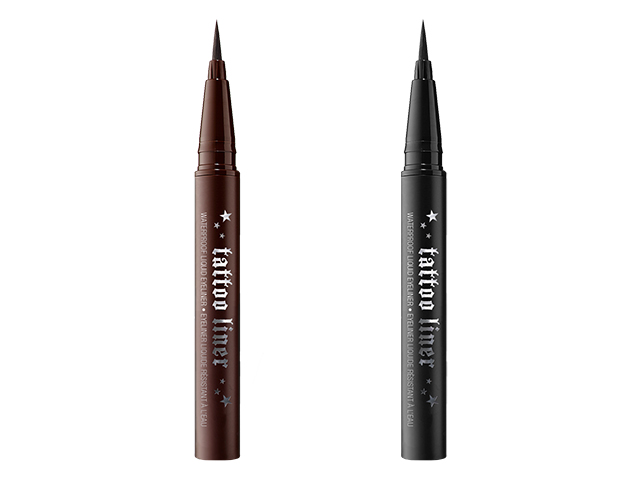 This is a great everyday-wear liner. While it wasn't as pigmented as we thought it would be, it is buildable and a breeze to apply—the fine and flexible brush tip allows incredibly fluid application. Our favourite thing about this waterproof liner is how it stays on all day without smearing, but comes off easily at the end of the night with one swipe of your makeup remover.
Available in 2 shades.
Kat Von D Lock-It Foundation, RM179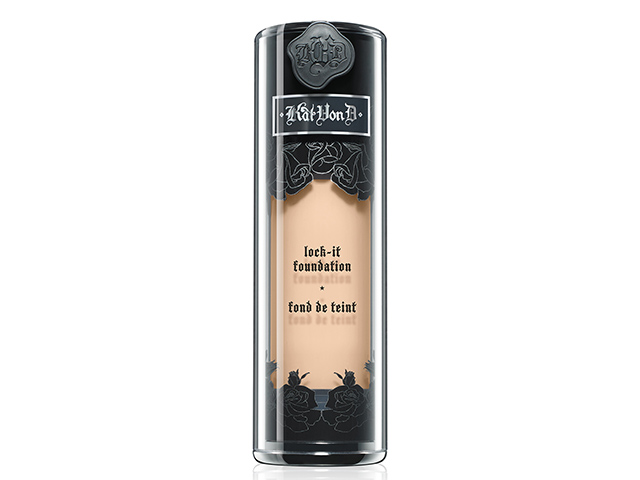 They really mean it when they say full coverage: Kat Von D Beauty's global makeup artist Erik Soto applied just one layer of the Lock-It Foundation on his sleeve tattoo and voila—it was as if he had nothing there. Long-lasting with unbelievable coverage and oil control qualities, this liquid foundation is everything a girl could ask for, giving you a velvety smooth, matte finish yet hydrated complexion.
Available in 17 shades.
Kat Von D Lock-It Featherweight Primer, RM159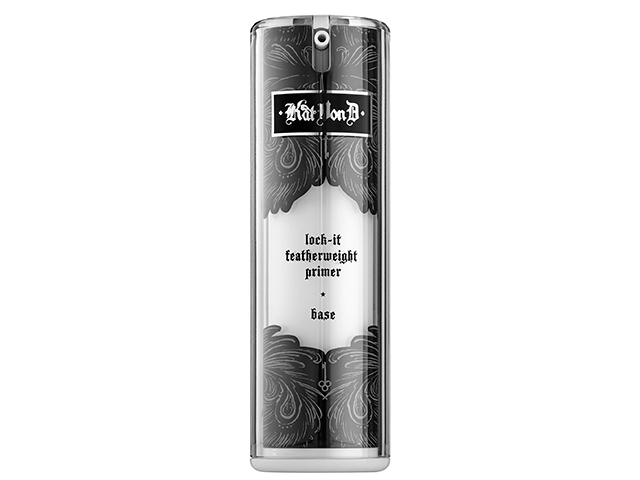 Fast-absorbing and hydrating, this primer helps create a clean canvas for your foundation. The lightweight, milky formula is infused with nourishing ingredients like aloe vera, jojoba and shea. The best thing about this primer is, it is one of the most versatile products around; it can be a mixing medium for just about anything.
Tip: The possibilities are endless, but if you long for a more dewy finish with the Lock-It Foundation, simply mix it with the primer before application.
Kat Von D Metal Crush Eyeshadow, RM104
While the bulk of Kat Von D Beauty consists of products with a matte finish, if you need a dash of shimmer in your life—take on the Metal Crush Eyeshadow. Dare to be bold with this ultra long-wear and highly pigmented shadow, it glides on smoothly across the lids, leaving the hoods of your peepers with an alluring metallic finish.
Tip: Mix Doce with Lock-It Featherweight Primer and apply on the cheeks for a lovely bronze-blush shimmer.
Available in 9 shades.
Kat Von D Beauty will be available online tomorrow and at Sephora stores nationwide from 16 July 2016 onwards.
You may also like...
How to: Get bold graphic eyes spotted at Dior Haute Couture AW16
Atelier Versace AW16 just made blue eyeshadow and glitter cool again