Here's a sneak peek into one of the most amazing collaborations M.A.C Cosmetics has sprung on us. Heads up: you'll want everything
M.A.C Cosmetics has done it again. We're barely recovering from the excitement of #MACStarTrek - a 25-item special release for the movie's 50th anniversary (collection drops in September 2016) and here we are again, holding our breaths for one of the most beautiful collections featuring China's most outlandish fashion designer, Chris Chang of Poesia.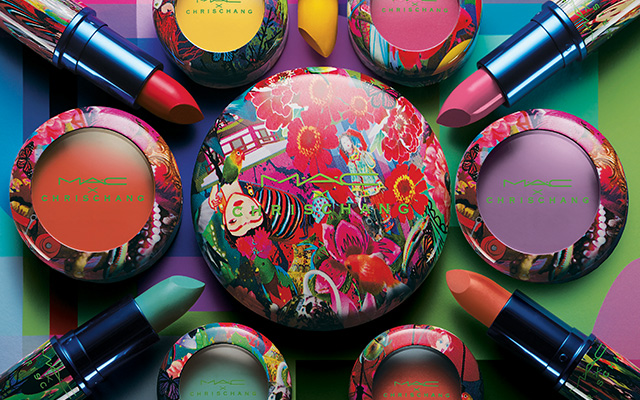 In this 14-piece collection, Chang injects an acid-soaked twist into a decorative selection of lipstick, eye shadow and cream colour base in a vivid kaleidoscope of colours encased in frankly, keepsake packaging of our dreams. Here's a close-up of the collection, inspired by the ancient Chinese art from Kunqu, which hits M.A.C boutiques nationwide tomorrow - purses at the ready, ladies.
24 Minutes with Chris Chang
How did the collaboration with M∙A∙C come about? How do you think this collaboration is different than others that M∙A∙C has done?
"M∙A∙C has been known for collaborating with designers and artists for years - so you can imagine I was thrilled when they approached me. The idea sparked three years ago after they saw my work and studio decorated with my bespoke illustrations. We share the same joyful, colour enriched spirit and had an instant connection from the start.
"The whole process was wonderful - M∙A∙C gave me free rein from creating the colours on the graphics to the overall presentation. The printed designs on the compacts and lipsticks were my idea and they created it flawlessly true to my vision. This is the first time M∙A∙C created printed artwork like this on the packaging - each piece has a different print on it.
"For a creative person like me, M∙A∙C is the perfect brand to partner with - we share the same drive for innovation and breakthroughs. Collaborating with M∙A∙C is a dream come true - I have been a fan of M∙A∙C makeup from my early college days, my first ever lipstick was M∙A∙C!"
What is your first experience wearing makeup and how has that affected your career as a designer and now M∙A∙C collaborator?
"I was born with full lips, which is not common for Chinese people, so I was teased for it growing up. I think being unique was always in the back of my head. Once I reached my 20's and got into Parsons School of Design, I was able to embrace being different. Lipstick is now my favourite makeup accessory. Everything I do, everything I design, is about individualism and bringing out my own personality. My collection with M∙A∙C is about being genuine to one's self."
Tell us a little about the design of the packaging.
"The inspiration came to me in two seconds that it's going to be Kunqu-based. (Traditional Chinese opera) Everything just flows. This collection is the Chinese element mixed with the Western one.
"The packaging is one of my original illustrations. It is based off of all of my past illustrations and all of the icons that I have worked with over the years. This artwork is a collage of everything that I have done in the past and the idea of having printed components was the starting point."
What were the defining factors when deciding product shades?
"I wanted to incorporate every single colour from the spectrum. In the end, these five lipsticks and the four eye shadows were all a variation of the spectrum colours - red, yellow, blue, purple and orange in its simplicity."
What is one makeup product you cannot live without and what product in your collection will be a new staple?
"I can't live without lipstick! From the collection I will be wearing the yellow hues more. Yellow to me is the new nude - when you wear it, it's not a pasty colour, but is dewy, glossy and transparent."
What is next for Chris Chang?
"I don't know! My life has never been about planning. This is why I am so childlike in my work and the way I think. I don't plan ahead I just go with it. When things happen it's always a pleasant surprise - like serendipity. I don't even know what I'm going to do for my next collection until that inspiration comes to me."
Describe the collection for M∙A∙C in 5 words or less?
"Daring. Innovative. Happy. Poetic. Kaleidoscope."
Who is the girl wearing your makeup collection? Who is it for?
"My makeup collection is for a girl who is very confident and wants to be unique. A girl who doesn't dress or get made up to appeal to men. There is a Chinese saying that means women get dressed to be beautiful for men - I am really against this. Women should be dressing to be beautiful for themselves. This collection is an invite for maximalists from around the world to be daring and to do what makes them feel good."
Where did the inspiration for this collection come from?
"I got to know Kunqu when I moved to Shanghai. Kunqu originated from Suzhou (the city right next to Shanghai) and has developed a distinctive look with exaggerated and colourful, yet poetic costumes.
"My aesthetic is very similar to this mentality. In my design, I use a lot of colours, however, there is always white colour to give my designs breathing space and make it less strong. That's why I included the Transparent Finishing Powder in my collection."
How do you combine history and future?
"I take the best of what's in history and reinterpret it. When you have a different view of interpreting things then you have something new. I was able to give this makeup a new interpretation by saying these colours can be worn differently. They can be worn as art- in geometric shapes instead of just eye shadow on the lids and lipstick on the lips."
What's your favorite moment of the designing process?
"I'm happiest when I have sorted out all of my inspirations and have a direction, because the inspirations come from everywhere and it's always a mixture. So my favorite is when I know where that direction is going. It's always about reorganizing, sorting, doing tons and tons of quick sketches, before I am settled in one direction."
What's the hardest part of a designing process?
"Deciding what I like and also being commercial - that's the hardest part. I am not your average office lady, housewife or socialite. Staying true to myself yet at the same time being commercial is most difficult for me."
How about the Chinese makeup traditions?
"Chinese tradition is in my blood. Chinese women have always used eyeliner and rouges. Eyeliner is crucial to brighten up the eyes. I think all Chinese women should line their eyes."
The perfect woman in your opinion and her makeup.
"A daring woman with class and taste is the perfect woman. She is careless about what others think without being vulgar. I admire woman that are daring and I aspire people to become daring."
M.A.C x Chris Chang will be available at all M.A.C Cosmetics boutiques nationwide from 1st June 2016
Related stories:
All you need to know about M.A.C x Charlotte Olympia
Two diva-status lip collections you need now