Three ways, one product, one indulgent skincare routine
If you are a longtime fan of L'Occitane's bestselling Divine Youth Oil, you are in for a treat this year. The anti-ageing skin saviour gets a revamp with 10% more Immortelle essential oil incorporated into its formula, which only means twice more the antioxidant power of Vitamin E. In case you didn't know what Immortelle essential oil does to the skin, here's a quick beauty refresh: The oil is hand-harvested from the Immortelle flower, known as the 'flower that never fades'. The appellation is derived from its ability to live an 'eternal life' without so much as wilting even after they are picked. Is it magic? Not quite, but close enough.
The new Divine Youth Oil formula has a chockfull of benefits, from regenerating and re-plumping the skin to serving as a pre-serum booster. Here are three ways you can use the Divine Youth Oil to full effect:
1. Apply it alone on your skin in the evening. For added benefits, place a warm towel over your face and leave it for 10 minutes. Remove remaining oil after with the towel. This allows your skin to soak up all the essential nutrients.
2. Prep your skin by applying the oil before your serum. This enhances the efficacy of your serum while keeping your skin radiant.
3. Mix it with your cream or serum by applying a few drops of the oil for maximum anti-ageing results.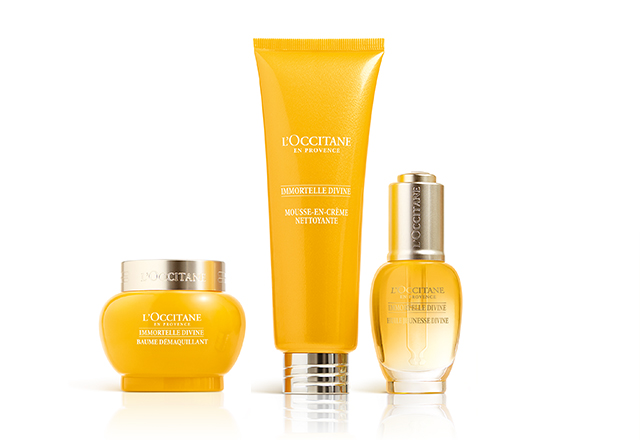 Before applying L'Occitane Divine Youth Oil, don't forget to cleanse your skin adequately. We suggest double-cleansing with two new additions to the range: The Cleansing Balm and Cleansing Cream-in-Foam. The former has a texture that melts into the skin like butter, transforming into cleansing oil to remove impurities; while the latter is a cleansing cream that has Immortelle essential oil and Vitamin E to smooth and illuminate skin, turning into foam upon contact with water.
L'Occitane Immortelle Divine range is now available online and at L'Occitane stores nationwide.