It all started with a couple of lip kits
The next time you want to throw some shade at reality TV stars or the shortcomings of millennials, consider this: The youngest of the Kardashian clan is well on her way to becoming a billion-dollar beauty mogul while you chew on your words.
In a recent sit down with WWD, Kris Jenner—"mum-ager" extraordinaire—provided documentation to unveil for the first time that in just 18 months, Kylie Cosmetics has raked up a whopping $420 million USD in retail sales. The number blows estimations made by industry pundits out of the water, being a figure only typically achieved after a decade or more in the business. Case in point: Tom Ford Beauty took ten years to break the $500 million mark while the elusive billion was only reached by Bobbi Brown in 25 years and Lancôme after 80 years.
Launched towards the end of 2015, Kylie Lip Kits started off with only 5,000 units per item in a 6-piece range. After selling out in three seconds, 500,000 units of each product was manufactured to supply the demand. In line with her birthday month this year, Kylie Jenner—who holds the positions of founder, chief executive officer, chief marketing officer and chief creative officer—released a limited edition "Birthday Collection". It generated almost $10 million in sales in one day. This overwhelmingly positive response has placed the brand on a growth trajectory that could make Kylie Cosmetics a billion-dollar venture as early as 2022.
Here, it is important to note the power of digital acumen. Without any physical point of sales, everything the brand does is accomplished online—from the PR and marketing to the actual checking out and analysis that follows. That is not to say the Jenners have not considered taking the business offline. Two pop-up stores, one in L.A. and another in New York, were greeted with thousands of eager fans.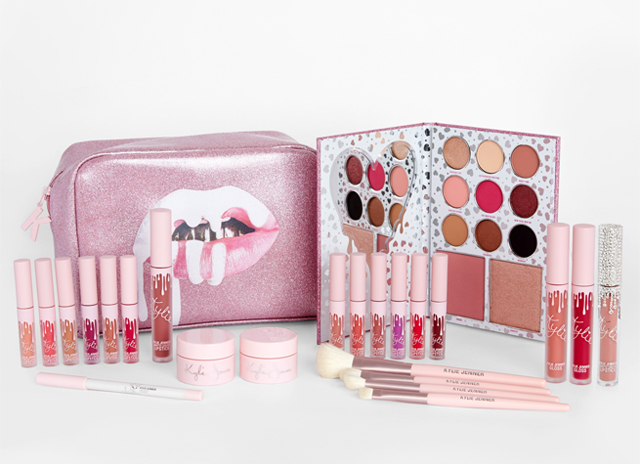 The line is currently comprised of colour cosmetics like lip products, eyeshadows, and highlighters; and makeup tools, but the young Jenner has her sights set on tackling the big, bad world of foundations and concealers—which may prove tricky as colour matching through a screen is hardly ideal. But with the new range for face slated to roll out at the end of 2017, we are quite sure if anybody would have a way to make that work, it's Kylie.
Related stories:
This new makeup line is expected to sell out within five minutes tomorrow
#InstaLove: The top 10 most followed people on Instagram in 2016
Here's what the shape of your lips really say about you…