Clarins introduces the best way to get a non-invasive facelift
While we've seen some crazy experimental ways on achieving a slimmer face (Japanese contraptions, anyone?), there are actually beaut products that you can use to achieve a more contoured V-shaped face—and no, we're not just talking about contour/highlighting palettes. Clarins, the face contouring expert in the market, has rolled out two new products this month after receiving feedback on its iconic bestseller, the Shaping Facial Lift Serum that was released 17 years ago. 
We've all woke up looking like this before: A puffy face with swollen-looking features that no amount of contouring can hide, no thanks to water retention. You're just in luck, because Clarins V-Facial Intensive Wrap is the solution to treat morning puffiness in just 10 minutes. Its combination of beautyberry, zerumbet ginger and horse chestnut extracts help to reduce puffiness, improve microcirculation and drain excess water from your face. The wrap also has lady's mantle extract to give your skin a boost of radiance without leaving a shiny residue, courtesy of white clay to absorb impurities and mattify complexion.
Tip: Apply a thick layer of the wrap on the lower part of the face and neck and leave for 10 minutes. During the last few minutes, place left elbow in the palm on the right hand and place the chin in the palm of the hand. Gently move the head to the left and relax the weight of the head in the hand for a few seconds. Repeat four times then carry out the same steps on the right side. Rinse with cold water.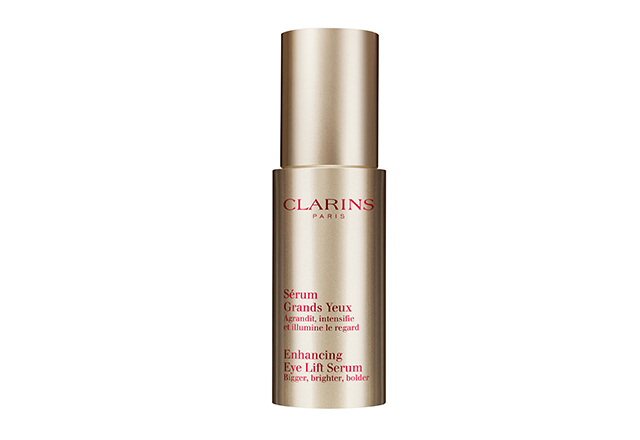 Another telltale sign of water retention on your face is when you wake up with ultra puffy eyes. For a quick eyelift that brightens your eye area as well, go for Clarins Enhancing Eye Lift Serum. Guarana and kaki extracts help to reduce eye puffiness and preserve skin firmness, while organic oat polyoses create a tightening layer to instantly lift the eyelids. This serum also limits skin darkening to allow for a brighter eye contour area—no highlighter needed!
Tip: Apply serum with fingertips on the bottom and top eyelids with pressing motions. Start from middle to the sides, then finish with the index finger on the lashes. Rest your head down on the base of your palms and cover your eyes and eye contour. Hold this position for 10-14 seconds.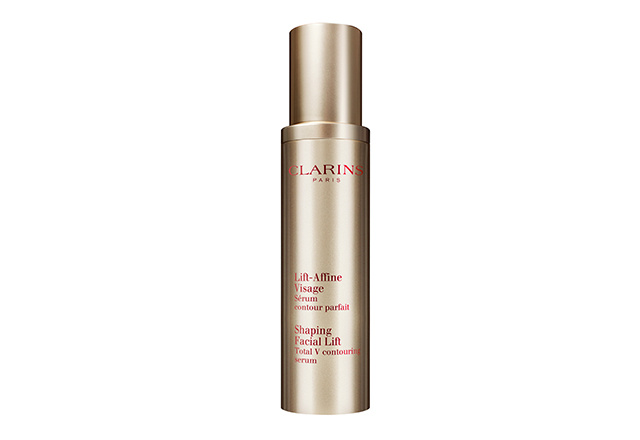 Clarins' bestselling Shaping Facial Lift has been reinvented this year, with a formula that incorporates a combination of three plant extracts—guarana, zerumbet ginger, and kaki—to slim, depuff and lift the facial contours visibly for a V-shaped face in no time. Be sure to apply this face serum the right way (read below) for effective results.
Tip: Gently massage your forehead in your palms to reduce fine lines. Then, place the heel of your palms over your eyes to smooth puffiness and minimize dark circles. Move your hands to your cheeks to release excess fluid, then rest your chin in your palms with your wrists touching. Lastly, apply pressure onto the base of your neck and ears to refine facial contours.
Related stories:
Clarins' new signature: It's all about you
Here's how Clarins is changing the whitening revolution