Delve nose-first into the recently unveiled high perfumery collection by Chopard
Ever wondered what olfactory notes the Arabian Gardens of Paradise hold? Let Chopard's Gardens of Paradise collection take you there. Inspired by the mystical gardens of the Orient, the four new fragrances each capture a different facet of the gardens—from sparkling notes of citrus to sensuous floral scents. 
Created by perfumer Alberto Morillas, a true master of natural ingredients, the fragrance collection is composed of ethically-sourced natural ingredients, in line with Chopard's commitment to sustainable luxury. Discover the four exquisite fragrances below accompanied by notes from Morillas: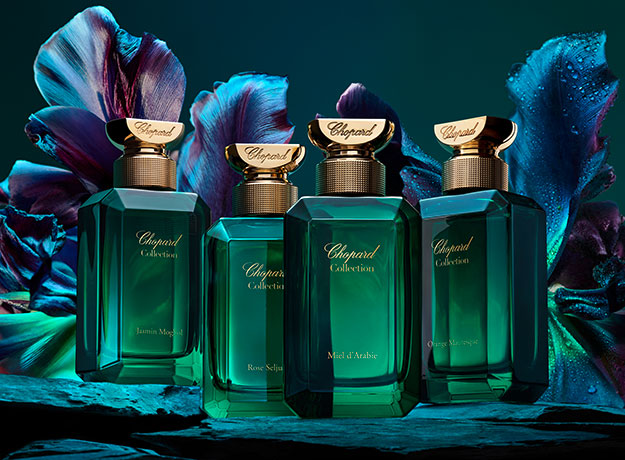 Jasmin Moghol
"This perfume is about contemplation. I close my eyes and it reminds me of Jaipur royal gardens in a silent night. The sun has set, leaving the nocturnal flowers to illuminate the night with their warm, narcotic, intense and sublime smell.
I used an exceptional Sambac Jasmine, natural Chinese Jasmine  and an exquisite Damascena Rose Absolute. I wanted to created this fragrance like a breathtaking cascade of these prodigious flowers together with burning sacred woods."
Rose Seljuke
"The inspiration of the Babylon hanging Gardens made me imagine this perfume as a primordial garden of eternal sensuality... Luxuriant and generous, totally mysterious and intoxicating.
I created this Perfume as a tribute to the most heavenly Flower on Earth."
Miel D'Arabie
"I wanted to recreate the peaceful and restoring aura of the oasis, and its tradition of hospitality. I imagined the reassuring scents of vegetal ambers, the touch and feel of warm sand in the powerful shadow of sky-reaching palm trees.
I wrapped everything into the rich aroma honey, to create a special sense of bliss and abundance."
Orange Mauresque
"I imagined this fragrance like the intense perfume as I walk through an alley of thousands of orange flowers in a Moorish garden under the late morning sun: warm, radiant, sensuous.
There is a subtle, joyful citrus freshness, enriched with this marvelous breath of neroli and orange blossoms resting on warm solar notes. I wrapped this light and freshness in the intensity and captivating sensuality of millenary ambery notes". 
The Gardens of Pardise collection will be available Chopard boutiques worldwide from April onwards.