Lizzo's nude comes with an important message, Selena Gomez's new tiny tattoo is going right into your inspo board, and more celebrity beauty news from this week
Nicola Peltz wears teeth on her neck... but it's romantic?
If Nicola Peltz's glimmering gold necklace has ever caught your eye, we have some news for you. In a recent Vogue Beauty Secrets video, between talk of foundations and sunscreens, the actress explained that the custom gold pendant hanging from her neck was, in fact, made of human teeth. 
Specifically, the pendant is none other than the recently-extracted wisdom tooth of Peltz's beau, Brooklyn Beckham. According to Peltz, Anita Ko, a Los Angeles-based fine jeweller is to thank for the unconventional piece. It isn't a one-sided token of affection either—apparently, Beckham has one of Peltz's teeth cast in the same manner!
While it may not be everyone's cup of tea, we actually think it's rather sweet. It certainly is one way to carry your loved ones with you at all times...
Lizzo's unedited nude comes with an important message
In case you didn't know, it's the start of Lizzo's birthday season! Naturally, in true Taurus fashion, the icon has decided to celebrate in her birthday suit. The rapper captioned her post: "To celebrate, I wanna give y'all this unedited selfie... now, normally I would fix my belly and smooth my skin, but baby I wanted show u how I do it au natural — I am excited to be partnering with @dove and the #DoveSelfEsteemProject which is helping to reverse the negative effects of social media and changing the conversation about beauty standards. Let's get real y'all."
Lizzo has been an inimitable force in the body positivity movement since the very beginning of her career, and we cannot think of a better or more worthy person for this partnership and campaign. 
Dua Lipa channels Margot Robbie channelling Sharon Tate on BBC Radio 1
The 'Levitating' singer took to the studio of BBC Radio 1 in this ensemble, and while it's definitely a statement on its own, one particular detail caught our eye. Namely, the sleek braids at the front of her middle part! Specifically, it reminds us of a more polished version of Tate and Robbie's red carpet hairdos.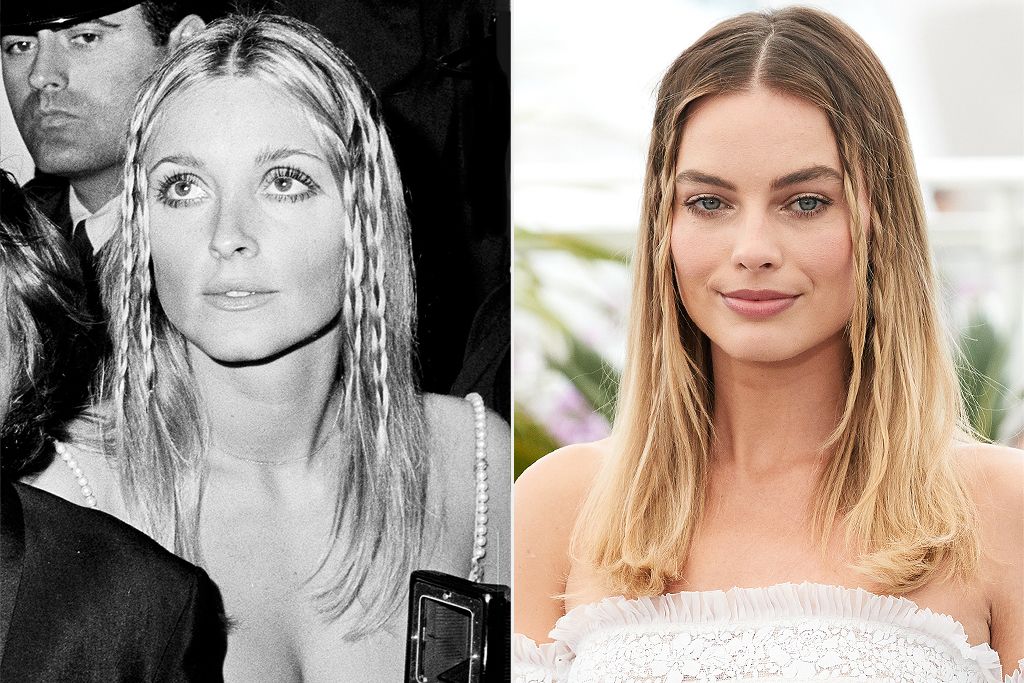 Though it's unlikely that Lipa was trying to draw parallels, we can't unsee the resemblance! What do you reckon?
Selena Gomez's new tattoo is perfect for any pious peeps out there...
The singer has just gotten her 15th tattoo, and it's surprisingly simple. If anyone is looking for some low-key tattoo inspo, pay attention—inked on her collarbone is a tiny linework cross, and it's the perfect subtle addition to her growing collection.
The new tattoo is courtesy of the celebrity favourite Bang Bang Tattoo, a studio based in New York City. The studio posted a giggly video of the star post-ink to its Instagram, which you can watch above!
...and, BTW, she's blonde now!
Apparently the star has had a busy week! The 'Baila Conmigo' singer shared a selfie of her new platinum locks to Rare Beauty's Instagram on Friday. While we've seen her with various iterations of blonde (read: balayages and ombres), this is the first time she's gone for a full head! The clean blonde looks great with the shadow root to tie the tones into her brows—what do you think of the look?
Gigi Hadid plays blondie once more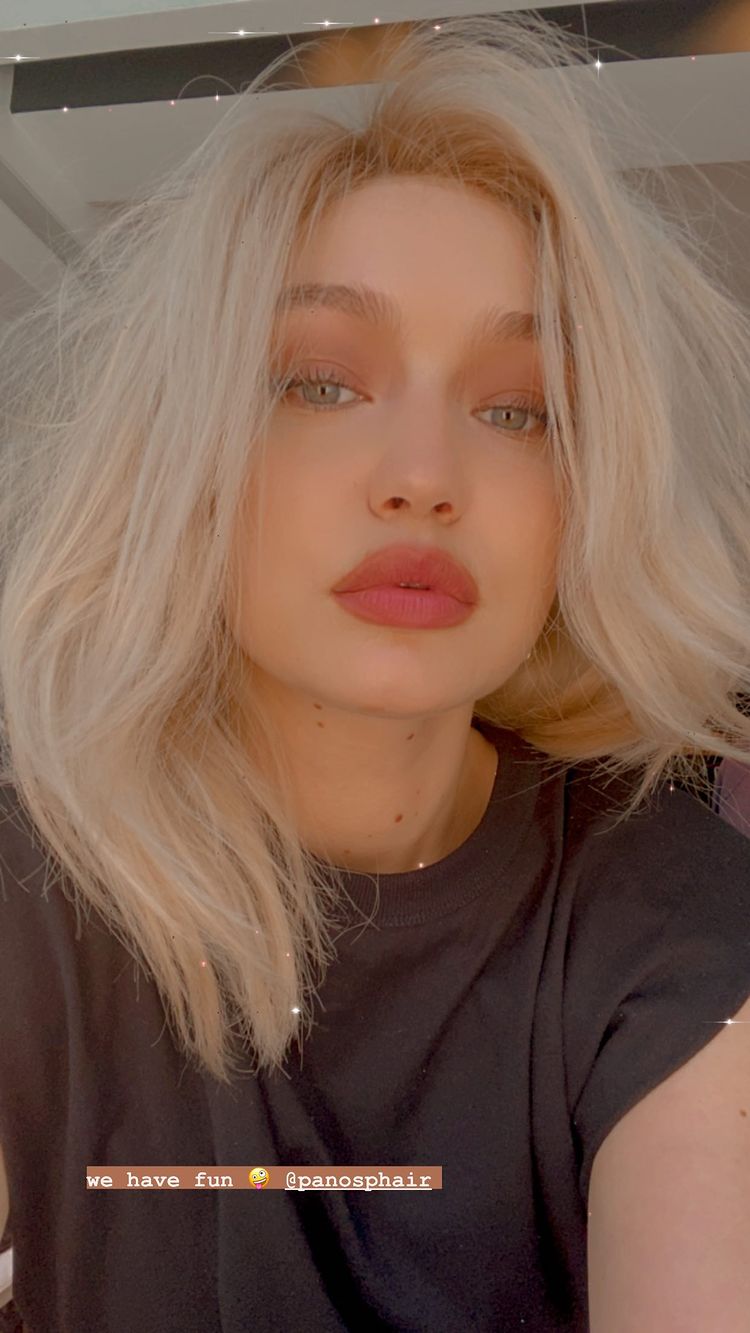 The supermodel may be a new mum, but that hasn't remotely stopped her from having her fun. The eldest Hadid took to her Instagram stories to share her latest endeavour into platinum—this time, however, unlike the ginger tresses she unveiled before this, the transformation is thanks to a wig. 
As ever, she looks gorgeous and continues to prove her longstanding reign as a hair chameleon. The wig styling is thanks to Hadid's go-to stylist, Panos Papandrianos, who was also responsible for the aforementioned on-trend ginger hue.
Iris Law comes in strong with her blush
If there is one thing we know about Jude Law's daughter, it's that she loves a good bit of blush. Law shared this never-before-seen snap of her playing with some Dior Beauty goodies. The result? This playful, blush-heavy look featuring a berry lip, a messy, glittery eye, and a super fun set of tooth gems (we're jealous).
It certainly is an acquired taste, but we love seeing her play with her beauty looks!
READ: Iris Law shows us three new ways to wear blush
Carrie Underwood's hair is the best thing to come out of the 2021 ACM Awards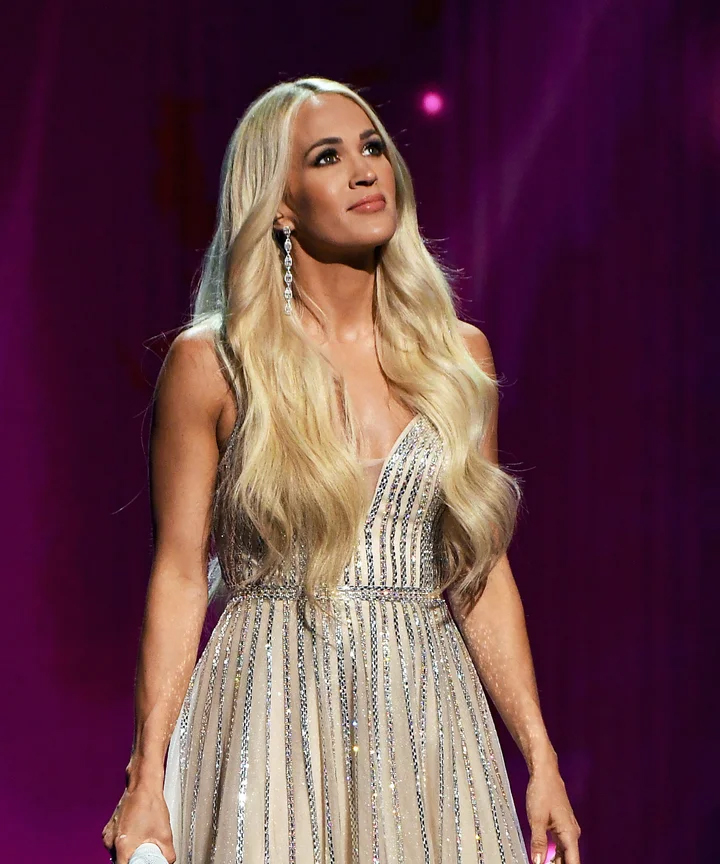 In case you missed it, the American Country Music Awards has come and gone. While country doesn't exactly have a huge following in this neck of the world, it's probably safe to assume that you know who Carrie Underwood is. You know, American Idol winner, the voice behind Disney's Enchanted theme song, the genius who penned 'Before He Cheats'—basically, she's a national treasure.
Anyway, Underwood made an appearance at the ACM awards earlier this week, and had us all amazed. During her live performance, the country darling sported the most ethereal extensions we've ever seen on her. Tousled and waved for just enough texture, and paired with heavy lashes, warm blush and a nude lip, the singer stunned—and that was before she started belting the gospel medley!
Find more beauty stories like this here.