Reese Witherspoon announces her latest brand partnership, Beyonce and Blue Ivy get a fun mother-daughter mani and more beauty news from this week
Khloe Kardashian's unfortunate brush with the world wide web
The story goes like this: An unfortunate assistant mistakenly posted an 'unflattering' candid photo of Khloé Kardashian to social media, which led to Kardashian's ongoing fight to remove the image. In the unedited photo—which we won't be sharing out of respect for her wishes—she is seen smiling at the camera in a leopard bikini, looking relaxed and, well, normal. Her body is toned and curvy, with a waist that is a slim, yet attainable size and hips that haven't been airbrushed and smoothed to the high heavens. She looks beautiful, and by most people's standards, it's a great picture.
However, since that photo was posted, her team has worked tirelessly to scrub the pic from the depths of the internet (good luck with that) and Kardashian has claimed that the image infringes on her copyright as she did not consent to posting it. On her action, she explains:
"The photo that was posted this week was beautiful. But as someone who has struggled with body image her whole life, when someone takes a photo of you that isn't flattering in bad lighting or doesn't capture your body the way it is after working so hard to get it to this point—and then shares it to the world—you should have every right to ask for it not to be shared—regardless of who you are."
She goes on to point out all the mean comments she has seen about herself, saying: "In truth, the pressure, constant ridicule and judgement my entire life to be perfect and to meet other's standards of how I should look has been too much to bear. 'Khloé is the fat sister.' 'Khloé is the ugly sister.'... Should I go on?"
While some have applauded Kardashian for standing up for her body autonomy, others pointed out the negative implications of her actions. Namely, the message that her actions are perpetuating to the young women who idolise her. In her comments, fans have shared their thoughts on her 'heartbreaking' and 'disproportionate' reaction to the photo.
"She looks much better here. What's the world come to when you have a mad panic to remove an unedited picture of yourself," one commented.
"She looks lovely! Sad that they felt they had to delete it, it's a nice picture. We need to normalise texture, normalise shadows, ripples, wrinkles, freckles, whatever - we've all got it! Filters are so, so damaging," a second wrote.
Realistically, she has every right to want a photo of her taken down—if it were a more sensitive photo, like a nude, no one would be arguing the latter. In fact, no one is really arguing her right to act on her body autonomy at all—rather, most are just angry that a woman has been bullied into body dysmorphia that is so severe that she fully lives her life via FaceTune. Well, that and the fact that social media has been more responsive to banning users circulating the image than it has been to bigots sharing transphobic and racist content. Oh well.
Chrissy Teigen shares her journey to pink hair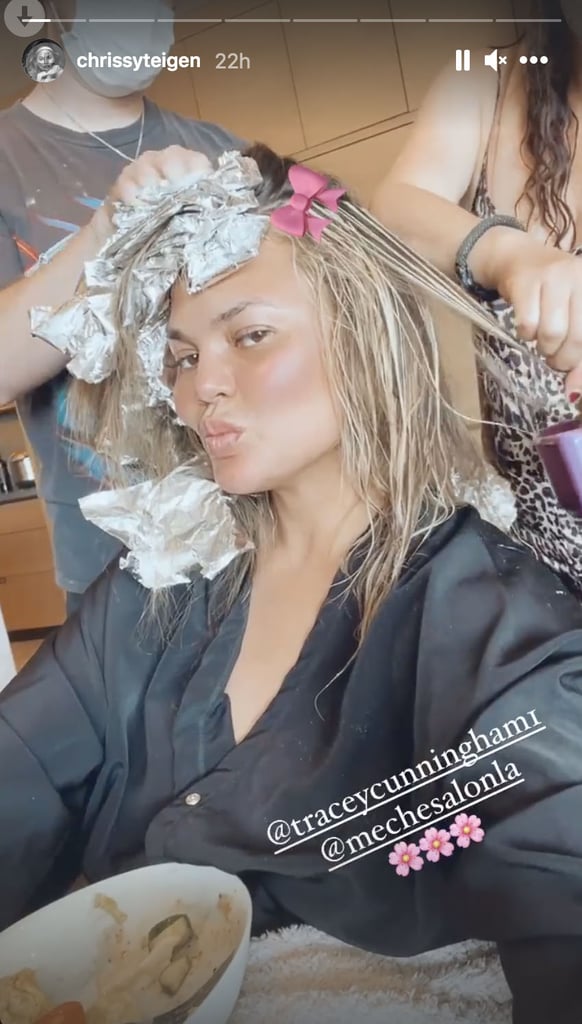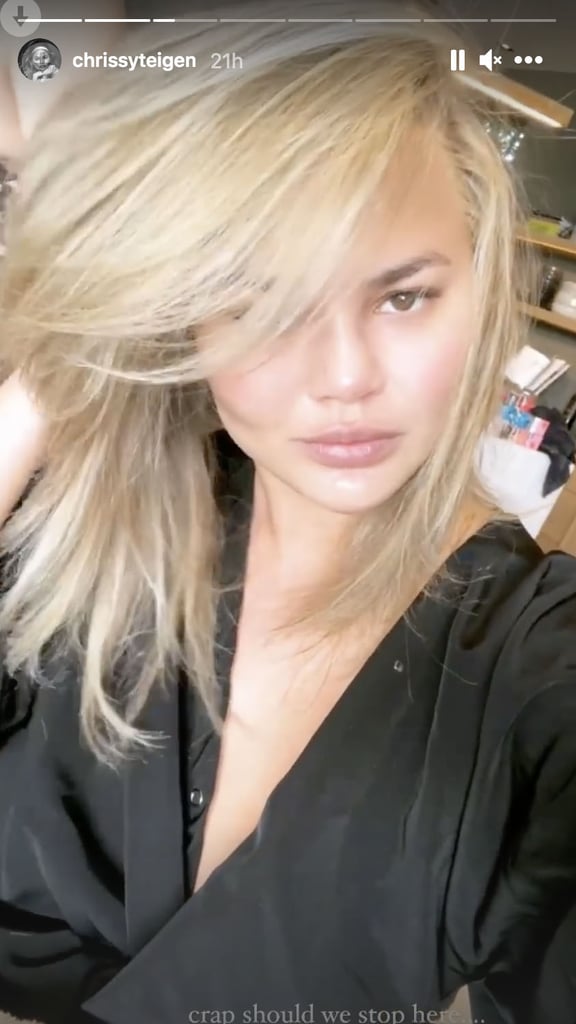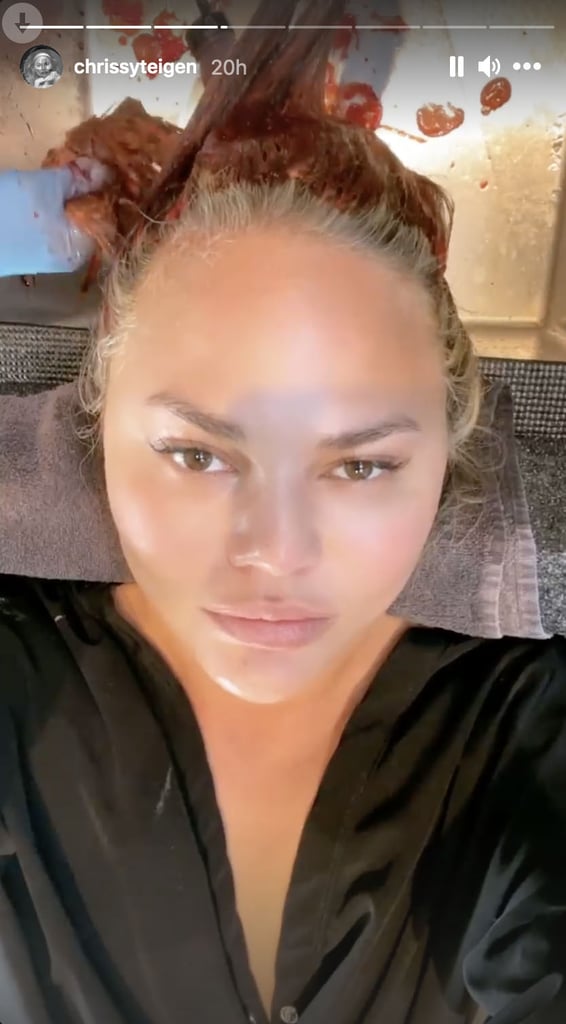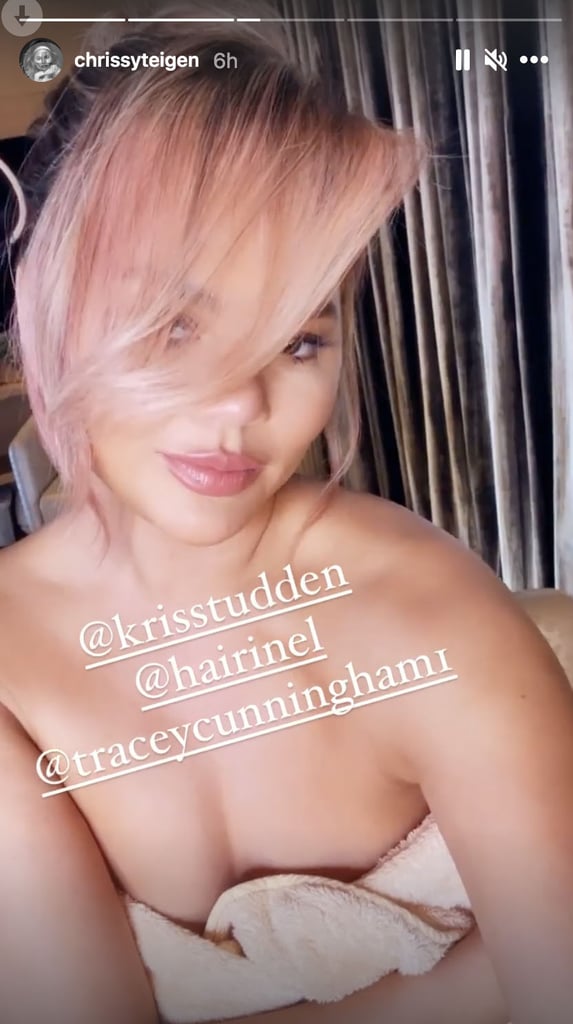 The model-turned-celeb-chef took to Instagram Stories to document her hair journey. The destination? A sweet pastel pink with a natural shadow root. In the snaps (shown above), Teigen teases a balayaged blonde, a rust red, and (finally) a soft pink. Overall, it's a pretty tame makeover in terms of celebrity dye jobs (pretty much everyone has gone pink at this point, eh?), but it's still a pretty change!
Beyonce and Blue Ivy get mother-daughter manis
The Grammy Award-winning duo took to Miho Okawara's celeb-favourite nail salon for a mismatched mother-daughter mani. Yoncé opted for a oval-shaped, classic gold-tipped French mani while Blue Ivy kept it simple with this rounded-square peach set.
Reese Witherspoon is Biossance's latest Global Brand Ambassador
Since the beginning of her decades-long career, Reese Witherspoon has only ever partnered with one brand: Elizabeth Arden. Well, that changes in 2021—Witherspoon has just been announced as the latest face of clean beauty brand Biossance.
"I have always been conscious of what's being put on my skin, but after all the time I've spent on movie sets wearing a lot of makeup, my curiosity has grown around making better skin care choices that incorporate clean products," she captions the post.

I am so happy to have found an incredible, female-led brand that checks all the boxes," she continues. "My skin has truly never felt healthier, and I'm so proud to work with such a strong industry leader that empowers women to make beauty choices that are sustainable and effective!"
Hilary Duff sports a longer, ice-blonde mane
"Have you noticed that I'm blonde.... and Rapunzelled???". Why yes, Hilary—we did. The icy hair makeover is courtesy of celeb hairstylist Nikki Lee, whose clientele includes the likes of Sarah Hyland and Kate Hudson. The makeover comes just after the birth of Duff's new son with musician Matthew Koma.
Find more beauty news here.