Iris Law is the newest Dior Beauty Ambassador, Cardi B spurs a lengthy skincare twitter thread and more beauty news from this week
It's a joyous week in beauty—your favourite celebs are either expecting, thriving, or absolutely killing it. Find out what you've missed ahead!
This week in body
---
Halsey shares her surprise pregnancy photos
The pop star shared the photos to Instagram earlier this week, captioning the set with nothing but the word: "surprise!". Dressed in nothing but a rainbow crochet halter crop-top (which she loses in the next two snaps) and a pair of baggy jeans, Halsey's growing belly is in full view. By the looks of it, the mum-to-be is well along in her pregnancy!
The singer kept her makeup simple and glowy (though the latter may just be the result of her pregnancy hormones), and we have to say she looks absolutely gorgeous. We're not the only ones who were blindsided by this announcement, either—actresses Arden Cho and Ruby Rose are just two of many friends to share their warm congratulations.
And, on that note—congratulations, Halsey!
This week in hair
---
FKA Twigs sports cornrows in her new music video
READ: From Twiglet to Twigs: The best of FKA Twigs' beauty evolution
In case you missed it, Twigs came through with some new, highly-anticipated music earlier this week. Her new single, 'Don't Judge Me' features the voices of two other UK artists, Headie One and Fred again.., while the video features the familiar faces of activist-model Munroe Bergdorf, footballer Mahlon Romeo, and more. Filmed at the Tate Modern in front of Kara Walker's 'Fons Americanus' sculpture, the accompanying music video is a poignant commentary on the black British experience. 
READ: 'Don't Judge Me': FKA twigs joins Headie One and Fred Again.. in a poignant exploration of the British black experience
The video, created in collaboration with Farfetch, saw Twigs styled by Matthew Josephs exclusively in the works of black designers. However, what we especially loved was her understated look—Twigs sported a set of tight cornrows courtesy of hair artist @taibataiba along with a pared-back makeup look. Her trusted makeup artist, Bea Sweet, had this to say on the makeup of the day: "This look was very raw, it had none of our usual warm browns. Scrubbed skin, opened eyes, no blush, no powder."
It's not the only notable beauty moment she shared this week either—when teasing the track's on her Instagram prior to its release, Twigs gave us a clear look at her new mullet as well as her flawless makeup. The warm, brown hues on her eyes, laminated brows, and defined, lined lips is a beautifully simple look we are eager to replicate.
This week in makeup
---
Iris Law becomes the latest face of Dior Beauty
The 20-year-old has had one incredible start to 2021, announcing her latest partnership with Dior Beauty earlier this week. The partnership has Law following in her father's—Jude Law's—footsteps as an ambassador for the house. If you ask us, it does seem like a logical step forward, considering her long-standing vocal support for the brand.
"The house of Dior has always held a special place in my heart and I'm truly honoured to be brought into the world of such an iconic brand," says the self-confessed 'beauty addict'. "Beauty has always been a huge passion of mine, and it is no secret that I am in awe of the Dior Beauty ranges. I am thrilled to be working with a brand that I'm so in love with."
"To me, the house of Dior appeals to all ages; timeless, but constantly refreshed and current. I am looking forward to all the projects this partnership will bring; from photoshoots to events, as well as experimenting with new beauty looks," she continues. "Most of all, I am looking forward to showing people the incredible world of Dior beauty the way I see it! To be able to partner with Dior Beauty is truly a dream come true."
The model has previously shared her favourites from the beauty brand, including the Dior Addict Lip Tattoo. In fact, if you're looking to get more recommendations from the star, check out her dreamy makeup tutorial from earlier last year.
Rina Sawayama jumps on the fake freckle train
In another "lewk of the day", singer-superstar Rina Sawayama proves that the freckle fad is showing no signs of slowing down. Though we've been pretty anti-fake freckles in the past, we do have to admit that Sawayama's are pretty cute, and if there was ever a time to embrace the trend, now would be it. The beauty icon paired her faux set with a peachy-nude lip, full brows, a bronzed glow, and some smokey blue liner—the perfect combination to tie the whole look together.
Plus, it looks like we're not the only ones who are digging the makeup, either—Instagram user @sawabaek read our minds when they commented: "aren't you tired of looking so pretty all the time". Sigh.
Alexa Chung finally reveals where her eyebrows went
You may recall that just two months ago, the TV-personality-turned-fashion-designer temporarily lost a brow. Back in November of last year, Chung posted a few stories to her Instagram half brow-less with absolutely zero explanation, which was equal parts baffling, frustrating, and amusing for those in witness. However, fret no more, for we finally have an answer!
Chung recently posted her video collaboration with Gucci for #GucciWinterinthePark, the fashion house's latest campaign. The campaign sees the designer switch out her dark, defined brows for equally face-framing shades. All in all, it's definitely a look!
This week in skincare
---
The so-called 'Bardigang' comes to Cardi B's skin rescue
The rapper took to Twitter to seek some skincare advice for her overly-dry, blackhead-prone skin. Lucky for her, plenty of people were happy to help her solve her skin conundrums—while most comments redirected the personality to skincare gurus like Hyram or Rihanna-approved esthetician Sean Garrette, 'The Internets Esthetician' Nayamka Roberts-Smith stepped in and gave her a free consultation!
This week in movie magic
---
Kristen Stewart is unrecognisable in her new movie role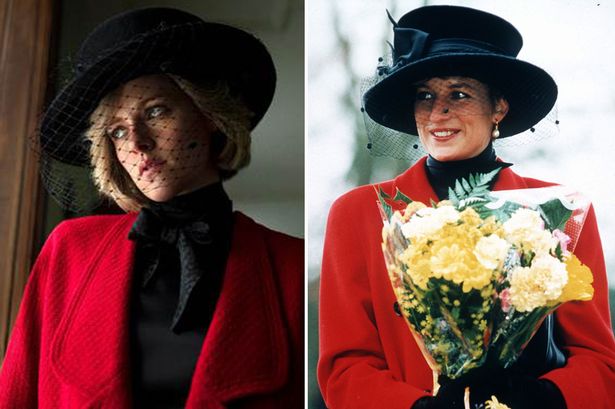 Is it just us or did you also have to do a double-take? Hats off to whoever is in charge of hair and makeup for the upcoming Princess Diana biopic, Spencer (PSST: it's Wakana Yoshihara, who also did the hair and makeup for 2017's Murder On The Orient Express)—in a first look at the actress in hair, make-up and costume tests, Stewart is the late princess' doppelgänger in this shot.
The Pablo Larrain-directed film is due to be released in autumn of this year. On her role, the American actress said: "Spencer is a dive inside an emotional imagining of who Diana was at a pivotal turning point in her life. It is a physical assertion of the sum of her parts, which starts with her given name; Spencer. It is a harrowing effort for her to return to herself, as Diana strives to hold onto what the name Spencer means to her."
Find more beauty news here.