Can you guess what's in his beauty bag?
Our resident male beauty buff gives us a tour of his travel toiletry bag. From everyday essentials like sunscreen, moisturiser and lip balm to more frivolous luxuries like mask sheets and hairspray, Ronn breaks his essentials down for us.
Laneige Homme Oil Control Cleanser
"When I was younger I had really oily skin, and I thought that meant I needed stronger cleansers and lighter moisturisers to keep the oil at bay. This has all changed as I recently found out that my skin wasn't hydrated enough and was producing more sebum to overcompensate for the dryness, so now I use a more gentle cleanser and this exfoliating one is great. It makes my skin feel clean, and it also exfoliates my pores to remove excess sebum."
Fenty Beauty Invisamatte Oil Blotting Papers
"My face tends to get oily throughout the day, so I always have a pack of blotting papers in my bag. It works well and gets rid of extra oil that builds up throughout the day."
Malin + Goetz Vitamin E Face Moisturiser
"I like that it's light and I don't need a lot to cover my entire face and neck. It also absorbs rather quickly and doesn't irritate my skin—which is super important for me as I have sensitive-combination skin.  I don't shave often but whenever I do, the moisturiser is perfect as an aftershave. It also works really well with the brand's Grapefruit Cleanser!"
Anessa Perfect UV Sunscreen Milk
"I've only found out recently that sunscreen is important so I've started using it a few months ago (I hope I'm not too late to the game). This is apparently the lightest formulation from this range but I'm thinking of switching over to the gel version—it'd probably suit my skin better as I have both sensitive and combination skin. That said, this formula works well; it spreads really easily and my skin never feels too oily even after a few hours. I've tried other brands that supposedly amazing (and they probably are) but they're not for me. Plus, with this sunscreen, a little goes a long way!"
Aesop Immediate Moisture Facial Hydrosol
"I've always been into facial mists. I've tried a number of different brands but this is my favourite because it smells really good and is super refreshing (it keeps me awake). I have it everywhere around my house—in my room upstairs, downstairs in the living hall etc. I use it whenever it's in sight. I feel like my skin sometimes still overcompensates with sebum and I need that little pick-me-up to help me feel more hydrated."
Chanel Boy de Chanel Lip Balm
"This was a very recent purchase—I've only had it for around three months. I've never really been too diligent with using lip balm but I decided on this one for its packaging. I know, I know. Yes, it does keep my lips moisturised, but I have to admit that I probably bought it because it looked good in my bag."
Bleu de Chanel Parfum
"Out of everything on this list, I'd say that this is the one thing that I absolutely need. I've been using this for years now. I like scents that aren't too overbearing. It's still woody in a way and you get that hint of musk, but it's not overwhelming like other colognes on the market. Also, the packaging is amazing and the bottle is actually quite beautiful. They released a newer version of Bleu de Chanel which is a lot more intense but I'm going to stick to my go-to. It lasts the entire day too—one time I spritzed it on in the morning and headed to a party that very evening, yet it was still potent enough to get me compliments hours on."
Kiehl's Breakout Control Targeted Acne Spot Treatment
"When I was younger, I'd hear YouTubers say 'when you grow up you'll stop getting pimples and zits.' Well, I'm still getting zits at 27 so they were clearly lying. My skin used to be a lot worse, so I've tried many different zit treatments. I used to spread them all over my face because that's how bad it was. Now I'm just grateful that I only need to use a spot treatment (laughs), and this spot treatment works well for me. For starters, it actually works and isn't too drying. Other spot treatments I've tried are super potent and they work, but they dry out the skin around the acne terribly."
Hairspray
"It's super useful when I have to look presentable during events. To be honest, I never used to need it but my hair was screwed up recently by a hair salon. I asked them for a trim but it turned out way shorter than I wanted it to be. Now in the growing-out stages, my gets really messy so a hair spray is just an easy way to make it look less disheveled."
Tweezers
"I used to go for laser hair removal treatments to remove my facial hair a long time ago—I had pretty noticeable facial hair and I didn't want to have to shave every day so I went and had it lasered off. It was gone for a couple of years but grew back after four to five years (which is normal). Since I don't want to get it done again (at least not yet), I tweeze off the little hairs that come through. I also use them on my brows—I usually get them waxed at Benefit Cosmetics, but in between sessions little baby hairs pop up, so I pluck those out too."
Sheet masks
"I used to religiously use them every night, but now that I'm a lot more busy I don't really have the time so sheet masks have become a weekly thing. Sephora has some affordable but effective sheet masks—the green tea ones really help to purify the skin."
Aveda Men Pure-formance Liquid Pomade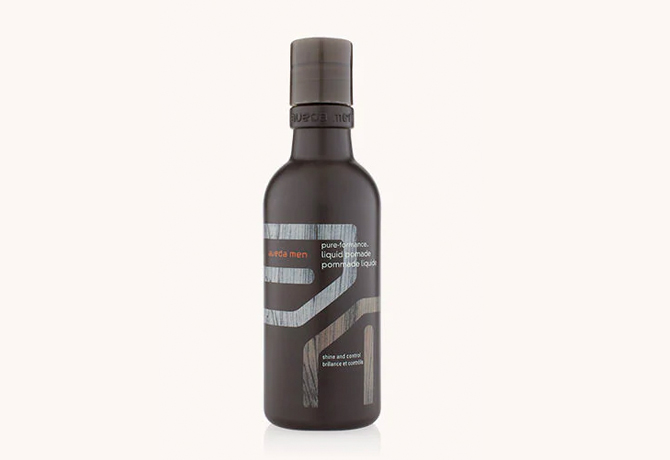 "I don't like using gels, clays or regular pomades as they make my hair feel sticky (not a fan of the gooey feeling). This pomade makes it easier to style my hair and also it doesn't feel too gross on the hair as well. It is a liquid formula so it does leave a slight glossy sheen to my hair, but I don't mind it."