To empower a woman is not to give her power. It is to remind her of the power she already possesses. Hannah Tan shares her story through five objects she holds close to her heart.
She is a multi-hyphenate in more ways than one but it is not the many hats Hannah Tan wears that define her. Rather, it is the way she slides one off and another on—seamless, discreet, more in servitude than showmanship—that acts as a demonstration of her nature. Despite her accomplishments, Hannah's countenance never incites a battle of egos. You know how they say a person's character can be established based on the way they treat those on the lowest rung of a ladder? Well, in the case of our featured personality, her effusive grace moves in both directions on said ladder—uplifting the humble and mollifying the mighty.
So what do a 20 cent coin, a ring, a binder of Japanese test papers, a pendant, and white roses have in common?
Answer: They all represent a facet or moment of Hannah's life. Through these mementos, she speaks of her journey. One chapter exposes the harsh realities of immersion into a foreign land, of which she is reminded by strokes of kanji on bleached white paper. Another expounds on the dynamics of a committed relationship that conjure up ties to a strategic pastime. One of our favourite quips from Hannah: "While I was raised to hustle like a man (because I was told to never depend on one) I was also taught that, just like in a game of chess, the Queen protects the King." All the character-building seasons, past and present, are signified through a jewel that adorns her neck-shaped like a composite of her initials, HT—it holds pages of her story that many have not heard.
Here, she shares that story:
When the world celebrated International Women's Day earlier this month, it was joyous. Women from all walks of life and corners of the globe had a reason to feel esteemed—the sisterhood stood tall. But now, with a fortnight between this day and that, let us not forget the importance of lifting up the unique privilege of femininity. The world may say we are volatile but let us claim the leverage of being dynamic. They can call us loud but are we not glad we have a voice? When they prescribe weakness, we ascribe greatness to the gentle strength we each possess.
Donatella Versace frames it beautifully in her message behind the creation of her Versace pour femme Dylan Blue fragrance. In tribute to femininity, she says this: "I created a strong, sensuous yet refined fragrance for a woman who knows her own power."
Even in its composition, the fragrance stands thematically strong. Uniqueness, strength, sensuality and elegance—these make up the pillars on which the gilded blue bottle stands. It is unique in creating an unconventional accord of blackcurrant sorbet and Granny Smith apple. Strength comes to play in its remarkable lasting power; wherever you go, a trail of icy wild blooms will follow. And at the base, elegant woody notes ebb and flow to reveal a sensuous blend of patchouli and musk.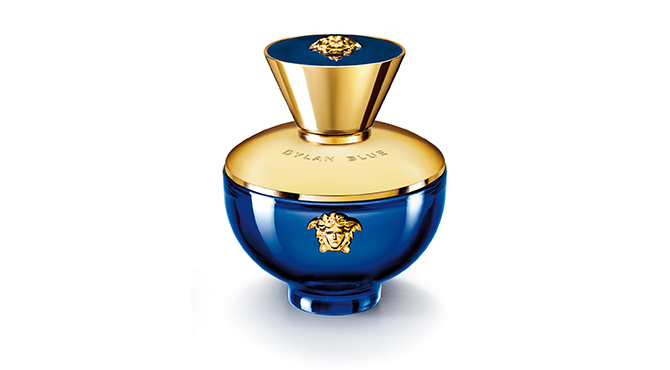 Discover Versace pour femme Dylan Blue for yourselves at Versace Fragrance counters in selected Sephora, Parkson, KL Sogo and Isetan stores. The eau de parfum comes in 30ml, 50ml and 100ml sizes.
Credits:
Creative direction and styling: Alyssa Lee
Videography: The Beat Creatives
Photography: Kent Low
Hair and makeup: Ling Chong
Assisted by: Gwen Ong and Wei Yeen Loh