From Swedish beauty secrets (hint: ice-cream is involved!) to creating a skincare legacy, the force behind one of Scandinavia's most successful organic skincare brands reveals all
It is easy to peg Estelle & Thild founder, Pernilla Rönnberg's success to her razor-sharp business acumen or spot-on timing in filling the organic beauty gap in the Swedish market back in 2007. But what many may not realise is that the secret to her success lies simply in the fact that she is a mother first, then businesswoman.
Inspired by her daughters Estelle and Mathilda, Pernilla set out to create the next generation organic skincare brand, focusing on innovative formulas using only the best organic raw materials - a sustainable business that she foresees will live on for generations to come.  
Tell us a little about the Estelle & Thild story.
"The idea behind the brand came to me when my children were newborn. I was in a stage of life where I wanted to do something else, something that was meaningful.
"As a former CEO of a conventional skin care brand I've seen the amount of chemicals that go into producing conventional beauty products, and grew painfully aware of how these affect our bodies and the environment around us. I wanted to make a difference, to do my bit in helping the world become a better place."
What would you say is most unique about the brand?
"When I founded the brand I wanted to develop a new generation of organic skincare - high-tech meets nature so to say. It is really important for me that we create products that consumers give the results they are after while also being certified organic. Women should not have to make compromises when it comes to their skin (or anything else for that matter)."
What were some of the challenges in developing a fully organic yet effective beauty line?
"The most challenging aspect is the certification process. We have chosen to certify all our products by EcoCert - the largest independent certification board in Europe and the United States, one of the most respected worldwide. They rigidly inspect and examine our content, raw materials, production and packaging material. This certification is a stamp of quality and reassurance for our consumers that our products are organic."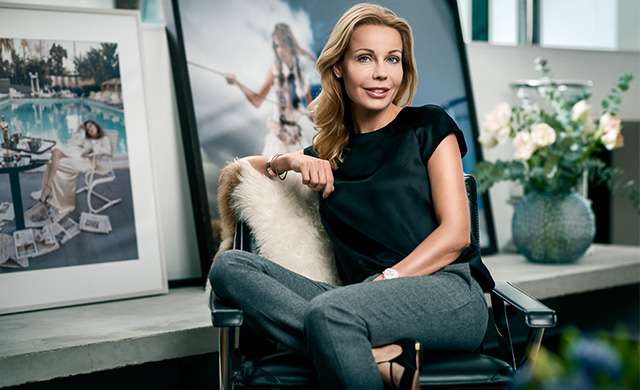 E&T is big on sustainability - tell us a little about the brand's efforts in this area.
"With our organic certification by EcoCert comes not only certification of our products but our products, packaging, communication materials and our processes at the office. Since the start it was important for me to develop a sustainable business, where we do our outmost to protect the environment - from production to what food we keep in the refrigerator at the office."
Can you elaborate on the 'Business, Beauty, Lifestyle' aspect of the brand?
"We want to inspire and empower to go after their dreams, to live a healthy lifestyle that makes them feel good on the inside and out. That is what beauty is all about."
The turning point for E&T was...
"When we launched the brand there was really nothing like it. So we received a lot of attention just because we were doing something different - a certified organic skin care range that gave great results!"
What inspired your recent foray into the Asian market?
"I am really happy that we have been given the opportunity to launch in Asia! The people, the climate, the food, the culture - everything speaks and resonates with me. I am so glad to see that the organic movement is growing here too! We are so grateful that Malaysian women have come to love our products!"
The most important lesson you've learned along the way is...
"That everything can be accomplished with a bit of hard work. I really believe that if you work for something, if you really put your mind to it you will create your own success. This is true for the way you think, work, and play. Looking and feeling good is hard work. You need to take time for yourself, eat well, exercise and enjoy yourself - and when you are a busy mum, this requires even more work."
One piece of advice you'd likely to pass on to Estelle and Mathilde is...
"For them to stay true to themselves."
After almost a decade of being in the business, what still excites you about beauty?
"The fact that the organic beauty market keeps growing. Consumers are more informed than ever, and demand sustainability and transparency from brands and companies across markets. This inspires me to keep striving to create even better innovations, products and experiences, for our consumers and for the world."
How do you stay at the forefront of the game?
"I surround myself with great people and the best team. We work continuously within R&D to research new methods, products and ingredients to create the best in organic beauty."
The secret to juggling a beauty empire and family is...
"Balance and focus. When I am at work I am 100% focused on my team and what we are set out to do that day and when I am at home I switch off. My girls are my priority, so it is important for me to stay present when I am with them."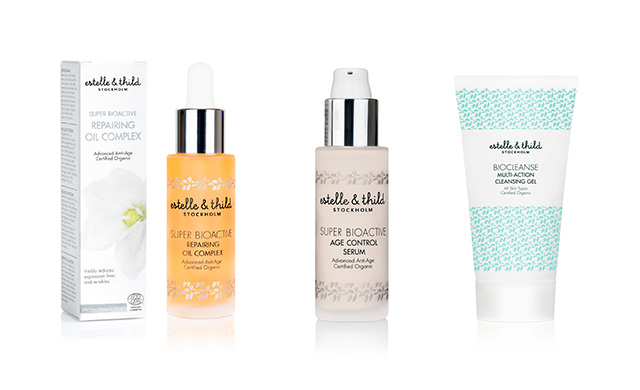 Tell us a little about your personal beauty ritual.
"I start my daily routine with a Estelle & Thild cleanser, and then dab on some toner. It is super refreshing, and without alcohol, and the foundation for hydration in any skincare routine. I use our Super BioActive serum and oil, mixing them together to get maximum benefits deep into the skin. 
"Then I finish off with a moisturizer and eye cream, and perhaps our tinted moisturizer. It has just the right amount of pigments for that healthy glow. A couple of times a week I give myself a deep cleansing treatment, polishing off dead skin cells with our BioCleanse Radiance Micro Polish and our BioCleanse Deep Cleansing Detox Mask. These two are real lifesavers when it comes to dull skin. I instantly get a brighter, healthier complexion!"
Top three picks you'll recommend to a new E&T user are...
"These three will give your skin essentially what it needs. And these are great for a humid climate:
Cleansing Gel - A favorite from our cleansing routine. This airy cleansing foam washes away makeup and impurities with the gentlest touch to uncover a toned and radiant complexion, without stripping the skin off its natural moisture.
Super BioActive Age Control Serum - a certified organic, age-defying, highly charged serum for supple, youthful skin. Proven to give the skin a smoother, firmer, younger and healthier appearance in just 4 weeks. It has truly revolutionized organic skincare as it proves its efficacy. It has also received awards from top beauty organizations and magazines all over the world.
BioHydrate Tinted Moisturiser - once you try this product you never go back to anything else. Our moisture boosting tinted moisturizer is infused with just the right amount of pigment to give your complexion a soft glow that lasts all day."
You feel most beautiful when...
"I am on holiday! Preferably in South East Asia, with my family. This is when I feel most relaxed, happy and content - and it always adds a glow to my face."
The biggest beauty trend in Stockholm currently is...
"Swedes are very much into living a healthy lifestyle all year around. We going skiing in the winter, and hiking in the summers. At the moment the yoga trend is bigger then ever, but also ballet inspired training such as Barre is very popular."
You're currently hooked on...
This raw food ice cream from Sophie's Raw is just amazing! 
Some of your best beauty tips include...
"I try to always eat organic, nutrient rich foods such as greens, vegetables, fruits, nuts and fish on occasion. I love to start the day with a green juice or smoothie. And I drink plenty of water; it is still the best tip for radiant skin."
How do you disconnect in a world that's so connected today?
"When you have children it is hard to find time to chill and relax after work, but a quick run or a bath could be very relaxing and clears my head after a day at the office."
A place that never fails to inspire you?
"I have to say Stockholm, Sweden. It is just an amazing place to be. New trends, start-ups and artists pop up everywhere. Being in a bustling city, with nature just around the corner is very fulfilling. Swedish values of openness, caring, progressiveness and nature are very important to me, and for Estelle & Thild."
Your philosophy in life is..
"To never give up - in life, relationships, health, work, anything!"
The one thing you always make time for every day is...
"My daughters."
What is the one thing that people may not know about Estelle & Thild?
"That the brand is named after my daughters Estelle & Mathilde; my inspiration behind the brand."
What are you looking forward to next for the brand?
"We have some very exciting times ahead, and I am looking forward to what is yet to come. We have some secret projects launching next year - so stay tuned!"
Estelle & Thild is now available at all Sephora outlets nationwide.