Drop what you're doing, Nars is giving you reasons to go wild for its newest Orgasm offerings
For the longest time, the Nars Orgasm Blush has always had a permanent spot in every makeup bag. Its cult status is not without merit. The universally flattering shade looks good on just about every girl. The genius that is François Nars created a product that works well on every skin tone; the Orgasm Blush imparts a natural glowing sheen, like that first flush of excitement. Ahem!
With the popularity Nars Orgasm Blush, it only makes sense to expand and build a whole collection around it. There's the lip gloss, illuminator and now, add a lipstick and liquid version of the blush. On top of that, Nars also releases a limited edition collectible compact of the original Orgasm Blush this year.
I recently met up with Lena Koro, Nars Global Artistic Director in Hong Kong for a quick tête-à-tête. Lena is the first ever assistant to the François Nars and has worked with him for some 30 years now. The affable artist sat down to chat on the latest Nars Orgasm collection and her love for makeup.
Hi Lena. The new Nars Orgasm products are really pretty, what is your favourite item?
Yes, it's really nice, isn't it? The new Liquid Blush's formula is really amazing; the colour is sheer and it sets really well on the skin. There are different ways to apply it – I'd just dab the Liquid Blush first and then add the Orgasm Blush powder over it. Oh, I do like the Orgasm Lipstick too! It's really easy to apply and the colour looks good on everyone.
So, what do you think contributes to Nars Orgasm Blush's cult status?
I definitely think the name itself is outstanding. Orgasm—it has a shock factor. I remember when it first came out people were certainly taken aback. François wasn't even sure it would be well received because the name might be considered too sexual. But this has been a bestseller for us. I also think the colour contributes to our success as well as the quality of the product. When you apply it, you can really see the colour. That's why I think the Orgasm Blush has stayed for so long.
What do you love most about your job as Nars Global Artistic Director?
Oh darling, I really do love my job. I love makeup and make people look pretty. I've been doing this, like, since I was born. I don't see it as a job though. I have a deep passion for it and after all these years, I still love what I do, which is really rare these days. I really think I'm so blessed. There are times when I do question if this is still my calling, you know – the ups and downs of life – and thought of quitting but I couldn't because it's something that I love. I'm still obsessed about makeup, so I'm in the right business. Laughs.
You travel a lot for work. What have you noticed between the East and West when it comes to makeup? Any tips to share?
To me, everyone is the same. The important thing is to choose and use the right base colour. Also, it's about your skin condition – for example, if you have blemishes or dark circles, you need to know how to neutralise the colour. François always says this, "don't make your makeup look like a separate layer of the skin" and I feel the same way. When you apply makeup, it needs to be light-handed as if you're blending some colour into the skin, so you would still be "you".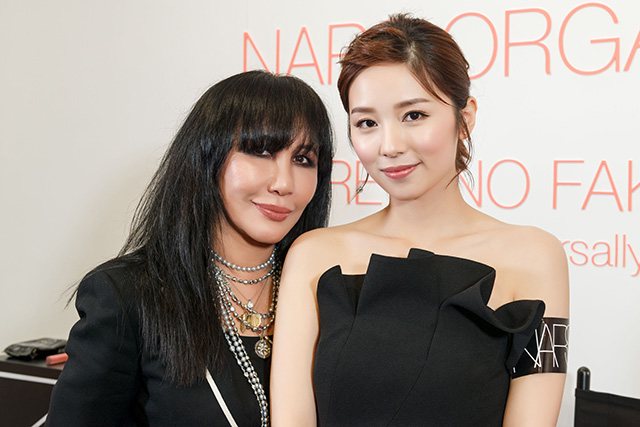 What are your three go-to NARS products?
For me, it's definitely the Radiant Cream Concealer – it's really amazing, I need it! I also can't live without the Mambo Eyeliner and Black Moon Mascara. If I have these three things, I'm good to go.
What is the one beauty trend that has caught your eyes this season?
Orgasm! Laughs. But you know, I always think that makeup isn't really about trends. I know beauty is getting trendier with social media, like contouring is popular these days but I don't really follow trends. I like "pretty". Of course, there are so many choices now and you can choose to learn from YouTube, Instagram, whatever but most importantly, you have to first find your look. So pick something that suits you the best and don't believe everything that you see is trending, some makeup look may not actually be suitable for you. My mantra is you have to look good and feel good.
The Nars Orgasm Liquid Blush, Orgasm Lipstick and Limited Edition Orgasm Blush are now available at Nars Cosmetics Suria KLCC, Pavilion KL, Mid Valley Megamall, Sunway Pyramid and Parkson Gurney Plaza.
Related stories:
3 Ways to wear the new Nars Velvet Lip Glide
Charlotte Gainsbourg for Nars is what you need for that effortless, Parisian-chic beauty look