We celebrate the OG beauty icons in our lives with this Mother's Day tribute
How many of us can cite our mothers as our first (and only) beauty muse? From watching mum apply lipstick for the very first time to sneaking jars of face creams from her vanity, there are so many beauty lessons to glean from the leading ladies of our lives.
In celebration of Mother's Day this year, we recreated our favourite throwback looks of our mothers with what we have at hand. Scroll down to see how we attempted the '80s perm, the OG 'no-makeup' makeup look, and brown lipstick:
Loh Wei Yeen, Deputy Editor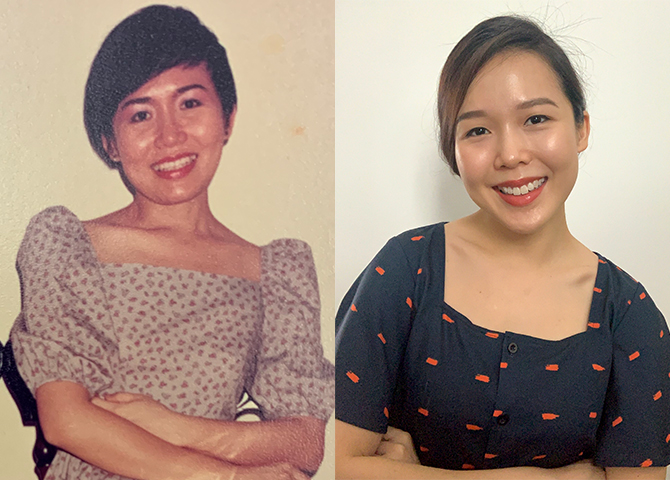 Why I chose this: I love how stylish and laidback she looks here. There weren't many pictures of my mother wearing a super bold makeup look (save for her wedding day photos—her draping was major), but her hair and fashion choices were always statement-making.
lessons learnt: In her words (as we were flipping through the old photo albums together): "Be adventurous while you can". Mum has probably tried every trendy hairstyle back in the heyday, from a blunt bob (which she absolutely rocked) to an '80s perm ("not my best look").
The most difficult part about recreating it: The hair, naturally. I didn't quite know how to transform my mid-length hair to a faux pixie cut (plus I didn't have bangs of any sort) so I did what I could i.e. tucked my hair outside of my ear on one side.
What my mum said: "Wow, [you did] really good; we look almost similar! Why don't you cover more of your forehead with your hair?" To which I replied that I have zero bangs and would need to resort to a DIY baby bangs haircut for the sake of this story.
Liyana Zamzuri, Senior Special Projects Writer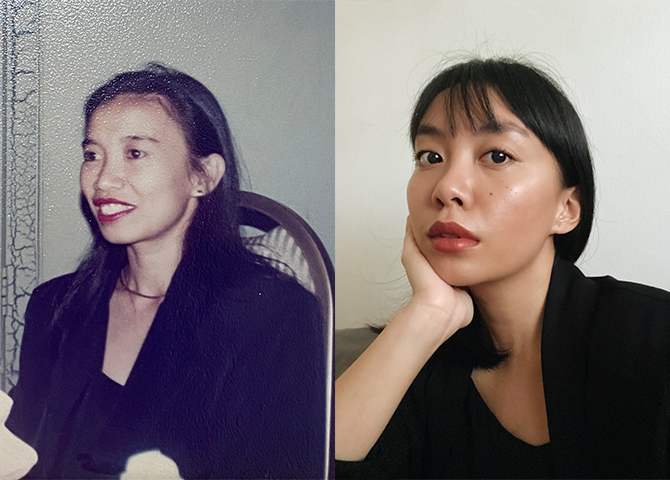 Why I chose this: You're probably expecting for some extreme eye work or crazy hair, but my mum's look is pretty much all things minimal and chic. This is her signature look back in the '80s and '90s—bold red lip slicked back straight hair.
The most difficult part about recreating it: Probably mastering the "no-makeup" makeup look and highlighting the natural skin. Yours truly, on the other hand, is trying to mask the greasy sheen without removing the 'glow'. 
What I would change about my mum's look: I would bring some life back into her look with some decent amount of blusher.
What my mum said: I should have opted for a bolder red lip; but this rose-brown shade was the darkest I have in my arsenal, so this will do!
Redzhanna Jazmin, Editorial Assistant
Why I chose this: I was super excited to find out that we were doing this challenge because I knew I had a plethora of looks to choose from. Mum is—and always has been—a very fashionable woman, and her look changes with every era. The noughties called for frosted lids and lips, the '90s saw her embracing vampy vibes and the '80s meant big (huge) hair and bold colour palettes.
lessons learnt: She has two unwavering rules when it comes to makeup: 1) Your eyeshadow always has to match your outfit (this look calls for frosty blue lid shimmer and a deep brown crease), and 2) Never, ever forget lipstick. When I asked her about the perm, she was reluctant to admit that it had survived well into '92, despite complaints from her friends and family alike (bless her!). However, I'm glad to report that despite moving on from it eventually, this is not the last perm she would ever get.
The most difficult part about recreating it: Overall, it wasn't very difficult to recreate—but if I had to pick one thing it would be the perm because of how tired my arms got halfway through.
What my mum said: I showed her my recreation and got her seal of approval—all in all, I'm considering this a success!
Marissa Chin, Editorial Assistant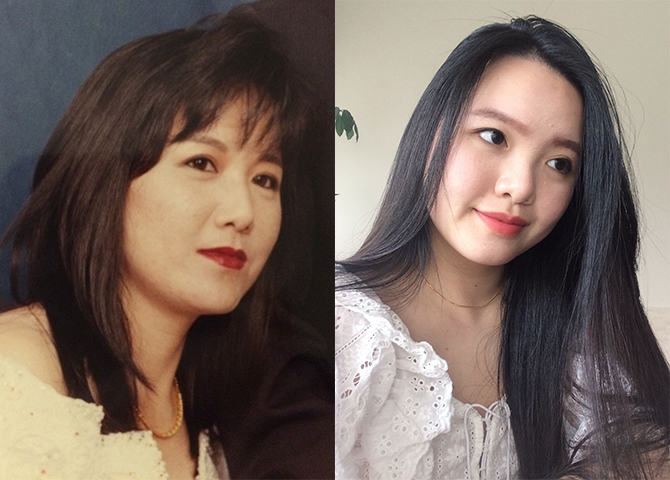 Why I chose this: This was one of the (many) wedding photoshoots she had about 30 years ago and funnily enough, I love how simple and timeless her makeup is here since wedding makeup back then erred on the side of over-the-top. Her natural beauty really shines through here and photos like these really remind me how much of a bombshell she was (and still is!)
The most difficult part about recreating it: Naturally, her side fringe and medium-length layered hair was impossible to recreate since my fringe had grown out a long time ago. Also, as someone who usually sticks to neutral tones, the bright red lip is not something I usually wear—as you can tell, I didn't manage to find a lipstick shade as bold as hers.
What I would change about my mum's Look: I like her makeup so I wouldn't change it too much—maybe more blusher since it's a makeup must-have that I rarely go without. I want her to fully embody the term "blushing bride". Also, a dainty accessory to spruce up the hair won't hurt anyone!
What my mum said: "You tried." Thanks, mum, I really did. In all fairness, she did say she wasn't expecting an identical recreation since I don't have a wedding dress on hand, but she liked the youthful touch I added to it to make it look more casual.
Calleigh Yap, Senior Web Designer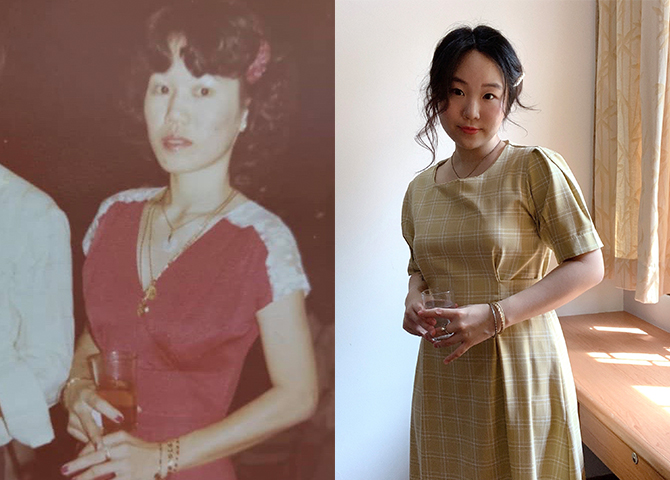 Why I chose this: I don't have many choices to begin with because the only time my mum had makeup on was on her wedding day—40 years ago!
The most difficult part about recreating it: My mom's makeup's look was really simple and I couldn't really tell what was done on her face, so I had to make sure that I didn't overdo my own makeup. I also tried my best to curl my hair as tight as my mom's curls but it didn't really last. (I am now inspired and considering getting a perm once the CMCO is lifted.)
What I would change about my mum's Look: Honestly, nothing! I am very happy with my mom's makeup because it matches her personality really well. Even during a once-in-a-lifetime occasion, she did not stray from her signature style—I imagine that if she had applied heavy makeup, she would have looked unrecognisable.
What my mum said: My mum gave my recreated look a 10/10 although she did suggest that I reapply my lipstick so that I wouldn't look too pale.