Before we dive in, be warned that 'Game of Thrones' spoilers are aplenty in our hair-y discourse below
You've seen our take on the at most iconic fashion moments from the entire Game of Thrones series, and even how some members of the cast look with toddler and gender swap Snapchat filters that have been #trending as of late. But what of the characters' beauty front? While you were busy trying to get over some of the gripping, heart-tugging junctures throughout the premise, you might have missed out on these beauty moments that may carry more meaning that you think.
Scroll down to glean all the memorable hair transformations of our favourite characters that weigh more than just a load of intricate braids, hairspray, and the like:
Cersei Lannister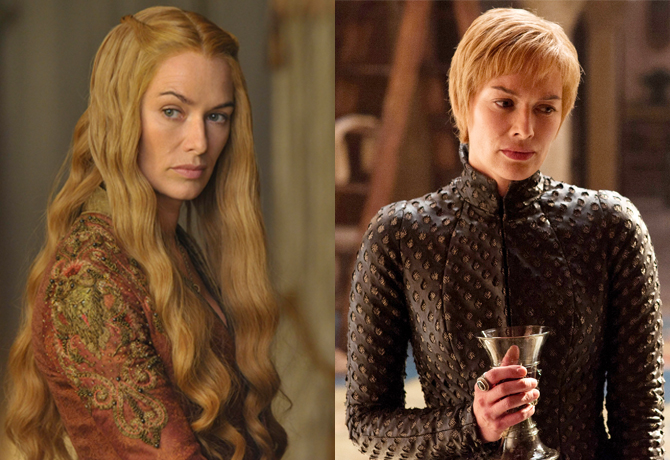 At the start of the season, Cersei Lannister's hair (and overall wardrobe choices) has always been traditionally feminine and adorned—alluding to her tendency to use her sexuality to her favour. Her tresses were often kept long and in loose waves, but it wasn't until Season five when she was forced to carry out her walk of atonement that her blonde locks were shorn to cropped pixie hairdo. Surprisingly, Cersei's length didn't grow any longer after she ascended to the throne—perhaps an intentional decision on her part to embrace her newfound power that's solely attributed to her title as the ruler of the Seven Kingdoms (not so much her wily exploitation of men in carrying out twisted acts on her behalf).  
Daenerys Targaryen
No other Game of Thrones character has had a discusson-worthy hair transformation quite like the Mother of Dragons. Dany's signature platinum tresses has seen the best and worst of days throughout her character arc—from the very beginning when she was trophy bride and pawn in her brother's political game (loose, wavy albeit occasionally frizzy hair) to elaborate braids that get increasingly complex with each victory she scores.
Her braids also reference the Dothraki custom of shearing braids after being defeated in a battle to show the world their shame. As Daenerys procures a larger army (and burns more people alive) along her way, her hair grows longer, thicker while her braided twists grow more complicated. Some of her waist-length 'dos seem to be inspired by her late husband Khal Drogo's lengthy ponytail. In Season 6, her matted, disheveled hair reflected her temporary backslide after she was taken as a prisoner by the Dothraki khalasar; the last—and most—notable appearance of her hairdo was in the final episode of Season 8, where her impeccably-detailed crown of braids were shown as she addresses her victorious army after setting King's Landing ablaze. 
Sansa Stark
Sansa's character undergoes one of the most harrowing transformations through the series, and her ever-changing hairdos reflect just that. "Sansa's hair is constantly reflecting the people she's learning from, or mimicking, or inspired by at the time," said Sophie Turner in an interview back in 2017.
Take a closer look and you'll find that every hairstyle she sports bears an uncanny resemblance to the powerful women around her at each point in time, whether it's Cersei's braided updos to Margaery's half-up/down look (and even Daenerys'-inspired braids in the final season). Her appearance during her coronation as Queen in the North was a momentous look to say the least: she wore her hair down and loose behind her back, essentially flexing her independence now that she is done with emulating and getting influenced by others around her. 
Arya Stark
It's all in the little details, especially with Arya Stark's no-fuss, warrior-worthy look. We'll never forget her half-up top knot inspired by her father Ned Stark (that poignant hug with Jon Snow definitely triggered some feels in the best of us), but the scene of her sailing off to the west of Westeros—at world's end, really—was the perfect denouement to the episode. Spot her new look that's the first for her—not to mention, an unofficial "clean slate" to kick off her next adventure.