From lion motifs to luminous metallics, Chanel's Collection Libre 2018 Maximalisme de Chanel is a stunner in every way.
For this upcoming festive season, Chanel's holiday lineup so collectible-worthy that it deserves a spot on your beauty shelf. If the glitzy glimmer of holiday palettes is what you are more excited for every holiday season, the Collection Libre 2018 Maximalisme de Chanel is one you shouldn't miss out on.
Chanel Global Head of Makeup and Colour Design Lucia Pica wanted to incorporate one of Gabrielle Chanel's favourite motifs, the lion icon, as the focus of this collection—while exploring a myriad of metallic textures in each product.
"A lion's strength suggests courage and flamboyance in the woman who wears its image or colours," says Pica. "With Maximalisme De Chanel, I wanted to create an exaggerated, glamorous attitude, a commitment to positivity—something to wear for more outgoing moments."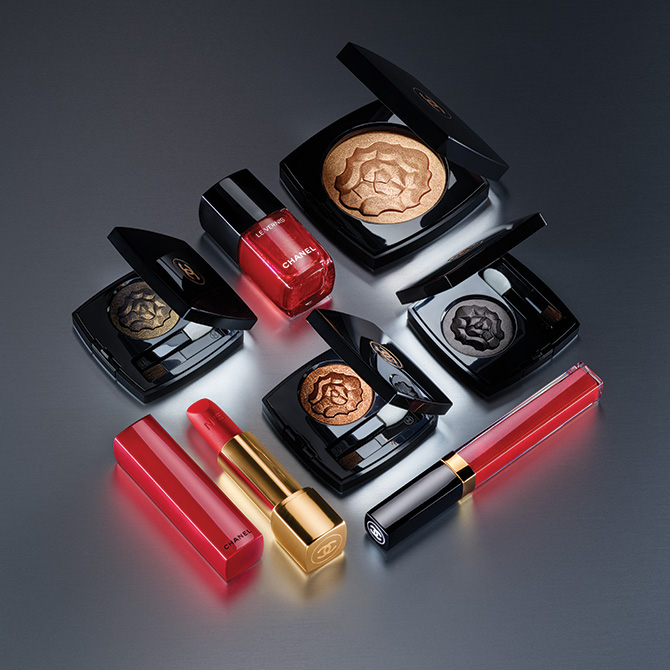 Expect sophistication in every way, from the sheerest pale gold highlighter to give a glamorous patina, to deep hues of copper and black-green that allow for a mesmerising look. The best part? All the Collection Libre 2018 Maximalisme de Chanel products are etched with the Chanel lion, while two exclusive products sport the iconic emblem on the surface.
The first palette that's high up on our list is the Le Lion De Chanel, a gold highlighter that is lightweight and translucent to leave an ivory-gold iridescence on the complexion. Let your eyes do the stunning with four contrasting shades of the Ombres Première Poudre eyeshadow—each with the lion motifs casted on the surfaces, but all made to create dazzling new possibilities.
Another exclusive is the La Palette Caractère, a lip palette that offers Pica's go-to lip colours and textures, be it rich velvet or bold matte. "There's something for everyone, from a strong red and strong berry to a bright orange." Also, the Rouge Allure Velvet N°5 takes on the name of Chanel's iconic fragrance this season, adorned with a captivating, limited-edition red case this season. Can't resist a head-turning red lip? This matte crimson shade is made for you.
Other standouts include the Rouge Coco Gloss in two glistening metallic shades, the Ombre Première Crème in luminous pink-gold for a beautiful wash of colour, and Le Vernis nail varnish in two colours that will match your lip gloss to a tee.
Available at all Chanel fragrance & beauty boutiques and counters at all leading departmental stores