We're in the final week of our giveaway and we saved the best for last.
Merry Christmas, everybody! We've reached our final week of the Buro Christmas Village Giveaway and we've saved the best for last. This week, we have prizes from Burberry, Make Up Forever, Carolina Herrera, ghd and TWG Tea. We've got exclusive beauty prizes to give away, perfectly timed during the holiday season for you to get glammed up as we welcome the new decade. Also, in our list of prizes this week is a Christmas tea hamper set, so you can sip on your tea as you get ready to par-tea.
Burberry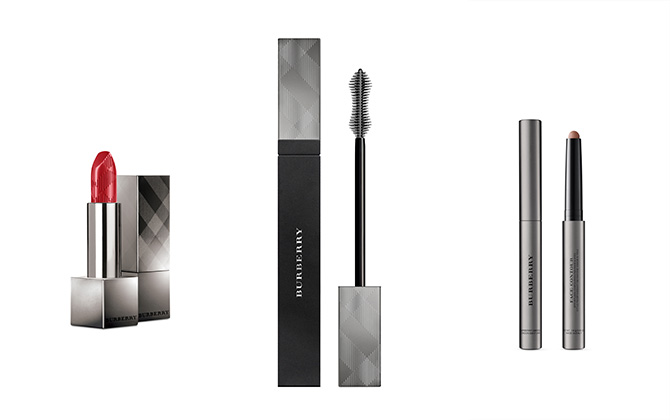 Time to pucker up, buttercup! The hottie under the mistletoe awaits. Make your mark in Burberry Kisses Poppy Red lipstick with its effortlessly buildable lip colour. The satin-finish gives it a luminous colour brilliance with the added bonus of weightless formula that feels light on the lips. The beauty set also comes with the Cat Lashes Mascara with an hour glass-shaped brush that separates and fans out your lashes for the ultimate cat-eye. You'll have the bedroom eyes down pat in no time! But wait, complete your party look with the easy-to-use Face Contour stick. The creamy, blendable texture makes it easy even for makeup beginners. We have five sets of the Burberry beauty set (worth RM382) to give away!
Carolina Herrera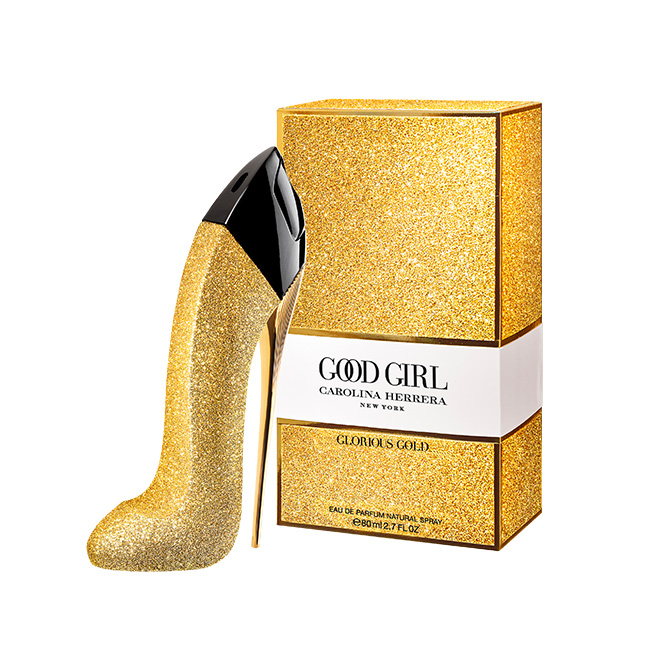 Have you been naughty or nice this 2019? Scratch that, this new scent by Carolina Herrera goes both ways. The popular Good Girl fragrance returns with a Glorious Gold edition! Like its original shape, the bottle comes in the form of a sharp-edged stiletto, but as the name suggests, it's dripping in gold, sparkly glitter. The scent stays true to the original using a floral expression of jasmine sambac, blended with tonka bean and cocoa; but with a stronger, bold aroma that empowers its wearer. Each Carolina Herrera Good Girl Glorious Gold bottle is worth RM495 and we have two up for grabs!
Make Up For Ever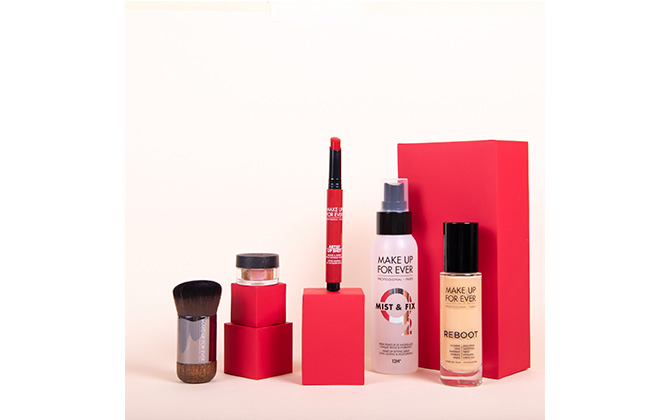 Put your best face forward this festive season! Make Up For Ever's Cult for Ever Face, Eye and Brush set will keep your face on lock. Prep your face with the Reboot Foundation for a clean canvas by using the Buffing Foundation Brush, then dust on the shimmering Star Lit Powder Iridescent Pearl eye shadow to brighten and add dimension to your lids. The soft and lightweight powder can be applied wet or dry, so don't be afraid to experiment! A sucker for innovative packaging? Make Up For Ever's latest break-through formula combines the colour intensity of a traditional lipstick with the shine of a lacquer, neatly packaged in a fun click-pen format. Perfect your look with Mist & Fix setting spray and you're good to go! We have five Make Up Forever gift sets to give away, each priced at RM564.

ghd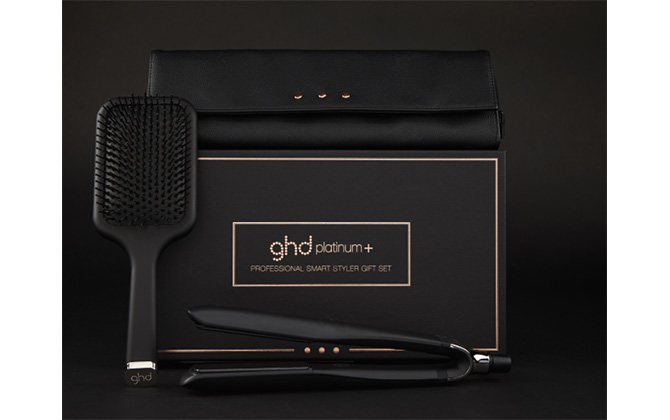 It's a good hair day everyday with ghd! Tame your mane with the break-through technology that predicts your hair's needs. The ultra-zone predictive tech allows the styler to recognise sections of your hair while monitoring the heat 250 times per second, allowing you to style your hair while protecting it, too. The unique wishbone hinge lets for snag-free styling so you won't have to worry about tangles as you aim for straight, waves or curls. The ghd Platinum+ set comes with a heat resistant bag and paddle brush, and is worth RM1,300. We only have one (yes—satu, uno!) ghd Platinum+ Professional Smart Styler Set to give away!
TWG Tea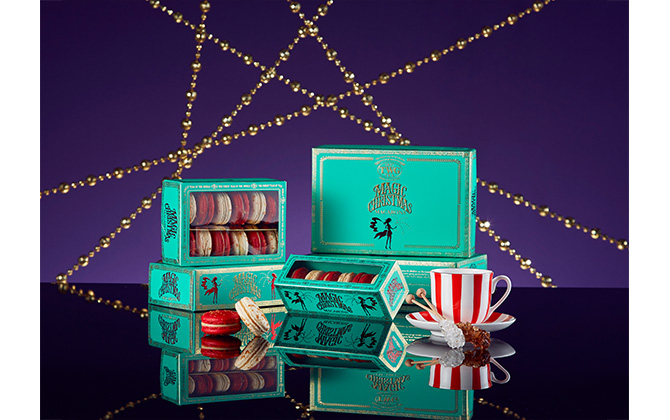 All that partying calls for a relaxing session. Unwind and refuel with TWG Magic Christmas Tea Hamper set! What's inside this delectable treat? Dressed in Santa's choice of colours, the delicious tea-infused macarons are too cute to resist and the adorably decorated chocolate mousse log cake makes a great center piece if you have company over. Up for dessert? It ain't Christmas without chocolate bon bons! Wash it down and cleanse the palette with TWG's Magic Christmas Tea, a red tea plucked from the Aspalathus linerais bush found in South Africa. The perks-it contains high levels of antioxidants, Vitamin C and protein. We have five TWG Magic Christmas Tea Hamper sets to give away, priced at RM367 each!
The giveaway is now closed. Congratulations to the following winners:
Burberry
Seow Chai Yen - 1 x Burberry Beauty Set
Foo Wei Ling - 1 x Burberry Beauty Set
Boey Jie Ting - 1 x Burberry Beauty Set
Nur Atira Mohari - 1 x Burberry Beauty Set
Ng Zuan Ping - 1 x Burberry Beauty Set
Carolina Herrera
Yeong Yan Sheng - 1 x Carolina Herrera Good Girl Glorious Gold
Aziah Abu Bakar - 1 x Carolina Herrera Good Girl Glorious Gold
Make Up For Ever
Julie Tian - 1 x Make Up For Ever Gift Set
Soh Kk Ling - 1 x Make Up For Ever Gift Set
Ashley Lee - 1 x Make Up For Ever Gift Set
Mohammad Nazri - 1 x Make Up For Ever Gift Set
Hasmahani - 1 x Make Up For Ever Gift Set
ghd
Farizah Binti Madra - 1 x ghd Platinum+
TWG Tea
Nurul Azziera - 1 x TWG Magic Christmas Tea Set
Oliver Wen - 1 x TWG Magic Christmas Tea Set
Zurianna Binti Zamalu - 1 x TWG Magic Christmas Tea Set
Alvina Kang - 1 x TWG Magic Christmas Tea Set
Chan Chee Mun - 1 x TWG Magic Christmas Tea Set
For more details on how you can play the game to win this giveaway, read the mechanics below:
How to join the Buro Christmas Village Giveaway:
Just follow these easy steps:
1. Pick an avatar and collect as many candy as you can in 90 seconds, to stand a chance to win!
2. Fill in your details upon completing the game!
Tip: The more you play, the better your chances of winning. Get a head start, start playing and good luck!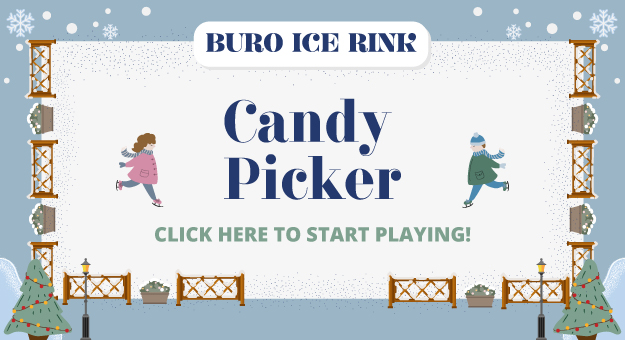 Terms and conditions:
1. This giveaway ends 11:59pm, GMT+8, 1 January 2020. The winner(s) will be announced on 3 January 2020.
2. Employees of Buro Malaysia and its related corporations ("Indochine Media Ventures") or Buro Malaysia partners and/or sponsors for the giveaway (if applicable), and their immediate family members (including spouses, children, parents, brothers and sisters) are not eligible to participate in the giveaway.
3. Winners of this giveaway are chosen at random.
4. This giveaway is organised by Buro Malaysia (hereinafter referred to as the 'Organiser').
5. The prizes for this giveaway are neither exchangeable for cash nor transferable.
6. All persons ('Participants') taking part in this giveaway agree that these rules shall be binding on them, and that the entries in this giveaway, including their name and likeness, may be used without restriction in any future publicity material by the Organiser.
7. The Organiser reserves the right to amend these rules or terminate the giveaway at any time at its sole and absolute discretion. All decisions made by the Organiser under these rules shall be final and no discussion or correspondence will be entertained. The Organiser may, but is not required to, justify any decisions relating to this giveaway.
8. The Participant acknowledges that the interest and good reputation of the Organiser are of paramount importance. The Organiser reserves the right to disqualify a Participant from the giveaway, or to withdraw the prize if it is believed the Participant is in breach of its obligations under the rules. The Participants shall not by act or omission, directly or indirectly bring the Organiser into disrepute.
9. All entries are sent at the risk of the Participants and in the event that there are technical difficulties experienced arising out of the internet or from any associated equipment or internet security is compromised, the Organiser may at its sole and absolute discretion disqualify the entire entry and shall not accept any liability for doing so.
10. Giveaway entries may only be submitted via the stated medium of communication.
11. This giveaway is open to anyone above 18 years old.
12. Each entry must be completed in full. The Organiser reserves the right to disqualify any incomplete entries in its sole and absolute discretion.
13. Incomplete entries will be deemed void.
14. Winners will be notified by email.
15. Uses of 'aliases' shall be considered a form of deception and are prohibited.
16. The winner must produce their original IC / passport with legible IC / passport number in order to claim the prize. The winner may also be required to produce additional original proof of identity at the discretion of the Organiser.
17. All Prizes are accepted entirely at the risk of the winner, and the Organiser excludes all warranties in connection with the prize to the extent permitted by law.
18. All Participants release from, and indemnify the Organiser, its agencies, sponsors and representatives against all liability, cost, loss or expense arising out of acceptance of any prize or participation in the giveaway including (but not limited to) personal injury and damage to property and whether direct or consequential, foreseeable, due to some negligent act or omission or otherwise.
19. All personal particulars furnished are meant for identification purposes and will not be sold or given to any third parties. In the case of giveaways, our partners may wish to offer you services which require your personal particulars. These specific requests will be expressly stated within relevant giveaways, with a choice to opt out.
20. Inability to contact the winner by 10 January 2020 will result in disqualification and selection of an alternate winner.
21. Winners must collect their gifts from our office in Mont Kiara within 1 month of notification.
22. Prizes are final; no cash equivalent or alternative prize will be given. Prizes are non-transferable, non-exchangeable and strictly not for resale. If the winner is found to be selling the prize(s), the Organiser reserves the right to demand the return of the prize.