Does your body need some fine-tuning? Then trust the set list at Rock Spa – Hard Rock Hotel Desaru Coast's in-house spa – to reset and retune your body to a perfect rhythm once again.
We've all been to spas—whether for a massage after a draining week at work, a facial because your skin is signaling SOS post-holiday, or maybe just to update your digits with the latest nail trend. For the adventurous, perhaps you're experimental and have tried an onsen spa or even facial acupuncture, but here's a question: have you ever been to a spa where the massage bed grooves to the beat of the soundtrack that's currently playing? Because I have. Below, my full review of Rock Spa, which also houses the world's first fully immersive music-centric treatment menu.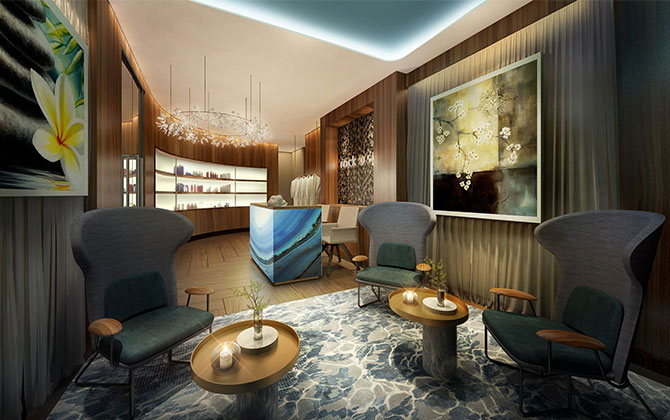 The welcoming lobby area
In August, I visited Hard Rock Hotel Desaru Coast in Johor for a review and as part of the business (okay, fine, and leisure) trip, I was invited to try out one of the treatments at the hotel's in-house spa, Rock Spa. With music-inspired elements peppered throughout the interior and exterior of this place, the spa was singing the same tune; not just in the façade, but also in its Rhythm & Motion experience, which acts as the foundation of its treatments. How exactly? Well, it utilises amplified bass vibrations that ripple through the massage table while top treble notes echo from a dome that hovers above your head, thus allowing guests to embark on a rhythmic massage journey.
As I scanned through the spa menu (creatively called "Set List"), I ask for their headlining act signature service and the Asia-Blend Massage was recommended. Based on its description, the 60-minute massage combines ancient Ayurvedic healing and Balinese deep tissue techniques using the hands, elbows and forearms. In other words, it's a powerful body massage that aims to soothe stressed muscles and alleviate fatigue while improving lymphatic flow and circulation. Happy with my choice (and pre-massage tea), I changed into a comfy robe and made my way to one of the five luxurious treatment rooms.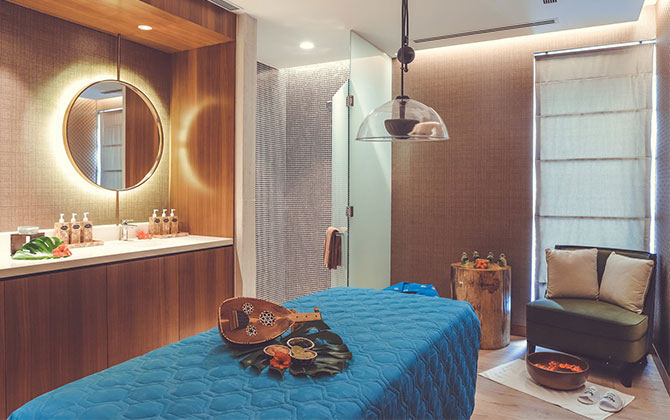 Once inside this cosy nook, I'm asked to pick out an essential oil from the following four options: Beat It (a citrus-orange scent for revitalization); Sway (coconut oil for hyration); Perfect (peppermint for a peaceful, calming effect); or Love's Divine (ylang-ylang for insomnia). I choose their best-seller (Beat It) and the therapist then slathered me in that heavenly fragrance as she kneaded my back, hips, and neck—all parts I had earlier ticked on a form so that she knows to apply more pressure. I appreciated that form, since I could also pinpoint the areas where she can forgo or apply lesser pressure.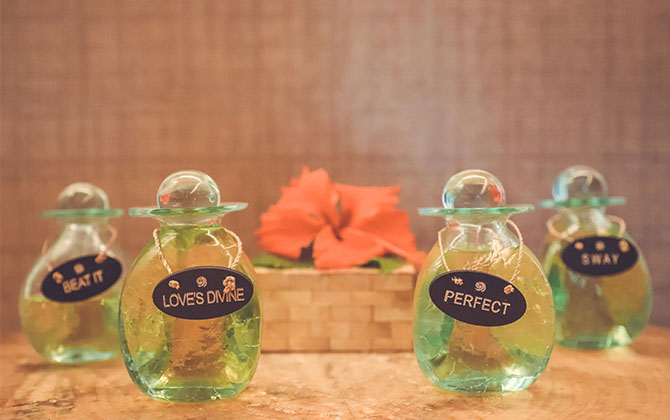 Okay, now for the highly-anticipated Rhythm & Motion experience. The first thing I noticed as I laid on the massage bed? It was heated. It was as comforting as a warm shower, but even better because I'm lying down and my eyes are closed. Next thing I noticed: the presence of hidden speakers somewhere amongst the head rest because I heard the sound of waves near the top of the massage bed—bliss! As for the massage techniques that're supposed to be synchronized with the curated soundtrack in the background, I felt faint pulses casually being sent through my body as it hummed along to the rhythm and beat of the playlist. That said, one thing was missing and preventing me from experiencing the full treatment: the dome. According to my therapist, it will be in place very soon (patience, guys!) so take note of this if you're planning to pay a visit and want to experience the full harmony of top and base notes during your treatment.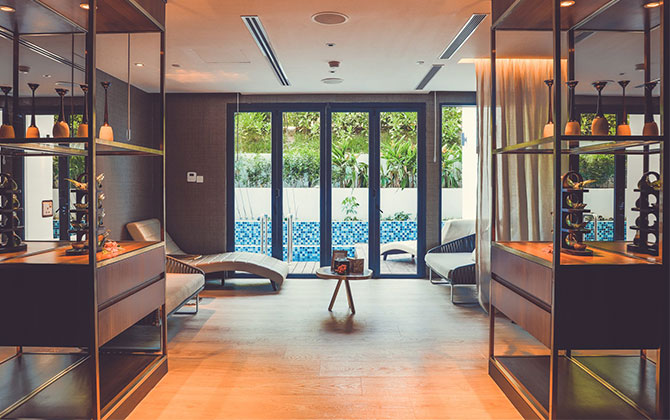 The relaxation lounge
Like all spa treatments I go to, I never fail to unintentionally take a mini nap and you just know it's good when even a five-minute snooze feels like you've paid off a huge chunk of sleep debt. Post-massage, I'm feeling invigorated and was ushered to the relaxation lounge area where I sipped on chamomile tea to further prolong my new-found zen (while gazing into nothingness from the glass door and windows). Outside, there is a small private pool where guests can cool off, should they opt for a detoxifying body treat like Get Dirty or Wrap Remix (yes, all their spa menu items come with punny names).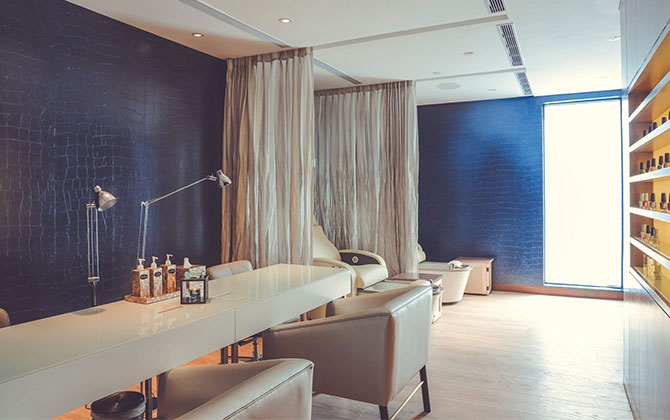 The nail salon
Speaking of treatments, families, take note: there's a special menu dedicated to your little rock stars and divas. Aptly called Sweet Child 'O' Mine, this includes a lip-smacking fruity facial (which is edible by the way), a foot massage, a mani-pedi, or a package combining all of the above. Adults, don't worry, you won't miss out on the all the fun either as you're spoilt for choice with a huge line-up of detoxifying body wraps, music-synching massages, aromatic body scrubs and rejuvenating facials. There's even a separate salon within Rock Spa offering nail treatments to keep your hands and feet happy.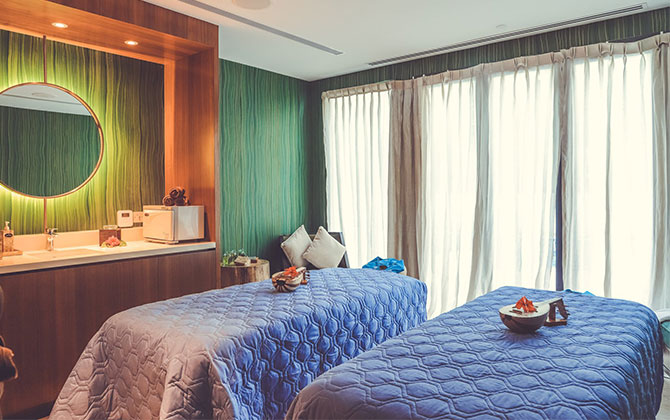 Couple rooms are available too
Oh, and if you have time to spare, the 120-minute Desaru Dose or 180-minute Coast Energizer is the ultimate treat. The former combines a coconut scrub, the Asia-Blend Massage and a mini facial while the latter starts off with a lime and ginger body scrub, followed by an aloe vera body wrap, before ending with a relaxing head massage. Not much time for major pampering? Skip the big orchestra and opt for their speedy express treatments instead—they only last 30 minutes. See? No excuse not to #treatyourself!
Final thoughts
The heated massage table alone made all the difference for me; after all, I absolutely hate feeling chilly halfway through a session (it doesn't help that I'm the type who gets cold easily). Music wise, I appreciated the extra treat to one of the (otherwise forgotten) five senses and the sound of waves definitely helped put me in a deep slumber—one that got me dreaming of the beach. Hence, if you're a huge believer of #selfcare and love the idea of amping up your classic spa treatments with a musical twist, do yourself a favour by booking a massage at Rock Spa—it's the one place where you can sip tea, sleep, unwind, repeat.
Rock Spa at Hard Rock Hotel Desaru Coast is open daily from 9am to 10pm. For reservations, you can email them at [email protected] or give them a ring at 07 838 8888.