This year Bulgari celebrates its 40th anniversary by fusing culture and modernity through its audacious new Bulgari Bulgari collection. Back in 1975, the collection was first introduced as the Bulgari Roma, however two years after its birth, its ancient Roman coin motif evolved into the avant-garde Bulgari Bulgari. Following this, the collection has progressed each year, continually renewing itself with fresh innovation and striking creativity to bring us its 2015 edition, one that is rich in feminine complexity.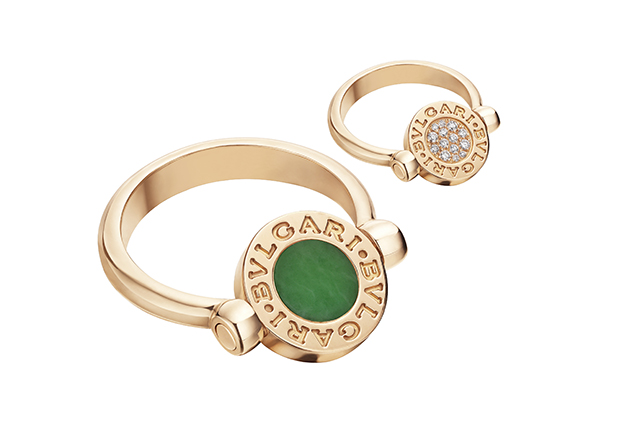 For its 40th year, the high jewelry creations honour the magnificence of ancient aesthetics by enriching its Bulgari Roma pendant with new rings, bracelets and necklaces. With its enigmatic designs in new materials of cipolin, antique yellow and African green marble, and its majestic colours of red, blue, cream and green, Bulgari injects a refreshing contemporary vibe whilst reflecting the splendor of the Roman Empire and its imperial buildings.
To further resonate with its history, Bulgari has selectively incorporated precious stones that were cherished by ancient Romans, including carnelian—the stone of bravery and energy, malachite—a bringer of happiness and joy, lapis lazuli—the stone of mystery, greatly admired by alchemists, and mother-of-pearl—the ethereal bearer of eternal beauty and peace.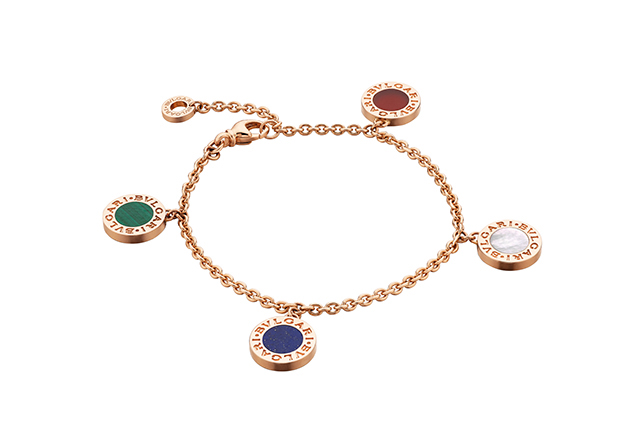 Advancing in its pioneering nature, the collection introduces a fresh design with bold band rings that elegantly encircle the finger.  As a tribute to the Eternal City, the Maison connects its past, present and future through its circular disc, symbolising the eternal circle of life. At the heart the iconic emblem rests dazzling diamond pavé that adorns cermet—a ceramic and metallic composite that embodies both style and creativity, reinforcing the collection's commitment to innovation.
Carrying with it an air of contemporary playfulness, new models of sautoirs elongate the traditional length, lending versatility and movement to a classic piece.  Both new sautoirs are highlighted with the line's emblematic round elements; one dangling with three chains and the other in a timeless design that alternates coins of precious gemstones. Alongside this, similar models in shorter versions augment the collection, offering a delicate selection of necklaces, bracelets and earrings in pink and white gold.
View the collection below: