Reminiscing the clandestine charm of the evening sky, Jaeger-LeCoultre's Atmos Marqueterie Céleste clock is draped in a blanket of deep blue taking the form of a structured cabinet. With the absence of futile details in its aesthetics or mechanics, the focus of the clock is placed on its grandiose structure and overall visual cohesion. 
Challenging the norms of time-telling creations, Jaeger-LeCoultre incorporates a rare twist—the art of straw marquetry. Originally famed in the 17th century, the artistic tradition was revived by prestigious Art Deco interior designers to adorn furniture, walls and now, in the Atmos Marqueterie Céleste.
Made from lustrous blue-tinted straw, its meticulously built cabinet acquires a comet-like silhouette, evoking the facet of a gem as it elegantly and effortlessly reflects light. Crafted by artisans of Maonia, precision and patience are translated into its construction with each and every straw being dried, dyed, slit and flattened before being carefully and individually glued onto the panel to ensure optimal light refraction.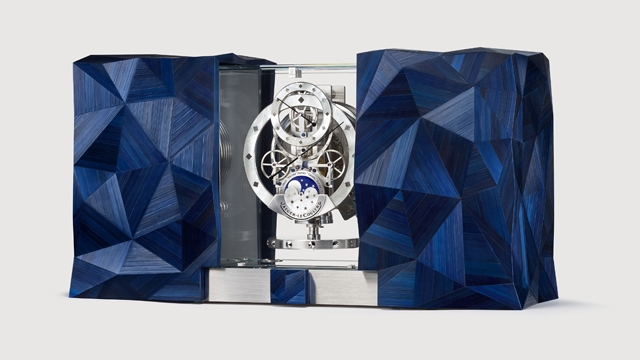 Beneath the divine architecture rests the sophisticated horological device; comprising of a 24-hour, month and perpetual moon-phase dial dressed in variations of iridescent mother-of-pearl. Enhancing a shimmering disc of lapis lazuli, its moon-phase has been designed to remain accurate for 3, 861 years, embodying a mingled sense of serenity and timelessness.  Alongside this, series of Tahitian mother-of-pearl appliques garnish the hour markers as well as form a constellation of stars.
With its three-dimensional surface acting as an idyllic medium to showcase the luminous nature of straw, the Atmos clock juxtaposes this against the glossy surface of the crystal glass display to reveal its unique play on texture.  Not only an exquisite objet d'art but also an environmentally friendly mechanism, the Atmos clock requires 250 times less energy than a standard wristwatch, boasting its novelty in not only its aesthetics and functions, but sustainability. 
For more information, visit the website.