Right before these babies hit the stores straight off fashion week runways, we've done you a favour and scoured through to compile an A-list - just so you can make a beeline for your next handbag splurge. Sorry, not sorry (for the pocket burn)!
Bucket bags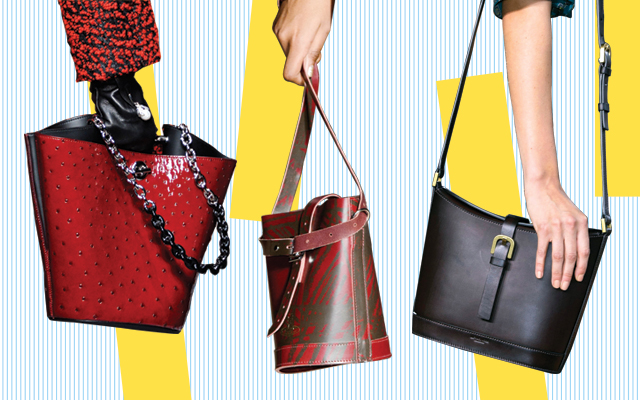 Take it from us: these structured essentials (yes, 'essential' is what we're calling it) instantly elevate you to cool girl status, especially if you're toting it around Vivienne Westwood-style - straps coiled around your wrist and all. The only thing you have to do: decide which prints or textures tickle your fancy, and make your pick.
Oversized chain straps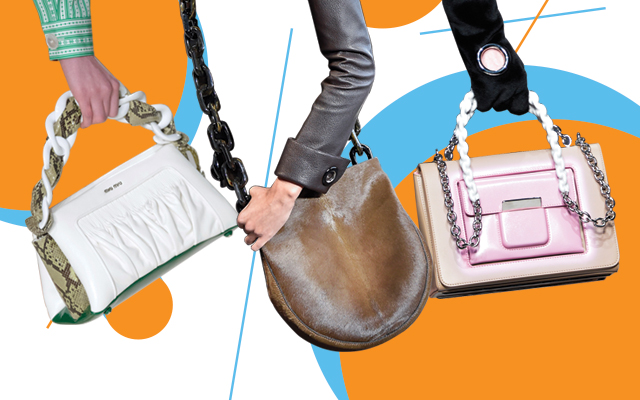 Designers have redefined the use of chains - it's no longer only meant for bikers or bondage - and is far from subtle. Made of cute plastic or acetate, it's now blown up and oversized with a fun touch, accenting totes with a playfful yet still polished finish. We say, carry them loud and proud!
Roomy tote bags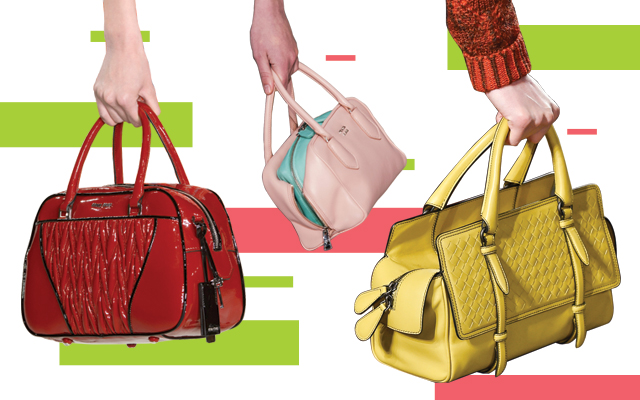 Before you go "boringgg", chunky and bulky has been transformed into sleek and stylish - here's proof. Bonus: the roomy interior makes it ideal as an everyday bag where both fashion and function collide, to match your day-to-day basics. We especially love Prada's newest tote that makes it look like you're carrying two totes in one. 
Fringed bags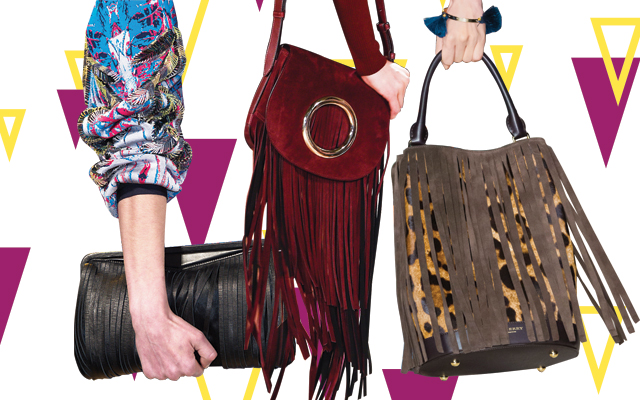 Looks like the '70s-style trim is here to stay - not complaining though! Make a theatrical statement with a full-on swishy fringe, or tone down on the drama with shorter trims. Either way, it's an ode to the hippy-spirited Bohemian in you, lotsa lavish fun guaranteed!
Furry bags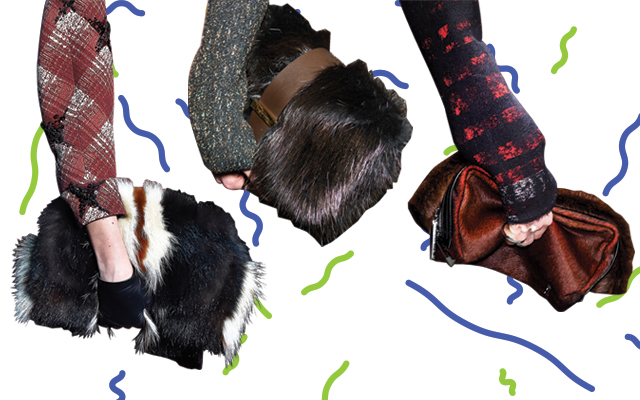 On a scale from fuzzy to fluffy, we're dialing it all the way up to super furry - and we're not leaving a single patch uncovered at that! Take your pick from shaggy oversized pouches, plush colour-blocked totes or hairy clutches, with the one common element: you won't be able to resist stroking the soft and luscious fur!
Perfect match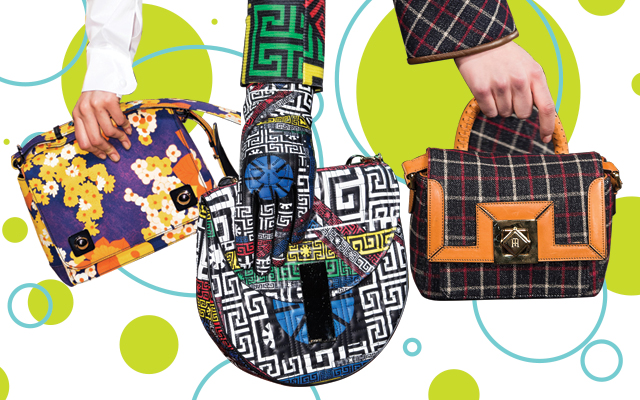 We're officially on board with the new fashion rule: to match our handbags to our outfitis, in the exact same prints, colours, textures and designs; and ditch the match-your-shoes-to-your-handbag rule while you're at it. Result: perfect coordinates that pack a punch!
Boxy mini bags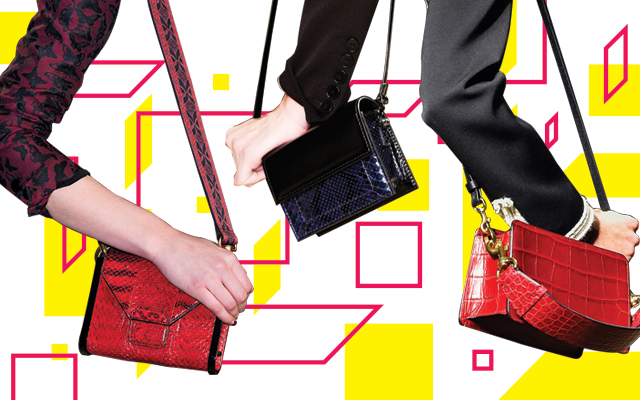 Micro mini bags still held a strong appeal on the runways, but this season it's restricted to angular shapes in teeny-weeny dimensions, all of which are no less statement-makin'! Made in form of hard cases (all eyes on the Louis Vuitton Petite Malle mini trunks!) or mere leather with four sharp corners, we're slinging these across our body for off-duty days for sure.
Saddle bags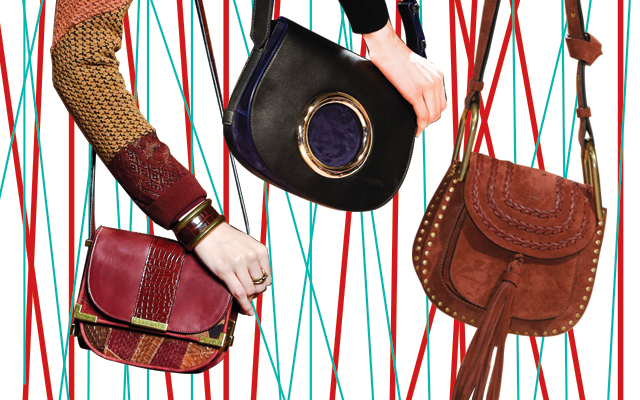 Rounded saddles bring a laidback Western vibe, giving a chic juxtapose to urban-girl style. This FW15, it's gotten itself some modern updates - we're talking dramatic tassels (Altuzarra's first-ever handbag), sleek hardware and snakeskin patchwork. How we'd wear it? With '70s-style flared jeans, of course.
Leather and studs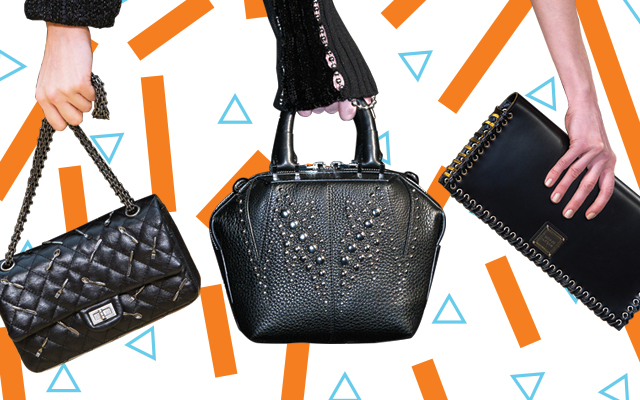 Nothing new about this edgy combo, except that it's looking even edgier than ever - meant for all rebel chickas! Other than being our fave fail-proof combo, leather in all textures are accented with silver and gunmetal hardware, in form of rivets, grommets, chains, studs and cutlery (zoom-in on Chanel). Totally rockstar-worthy.
Slip-through straps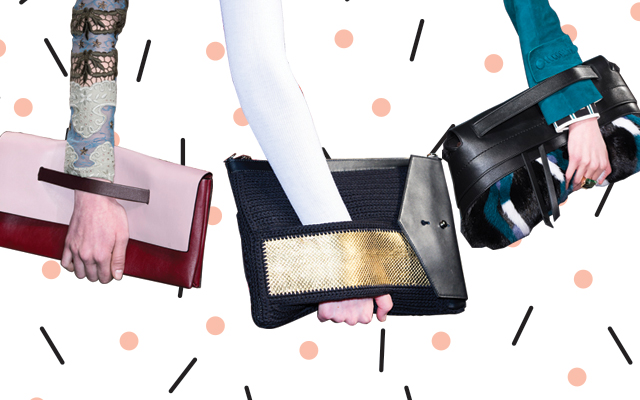 Talk about convenience. Designers have taken notice that our clutches always let slip (especially on the dance floor), and they've updated it with handy well-placed straps for a better grip - that instantly ups the street-style cred too. Hang on to these for dear life, and leave those bracelets at home.