The Borak Arts Series - An Arts Conference for Creative Practitioners and Business Leaders, which works as a regional networking platform for creative types and business leaders, conceptualised by My Performing Arts Agency (MyPAA) will find a new home this year at the George Town Festival (GTF) in Penang. Held on 29-30 Aug, this year's Borak Arts Series will build on Malaysia's chairmanship of the ASEAN this year and will work around the theme "ASEAN and the Future".
The series will bring together artists, producers, intermediaries and funders and include panel discussions, country and city highlights, round robin sessions and networking platforms as well as performances. This year's conference will also add to its agenda two new components in the form of One-on-One Meetings with local and international presenters as wll as the the Pitchpad ASEAN forum that will bring together ASEAN arts professionals to share and discover new arts projects. This will be particularly exciting for ASEAN artistic creators as up to ten ASEAN submissions are selected to pitch their new works to a stellar line-up of international festival directors and venue programmers in the presence of more than 170 performing arts professionals. Successful ASEAN participants will be flown into George Town.
"How do we connect and leverage on our arts and culture to capitalise on a market of 600 million in population? The Borak Arts Series is a preliminary step to open doors for more ASEAN artistes and their works to be recognised and further developed," said Izan Satrina, Founder and Director of MyPAA.
 "I believe that programmes that spur intellectual discourses would complement well with all the performances and exhibitions that happen during this month-long festival, making the George Town Festival a celebration for the mind and senses," said Joe Sidek, Festival Director of George Town Festival.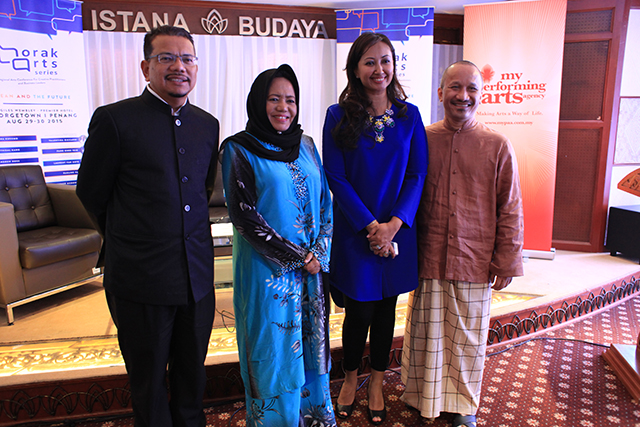 Other speakers participants can look forward to are: Rithisal Kang (Amrita Performing Arts, Cambodia), Amna Kusumo (Kelola Foundation, Indonesia), Dr. Joseph Victor Gonzales (ASWARA, Malaysia), Eliza Roberts (Asialink, Australia), Valentina Riccardi (ASEF Culture360, Singapore), Laurent Van Kote (Ministere de la Culture et de la Communication, France), Pang Khee Teik (Malaysia), Grace Chin (Viddsee, Malaysia), Emmanuel Benbihy (Cities of Love, France), Pauline Fan (PUSAKA, Malaysia), and more.
This year's conference will feature topics such as Pushing Boundaries with Arts and Culture, ASEAN Tradition and Putting a Contemporary Spin on It, Getting to Know Our International Fund Partners (With an Outlook on ASEAN), Freedom of Expression and Negotiating for Space, Investing in International Exchange, Distribution and Networking Within ASEAN, Aligning Arts with Digital Marketing, and Quick Snapshot on Funders and Partners. 
To find out more about The Borak Arts Series 2015, log on to the MYPAA website.