The French actress who has made a seamless transition to Hollywood, Marion Cotillard has also picked up a string of acting awards and accolades, which includes an Academy Award for her portrayal of Edith Piaf in La Vie en Rose. And while she has built an impressive acting résumé, little did we know that Cotillard has starred in many theatre productions and also sings in a band, Yodelice. On top of all that enviable talent, Cotillard is also the face of Dior's Lady Dior campaign, and is riding the wave to the top of her career - while believing that fame is not such a big deal. Her two most recent roles in Macbeth and The Little Prince premiered in Cannes this May. Buro 24/7 speaks with Cotillard in between red carpet events about Hollywood, Dior and how motherhood has changed her body.
What do you like and dislike most about acting?
What I like the most is exploring the human soul and heart. I get richer from exploring other people's lives. I don't think what I dislike has anything to do with acting - it would be how press creates a character some actors are not - they create someone who's totally different from what they are.
And the paparazzi?
I live in France, where there are laws so they must hide. It's annoying when you don't know they're there and you eventually find out that they were. You never get used to it but it's not the worst thing in my life.
Can you actually live a normal life in Paris?
Oh, yes, it depends on what you want.  If you want a normal life and if you do everything to have it, then I think you can have it. 
You used to play with a band, Yodelice. Are you still involved with them at all?
I hope I will always have time for music. The show is totally different now. It was two years ago when I could still go on stage. I would love to do it again, because my place in that band is very special - I was not supposed to be part of that band in the first place. But then they really included me, step by step, and so it's a very like open space for me. I would need time to rehearse and everything, but they gave me a lot of freedom coming and leaving.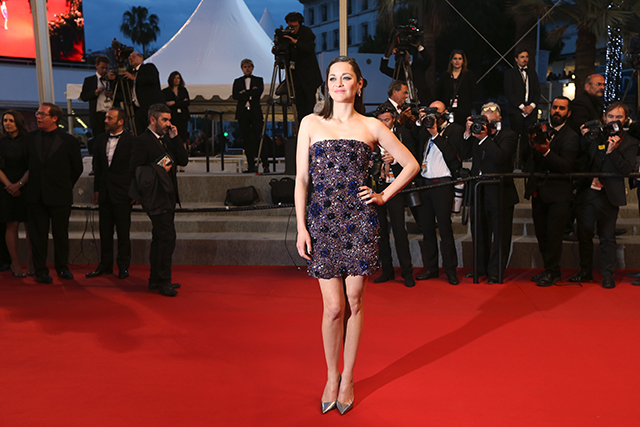 How has fame changed your life?
It's not the fame that's changed my life but it's this movie, La Vie En Rose, which was like a turning point in my life, for sure. Fame is not the most important thing, but I think that all my life it will be weird to arrive somewhere, especially in my country, and most of the people are looking at me. It's weird. And sometimes it's really uncomfortable, especially when people try to take pictures of me. But then, you know, it's not like some celebrities who live with paparazzi 24 hours a day.
What are your thoughts on conquering the film world this side of the Atlantic?
I feel very lucky that I can work in the U.S. I never thought something like that would happen to me. I'm grateful because I watched a lot of American movies when I was a kid and even though I never thought, "Oh my god, I would love to be in American movies", I was always fascinated by their cinema. My dream was kind of wide in terms of... I wanted to be an actress, not necessarily a French actress. I didn't see any boundaries, so that's maybe why I crossed the ocean. I would have never thought that I would have the opportunity to experience other cultures and other languages so I feel very lucky that I can experience being Polish or being Italian in the '70s, and experience different kinds of social status.
And you never felt the cultural differences were insurmountable then?
No, because that's what I try to do, to find the authenticity everywhere in everybody, every character that I play. And when it's really far from me, that's when I'm really enjoying it.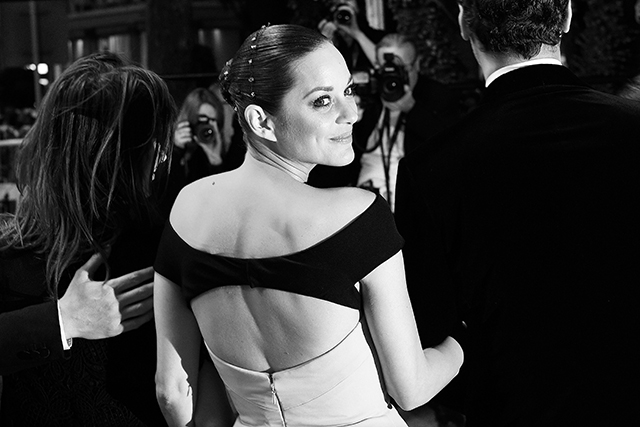 Has being a mother changed you or your attitude towards work? Have you thought about taking a break?
Well, of course it changes things because you have to organise yourself differently. And usually when I work I'm totally dedicated, and even if I'm part of myself when I leave the set, there's something that I'm bringing home with me. It has changed. I cannot bring anyone home with me because my son would freak out. So... I'm totally separating my life; my life as a woman, and my life as an actress.
Do you bring your son to work?
I'm lucky enough to be able to do that.
Are you very strict with your diet? Has that's changed since you've become a mum?
I didn't really behave myself but I'm lucky that in my family, we have a body that allows us to be less strict. I'm a moderated crazy food lover; I have to control myself otherwise I wouldn't stay in shape at all! I try to work out but ever since I had my son, it's been hard to find time to do that. It should be more important because my body is totally different now. But when I have the time, I do it.  
Let's talk fashion. What does Dior mean to you?
I have to say and to be honest I didn't consider fashion as an art before I met them. They changed my vision of fashion.
In what way?
I didn't really pay attention to fashion before. Now, I see it as a very, very special form of art. And being able to enter a house like this with the artisan - they opened the door of the atelier for me and I saw all those people who have been working for them for years, who are so good at what they do, and so passionate about it. It was wonderful. I love the people at Dior and I feel very lucky and am very happy to work with them.
What is your favourite Dior outfit?
I had the huge chance to do a photo shoot with all the outfits made by Monsieur Dior himself, and it was very emotional. I felt very moved when I wore those dresses from the '40s. It was really something. So I would say everything I wore that day was amazing.
Watch the making of the Lady Dior campaign below: