Head to Google's Malaysian home page today and you'll be greeted a Doodle of a figure that will be familiar to most of us—the legendary P. Ramlee. Today marks what would have been his 88th birthday.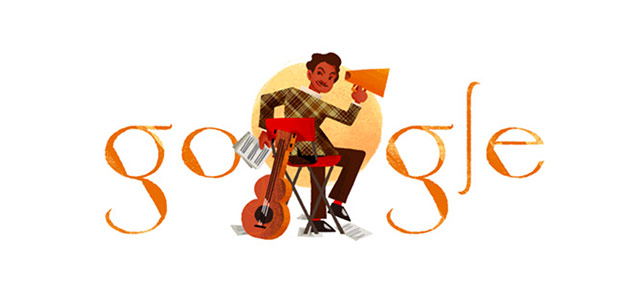 P. Ramlee, born Teuku Zakaria Teuku Nyak Putih, is one of the most iconic names (if not the most iconic) in the Malaysian entertainment industry. A multi-talented artiste, he was a singer-songwriter, composer, actor, director and producer whose career spanned the golden age of Malaysian film making from the late 1940s to the early 1960s. With more than 60 films (in which he wrote, acted, directed and composed for more than half of them) and 400 songs to his name, the well-loved and charismatic P. Ramlee's legacy lives on decades after his premature passing at the age of 44. 
Here, we remember the legend by looking back at 5 of his most memorable works:
Hang Tuah (1956)
Directed by Phani Majumdar, Hang Tuah revolves around the legendary Admiral Hang Tuah of Malacca. P. Ramlee starred in the titular role and composed for the film. It received the award for Best Musical Score at the 3rd Asian Film Festival in Hong Kong, and was screened at the 7th Berlin International Film Festival in 1957, where it was nominated for the Golden Bear.
Penarek Becha (1956)
This film marked the directorial debut of P. Ramlee. It tells the love story of two lovers from different social classes - a man who pulls the trishaw and a girl from an upper class family.
Nujum Pa' Belalang (1959)
Based on a Malay folklore, the film tells the story of Pak Belalang (P. Ramlee) and his son who conspire to portray the former as a psychic to help out fellow villagers. The situation gets a little more complication when the Mayor is convinced by his actions, and brings him to the royal palace to help the king in a case of palace robbery. With some wit and luck, let's just say all's well ends well.
Antara Dua Darjat (1960)
This is the film that saw the birth of the evergreen Malay song, 'Getaran Jiwa'. Like Penarek Becha, the distinction between social classes comes between two lovers - blood, tears and strife ensue. Directed by P. Ramlee, it is notably one of the first Malaysian films that used the flashback element to tell a story.
Ali Baba Bujang Lapok (1960)
Loosely based on the story of Ali Baba from 1001 Arabian nights, Ali Baba Bujang Lapok is a comedy film that stars the trio of P. Ramlee, S. Shamsuddin and Aziz Sattar. It is one of the few P. Ramlee films where he plays the villain, and is also notable for mocking the then legal status of cannabis and opium in Malaysia in one of the scenes. 
Related stories:
Chuck Berry's greatest hits: In memory of a rock 'n' roll legend
In memory of Leonard Cohen — his greatest hits
Remembering an icon: Relive Michael Jackson's most memorable performances