You know you've reached peak ubiquity when you're featured in a McDonald's outlet, which is where 2,500 of Arne Jacobson's Egg chairs were placed in selected Golden Arches across Europe as part of the fast food giant's 'Less is More' campaign in 2006. Indeed this mid-century classic, manufactured by Fritz Hansen and designed by the Danish architect in 1958 for Copenhagen's SAS Royal Hotel, is easily one (if not THE) most recognisable designer chairs of all time. Its gentle curves were Jacobsen's revolutionary response to the severe rationalist designs of modern movement pioneers such as Le Corbusier and Mies van der Rohe, and Jacobsen's predilection for subtlety and simplicity have made his design seem dateless.
'Iconic' is an absurdly overused adjective in design, but The Egg is one of the few design objects that merits it. Despite being designed almost 60 years ago, it has withstood the vagaries of design trends and continues to look fresh, contemporary and completely at home whether placed in a minimalist setting or a more classical space. Sculptured yet cocooning, finished in fabric or leather, upholstered in prints or a solid colour, it conveys an elegance that doesn't come across as intimidating and epitomises a cozy style of accessible modernism.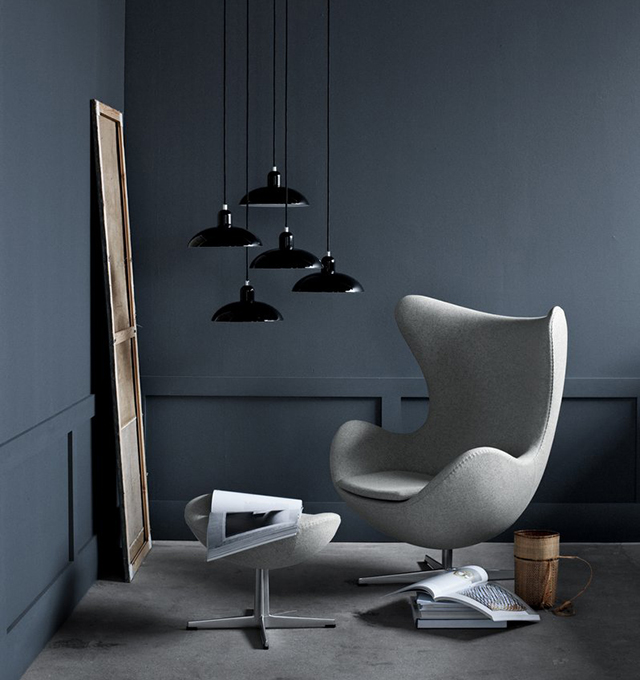 It's no surprise that apart from homes and hotels, lobbies and lounges, the Egg chair has popped up in popular culture all the way back to 1965 in no less then The Beatles' movie "Help!" where it featured in Ringo's cool blue room. Stanley Kubrick sat astronauts on it in his futuristic masterpiece 2001: A Space Odyssey and Will Ferrell as evil fashion mogul Jacobim Mugatu in Zoolander camped it up in a sexy white version, as did Simon Pegg on the How to Lose Friends and Alienate People movie poster.
It's even been used in print ads including the classic Kronenbourg beer commercial starring none other than short-lived Bond, George Lazenby. More recently, it made an appearance in the long awaited 6th installment of The Hitchhiker's Guide to the Galaxy written by Eoin Colfer, which Fritz Hansen took note of — they promptly obliged with a limited edition version embroidered with a colourful array of lines on the chair back representing an exploding Earth.
Marc Jacobs and Kate Walsh count among the multitude of fans but if there's no space in your home (or room in your budget) for one, 1:6 Design does perfectly to scale Egg chairs in Kenzo, Paul Smith and Missoni textiles. Simply egg-quisite!
Fancy an Egg chair in your home? Head to Xtra Furniture at The Gardens Mall, KL.