Born in 1908 as Lena Krassner in Brooklyn, New York to Russian Jewish immigrant parents from Odessa, Lee Krasner would eventually become an essential part of the American abstract expressionist movement. Abstract expressionism grew out of the ashes of World War II. The style is intuitive, a spontaneous or automatic creation process. Like Krasner, Willem de Kooning, Mark Rothko and Peggy Guggenheim also matured into movement, placing New York on the map of art influence.
Krasner was driven by her art at an early age. She attended The Cooper Union on scholarship and the National Academy of Design. It was in 1937, however, when she began studying under Hans Hofman that the beginnings of her modern form started to emerge. It was under Hofman's tutelage that Krasner revised her classic nudes to suit a cubist, two-dimensional frame. Hofman was dedicated to the study through still life. Through her art education, Krasner was able to master natural forms and became immersed in the New York School of contemporary art.
Krasner's art would evolve again following her meeting and fourteen-year-long relationship with Jackson Pollock. In 1942, the two artists met at a shared exhibition. Krasner, incisive and ambitious, prided herself on knowing the right people in her field. Pollock was a stranger. Krasner impulsively sought him and his work out, unannounced. This would be the start of one of history's most storied artistic and romantic collaborations. The first development, would be Krasner's commitment to the abstract expressionist form and to relinquishing her learned approaches to art.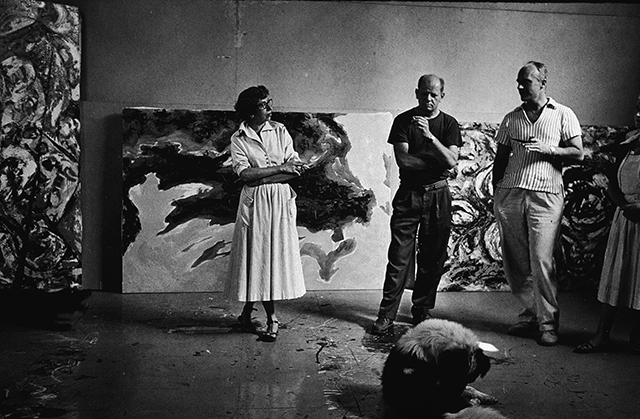 Krasner's first major work was the "Little Images" series. The forty or so painting, first created in 1949, are exacting creations. Many critics attribute the painstaking labor of the series to Krasner's reaction to the Holocaust. This interpretation is somewhat spurious, since Krasner's faith was never sacrosanct, even though she was raised as an orthodox Jew.
Rather, was is clear from the series is a dialogue, or struggle even to communicate. Perhaps, most latently, it is Krasner's partnership with Pollock that is most apparent. While Pollock is heralded as the greater artist, Krasner's work stands out as selective (she famously destroyed works she didn't care for), emotional and methodically refined. The very fact that an article about Krasner demands notes about Pollock speaks volumes.
With Pollock's death in 1956 and the rise of feminism in the 1960s, Krasner's work began to take shape outside of her husband's limelight. Her Primary Series of large, sweeping canvases were declarations of autonomy. In fact, while working Krasner suffered an aneurysm, fell and broke her dominant wrist but continued to paint. Although characteristically laborious, the series, demonstrates a markedly different physicality from Lee's use of her left hand. At the same time, her work returns to the body, to where her story started. 
See a selection of Lee Krasner's work here.