When I heard the name of the latest fragrance from the house of Hermès - Épice Marine - I thought, "Oh! It's just like the mixture of dried seaweed that I pack into my suitcase every year when I return from Brittany [in France]". And the first time I tried it, I realised that the seaweed notes weren't unintentional - in fact, it is that very marine element in a perfume that excites me.
In the words of Hermès' perfumer, Jean-Claude Ellena, the scent came together in a magical harmony. He created Épice Marine when he met chef Olivier Roellinger - one of the most famous chefs in France, whose name regularly appears in the top rankings of culinary lists - and visited him at both Château Richeux and Le Coquillage in the east of Brittany's Celtic lands, on the bay of Mont Saint-Michel.
I venture to Brittany every year, and in fact, I always visit exactly the same places in Saint-Malo and Cancale. I take a 20-minute bus ride from Saint-Malo to Cancale, with its famous oyster market - and for the record, it's also the township in which Roellinger was born and raised. The coastline here boasts the biggest tides in Europe - something that continues to captivate me - so it's almost as if Épice Marine was made just for me.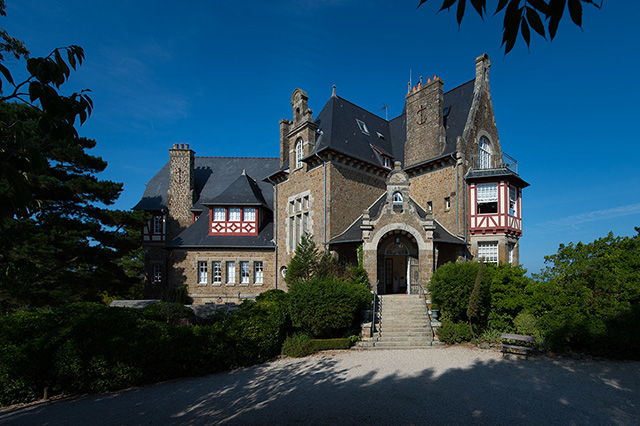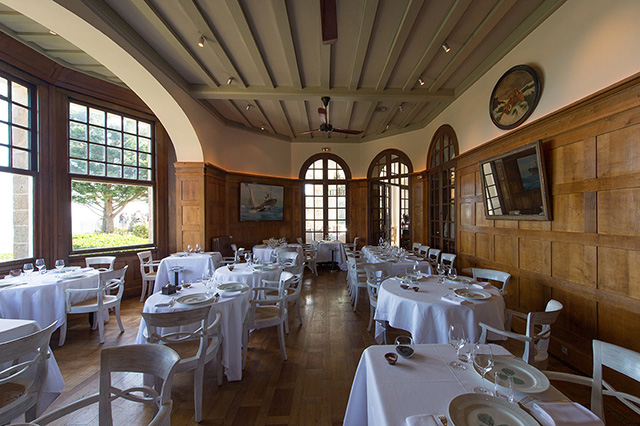 " Jean-Claude and I are like brothers, you know," Roellinger tells me almost straight away at the beginning of our conversation. Later on in Paris, Ellena - perfumer to the house of Hermès, and considered one the greatest contemporary perfumers - echoes a similar sentiment: "Olivier Roellinger is like my brother." 
On my very first trip to Saint-Malo, I went to Epices Roellinger, a spice store that belongs to Roellinger, which is stocked with jars full of powders that are now his signature blends. They have brought Roellinger worldwide fame, to the point that his entire kitchen is built around them. Thanks to Hermès, all these elements - the English Channel, seaweed, spices, rum, polished parquet, and smoked wood - are now connected together in a bottle with a bleu marine lid.
"You know, the whole family came here," says Roellinger, remembering the first time Hermès visited him. "Then we sat on the terrace under the pine trees, and I fed them just as I'm feeding you now. Mont Saint-Michel gradually disappeared into the haze, and the rain began to drizzle." Here, we speak to him about his insights into the new fragrance: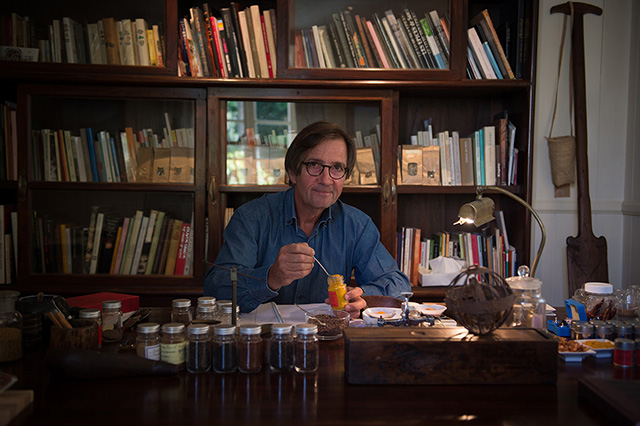 How did this all begin?
"Several different people - a journalist, a friend and a guest - at various occasions, asked me, "Do you know Jean-Claude Ellena?" I said no. At the same time, other people asked Jean-Claude, "Do you know Olivier Roellinger?" And he also said no. The first time we met was at a conference, and then at dinner, where we began to talk about who we were and to discuss our work. A few weeks later, I called Jean-Claude and said, "If you want to come to Cancale..." Then Jean-Claude said, "If you want to come to Provence..." And it really happened: he came over and I showed him my spices (about 120 different types) and explained how he could build a French flavour from them. "It's very much as if we need the same materials for our creative work," he said to me."
Does this mean you're actually very similar? 
"After several meetings, we realised that we were like brothers. It's a bit strange, because we're not related and we hadn't known each other that long, but there was that feeling of familiarity as if we'd been friends for many years. Now we know that we are not alone in our creative dreams - in fact, even my wife doesn't understand those dreams sometimes. He and I do the same thing: we sniff, think, and then try to write a similar story in the same way, and for that, we need to surround ourselves with like-minded people."
What exactly do you need for your work?
"Here in Cancale, for example - I need my office, my lab, all my spices, and my library with books about sea travel."
What is the relationship between spices and your personal history?
"When I was 16 or 17 years old, I travelled on a motorcycle through socialist countries like Czechoslovakia, Bulgaria, Romania, and East Germany. In Russia, minors were prohibited from entering without their parents, especially on a motorcycle. We went there because we were Trotskyists."
And then what happened?
"We arrived in Romania and Bulgaria, and there were all these scents: rosewater, almonds, saffron. It was just like a door to the other side of the world, and of new smells. These countries began with an Eastern culture, because they are just between the West and the East. If you're a Celt, every morning when you wake up, it's a new life - because when you fall asleep, you die. Say, you open a new pot of yogurt... It is not very exciting unless it's infused with spices. Then I started every morning - a new life - eating yogurt with the smells and taste of spices. It's what I'd call a very gentle awakening. Then I tried to find this feeling when you eat that yogurt with the spices' fresh, exciting aroma."
From your description, this is very similar to the stories behind the creation of fragrances. 
"When Jean-Claude came to discuss the concept of Épice Marine, it seemed unfinished to me. I just couldn't put the final point on it; I needed something else. We talked for two hours and discussed what was missing. Eventually, he said, "I know - you just need an orange peel from Sicily." And I said, "I have some Sicilian orange right here!" We found the orange, infused it in the mixture, and voila - we got what we needed. That was the beginning, I remember him saying to me: "With all your history, your dreams and everything you know about the sea, and your endless adventures around Saint-Malo, Brittany and France, I just want to capture your life inside a bottle."
Did you immediately collaborate together?
"Yes, it was exciting. I'm sure Jean-Claude first finds inspiration in the history of the other person - it has a sort of biography, something very special. He sent me a sample of the scent, and almost a year after receiving the small bottle, I agreed that yes, I recognised myself in it, but I still needed something else. I needed the scent of rain that came from the ocean after a patch of fog, but he's from the south where the Mediterranean Sea is - which smells of the North Atlantic, the scent of seaweed and wet pines - so Jean-Claude didn't understand what I had in mind.
"I suggested, "Maybe you need a Highland, some place where they make the best single malt in the world." So he was sent a bottle of very good single malt that smelt of the sea and the wind from the north - as if you had taken a handful of earth and inhaled its scent. He called me when he opened it. After a few minutes of silence, he said, "Yes, now I understand the smell of the rain you needed." So that's how we finished the process of creating Épice Marine."
Why has no one offered to make a scent with you before? After all, it seems obvious: your experience with spices is so close to perfumes. Why was Jean-Claude Ellena the first?
"Because he has as much curiosity as I do. You see, 'noses' and chefs are very far from each other, and are in two different worlds. But I'm not really the boss: I would like to be a writer, but I'm a researcher and a chemist. I spend a lot of time in the laboratory."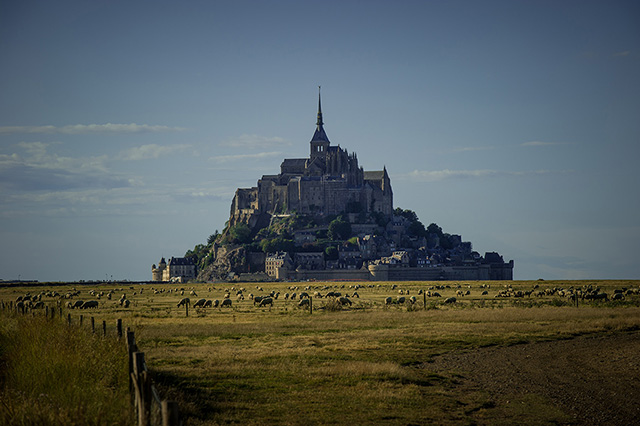 Then is a perfumer also a chemist? 
"Yes, it's true. For me, the kitchen is the way to life in this country between the sea and the sky. It's the past of the bay of Mont Saint-Michel, the history of Celtic beliefs in Brittany, the maritime adventures, and I try to express that with different spices. I understand why people need the ships, the sea, and why they always brought spices wherever they were going. This is the story of my life.
"This tale is one of the most exciting stories about the creation of a fragrance, and the most convincing, I suppose - perhaps because of the outstanding person behind it, or rather, two prominent figures. It takes a completely private, personal element filled with unexpected objects and circumstances in life to produce such a special scent, without any hint of heavy commercialisation. The mind's network will forever link Brittany, Cancale, Hermès, Ellena, Épice Marine and Roellinger - but even in the absence of such a connection, this fragrance has to be the most exquisite smell of the sea in modern perfumery."